Woman becomes dishwasher at nursing home to see hubby after separation by COVID-19
- A Florida woman took a dishwashing job at her husband's nursing home after the facility barred visitors due to the COVID-19 pandemic
- Mary Daniel said she reached out to the staff at the assisted living facility to see if she could volunteer so she could see her spouse
- She was later called and asked whether she still wanted a job
- The woman said she was required to take several COVID-19 tests and undergo intense training before starting her part-time job
- After 114 days apart, she was able to finally reunite with her 66-year-old husband who has Alzheimer disease
A woman has made headlines after she took a part-time dishwashing job at her husband's nursing home facility so she could be seeing him amid COVID-19 pandemic restrictions.
The 57-year-old woman identified as Mary Daniel works during the day as the chief executive of a small company that helps patients with health care bills.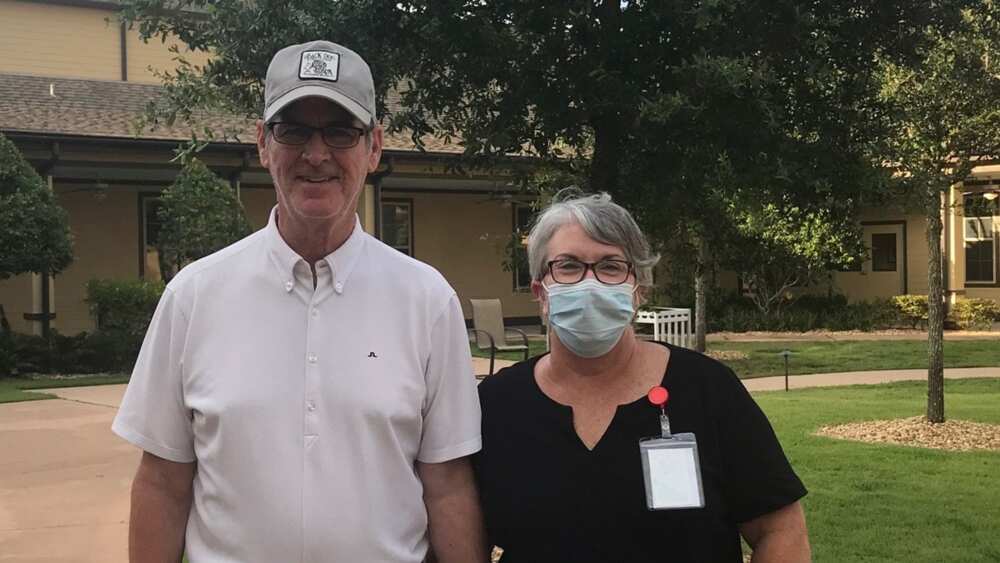 However, as reported by the New York Post, she is now working two days a week at Rosecastle Assisted Living and Memory Care facility where her sweetheart of 24 years, Steve, is a resident.
Mary's 66-year-old husband has early-onset Alzheimer's disease - a progressive disorder that causes brain cells to degenerate and die - and being kept apart for 114 days was hard for him.
As coronavirus spread, a state order banned visitations to nursing homes to protect patients and prevent the spread among a vulnerable population.
Mary explained that she tried visiting her husband through a window, but said he just cried and could not understand what was going on.
Later on, she came up with a creative idea and reached out to Rosecastle staff and asked if she could volunteer or get a job at the care centre so she could see her husband in person again.
"They said, 'Let us wait to see what happens,'" Mary recalled.
Then, out of the blue, the corporate office reached out to her and offered her a job.
"They told me that they did have a part-time job available if I was interested," she said.
"I said, 'I am definitely interested. What is it?' And, they said it is a dishwasher. So I said, 'Well, I will be a dishwasher then," she added.
She described her reunion as priceless.
In other news, a US nurse who gave birth to her child while battling COVID-19 cannot remember being pregnant or delivering her three-month-old daughter.
Sylvia Leroy who was a labour and delivery nurse contracted the virus while on duty and got admitted to hospital during the sixth month of her pregnancy.
The 35-year-old started feeling sick in March prompting her to get herself admitted to a hospital.
On March 27, 2020, the mother of two tested positive for COVID-19 and was placed on a ventilator after.
A week later, after only breathing through a machine, Sylvia was finally taken off the ventilator and her family was hopeful things were finally starting to settle.
Coronavirus: My business has collapsed totally - Man laments | Legit TV
Source: Legit.ng