- The Trump family has backed Doctor Stella Immanuel who claimed that hydroxychloroquine is a perfect 'cure' against Covid-19
- Trump Jr said that the video of the doctor claiming the cure (which has been widely censored) is one that everyone must watch
- Immanuel's video has received mixed comments on social media as people are polarised between supporting her and picking holes in her argument
PAY ATTENTION: Click "See First" under the "Following" tab to see Legit.ng News on your Facebook News Feed!
Donald Trump Jr has endorsed the controversial black doctor, Stella Immanuel, who said that hydroxychloroquine is a 'cure' for the deadly Covid-19 and said that face masks are useless against preventing the spread of the virus.
Trump Jr took to his Twitter page posting the video of the doctor which he said is a "must watch for everybody".
In the said video that has raised mixed reactions online, Dr Immanuel said that she has successfully treated more than 350 patients with the drug.
"Patients that have diabetes, patients that have high blood pressure, patients that have asthma, old people ... I think my oldest patient is 92 ... 87-year-olds. And the result has been the same. I put them on hydroxychloroquine, I put them on zinc, I put them on Zithromax, and they're all well," she partly said in the video.
It should be noted that the black doctor is a popular cleric who according to NzHerald once spoke about some people's intimacy with unclean spirits in their sleep.
While some believed that her claim about a cure should be investigated more, others are of the opinion that what she said is totally false.
Below are some of the reactions: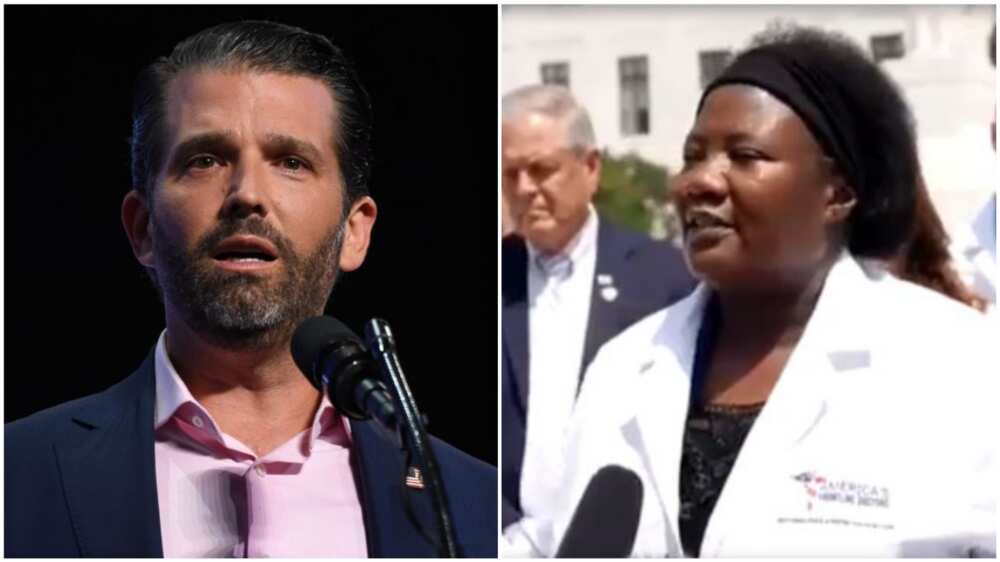 Meanwhile, Legit.ng earlier reported that the World Health Organisation (WHO) said it has finally stopped hydroxychloroquine trial for Covid-19 treatment.
The global health agency made the declaration on Wednesday, June 17, in a tweet, saying the drug is not effective in treating the highly-ravaging infection.
The decision came in barely three weeks after the United States Food and Drug Administration (FDA) stopped the drug use.
WHO said findings have shown that the anti-malaria drug does not reduce the mortality rate of coronavirus.
PAY ATTENTION: Download our mobile app to enjoy the latest news update
"The Solidarity Trial's hydroxychloroquine arm is being stopped, on the basis of evidence showing it does not reduce mortality for hospitalised #COVID19 patients," WHO said in a tweet.
In other news, Russia successfully completed human trials of the vaccine, with Elena Smolyarchuk from the Russian Center for Clinical Research on Medicat'ions at Sechenow University, saying that test patients are set to be discharged soon.
"The research has been completed and it proved that the vaccine is safe. The volunteers will be discharged on July 15 and July 20," he said.
It was gathered that there was no indication as to when the vaccine will enter commercial production, but nevertheless this bodes well for the global fight against the virus. Over 21 vaccines are currently under trial worldwide, according to the World Health Organisation.
Coronavirus: Nigeria's health minister speaks on chloroquine as cure for COVID-19 | Legit TV