- A group says it has uncovered plots by some persons to unseat Nigeria's Attorney-General of the Federation, Abubakar Malami
- Chairman of the group, Bello Gambo Iliya made the allegation on Tuesday, July 28 while speaking to journalists in Kano
- According to the group, there are plans to garner support from civil society organisations against Malami
PAY ATTENTION: Click "See First" under the "Following" tab to see Legit.ng News on your Facebook News Feed!
The Integrity Group Against Corruption has raised an alarm alleging that it has uncovered plots by some persons to unseat Nigeria's Attorney-General of the Federation (AGF) and minister of justice, Abubakar Malami, SAN.
Chairman of the group, Bello Gambo Iliya made the allegation on Tuesday, July 28 while speaking to journalists in Kano state.
According to Iliya, his group has also uncovered an email from one Olaruwanju Suraju who claimed to be the chairman of one Civil Society Against Corruption, which indicates a desperate move to cast aspersions against Malami.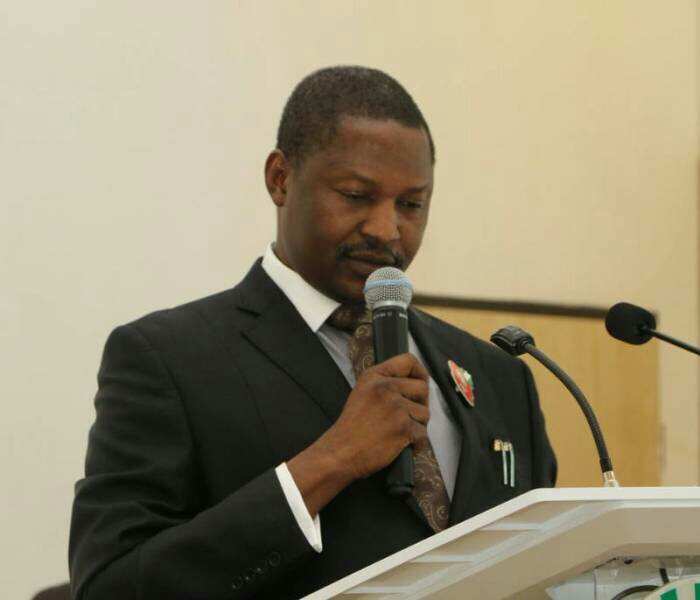 According to him, the email dated Monday, July 27 was intended to garner support from civil society organisations against Malami.
He said the writer of the email was demanding support to petition President Muhammadu Buhari against Malami.
"It was clearly verified that the said man was busy struggling to get support from civil society organisations against the Attorney General of the Federation and minister of justice," he stated.
Illiya, however, appealed to Malami to remain resolute in the fight against corruption, adding that "people like Lanre are survivalists trying to revive themselves through sponsorship against authorities fighting corruption in the country."
PAY ATTENTION: Download our mobile app to enjoy the latest news update
Despite the alleged plots to oust him from office, Malami has been getting support from some Nigerians in recent days.
Usman Bahiru, a public affairs analyst, recently wrote on the reforms of the Nigerian judicial system being carried out under the leadership of Malami.
"As a Senior Advocate of Nigeria (SAN), Malami has demonstrated overtime uncommon courage in the discharge of his duties.
"The core constitutional duty of an AGF is to institute and undertake criminal proceedings against any person before any court of law on behalf of the Nigerian state.
"Malami recently inaugurated a team to facilitate the review of existing laws, particularly those relating to anti-corruption, transparency and accountability in governance.
"In a short stint of time, the team came up with numerous bills, among which are the Money Laundering Prevention and Prohibition Bill 2017; Anti-Terrorism Prevention and Prohibition Bill 2017; Nigerian Financial Intelligence Unit Bill 2017; Proceeds of Crime Bill 2017; Public Interest Disclosure and Witness Protection Bill, 2017; and the Mutual Legal Assistance in Criminal Matters Bill, 2017," Bahiru wrote in a piece sent to Legit.ng.
Nigerians in Benin City reveal how to end corruption | Legit TV