- A tree in Ghana named Mpeni Kofi is alleged to turn to human, protecting people
- The tree is reportedly 300 years old and turns into a human at night to guard the people of Akuapem
- Legit.ng takes a look at the historical and spiritual narratives of the Mpeni Kofi tree
PAY ATTENTION: Click "See First" under the "Following" tab to see Legit.ng News on your Facebook News Feed!
A tree in Ghana named Mpeni Kofi, which is said to be 300 years, is alleged to turn into a tall man for the purpose of guarding the people.
The roots of the tree are still intact, its leaves are still fresh despite being 30 decades. The tree is considered a demi-god by the people of Akuapem.
The people of Akuapem allege that the tree protects them, Ghanaweb reports.
Legit.ng notes that the acting Krontihene of Akuapem, Nana Addo Kwataa, and sub-chief, Ahenenanhene Osae Adade, explained that the tree has a human side.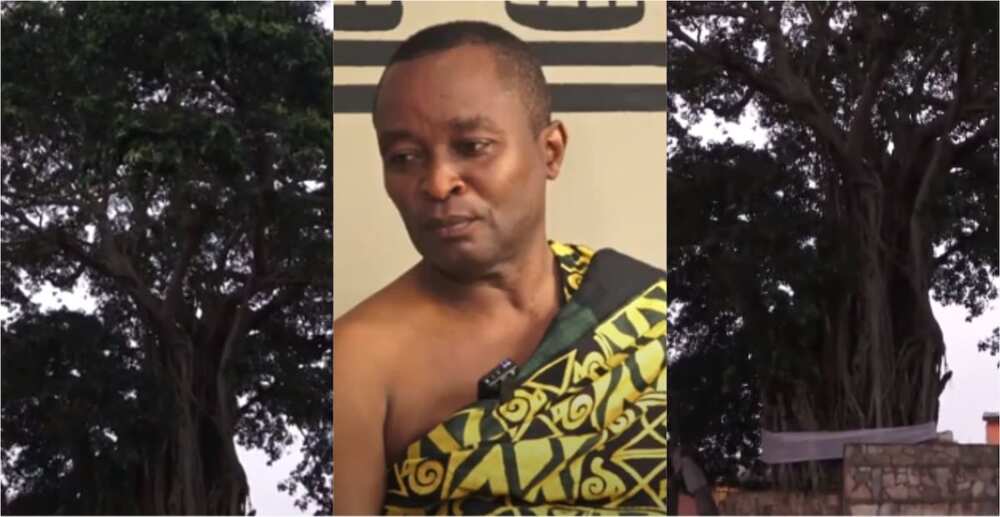 Currently covered in white at its lower side, Mpeni Kofi was found by their ancestors after it guided them home from war.
Recounting the history of the Akuapem people, Nana Addo Kwataa said they see Mpeni Kofi as a special entity that leads the people.
According to him:
It is a signal to us. When we went to war, we could trace it and know that we are heading home. 300 years ago when our forefathers came, they saw it and it was of importance to them and it is a generational worshipping. We keep on worshipping it up till today.
Ahenenanhene Osae Adade also alleged that whenever they go to sleep, Mpeni Kofi goes around the town as a tall man to protect the people.
The chiefs believe the tree has a special connection to the palace of the Okuapehene and serves as a unifier for the houses surrounding it.
In other news, the only white traditional leader of Lunda tribe in Zambia is Peter Fisher, who is also known as Chief Nyamwana.
He leads the Lunda tribe of Mwinilunga District in Zambia. Fisher was born by Israeli parents in Zambia and was adopted by Chief Nyamwana of Lunda after the death of his parents.
Fisher was declared the heir to the thrown as Chief Nyamwana had no son to succeed him.
Allah's name appears on Moringa tree | Legit TV