Are you looking for justice quotes to reflect on the lack of fairness and discrimination that is going on in the world right now? Here are 50+ quotes on justice that explain the need for fairness and equality, and how they can be attained.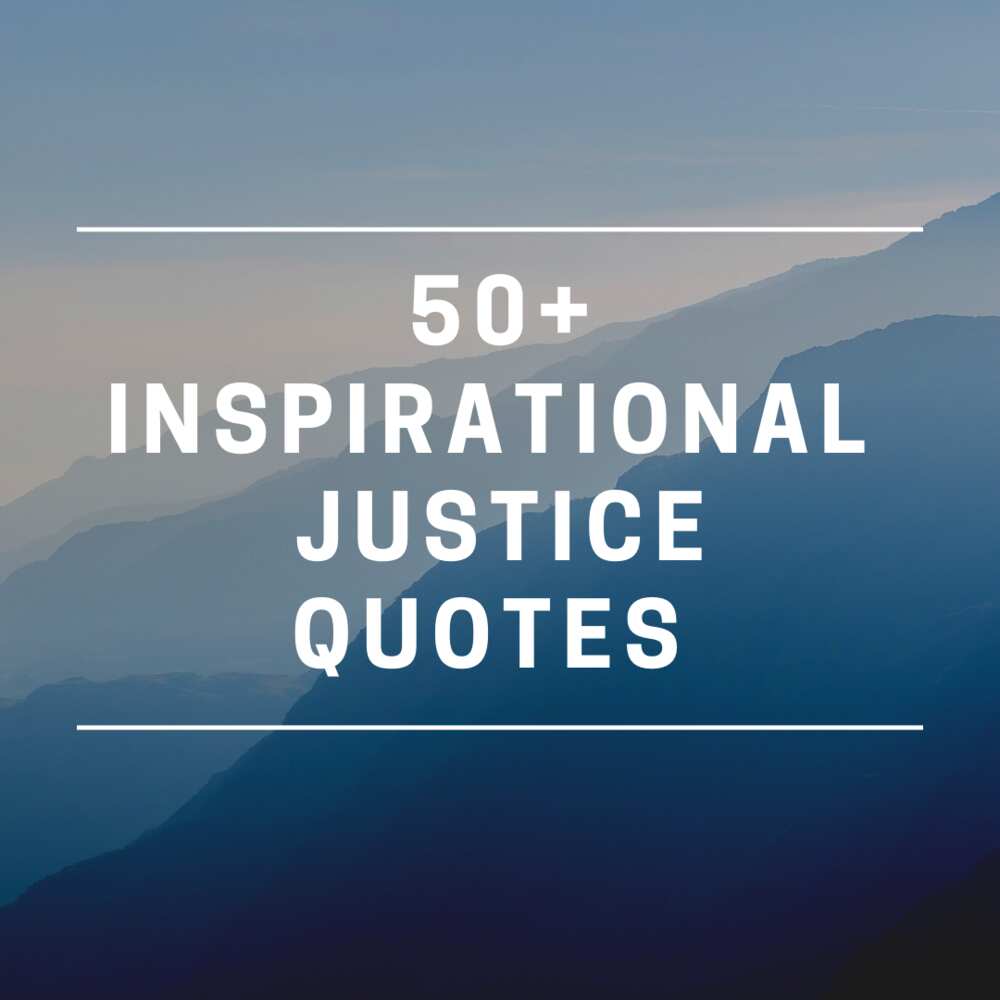 There is no justice without truth and fairness. Justice involves finding out what is right and upholding it without discrimination or prejudice. There is no true freedom without equality and protection of humans rights. Here are some amazing quotes about justice.
Top justice quotes
The following are relevant justice will be served quotes that you can post on social media to express your stance on truth, fairness, and equality in your community.
I have always found that mercy bears richer fruits than strict justice. - Abraham Lincoln
Until the great mass of the people shall be filled with the sense of responsibility for each other's welfare, social justice can never be attained. - Helen Keller
It is certain, in any case, that ignorance allied with power, is the most ferocious enemy justice can have. - James Baldwin
If you tremble with indignation at every injustice, then you are a comrade of mine. - Ernesto Che Guevara
I am certain, however, that nothing has done so much to destroy the juridical safeguards of individual freedom as the striving after this mirage of social justice. - F.A. Hayek
Our freedoms are vanishing. If you do not get active to take a stand now against all that is wrong while we still can, then maybe one of your children may elect to do so in the future when it will be far more riskier — and much, much harder. - Suzy Kassem
Injustice anywhere is a threat to justice everywhere. - Martin Luther King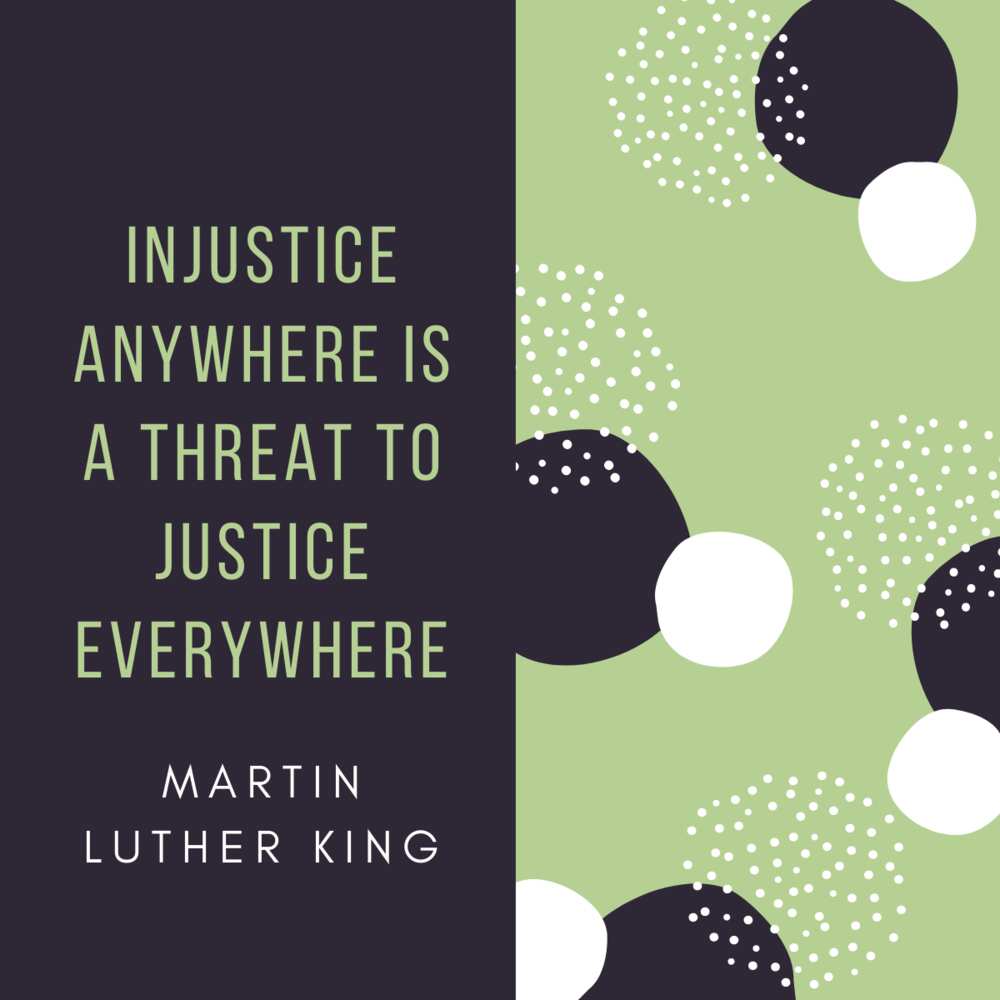 Justice will not be served until those who are unaffected are as outraged as those who are. -Benjamin Franklin
In matters of truth and justice, there is no difference between large and small problems, for issues concerning the treatment of people are all the same.- Albert Einstein
You know, the courts may not be working anymore, but as long as everyone is videotaping everyone else, justice will be done. - Marge Simpson
Quotes about social justice
These social justice quotes from popular figures explain why maintaining fairness and equality is essential to the survival of any society:
If you wish to know what justice is, let injustice pursue you. - Eugenio Maria de Hostas
Social justice cannot be attained by violence. Violence kills what it intends to create. - Pope John Paul II
The measure of the greatness of a society is found in the way it treats those most in need, those who have nothing apart from their poverty! - Pope Francis
The ends you serve that are selfish will take you no further than yourself, but the ends you serve that are for all, in common, will take you into eternity. - Marcus Garvey
People in every nation enhance the social dimension of their lives by acting as committed and responsible citizens. - Pope Francis
While craving justice for ourselves, it is never wise to be unjust to others. - Lew Wallace
Rather let the crime of the guilty go unpunished than condemn the innocent. - Justinian I
The challenge of social justice is to evoke a sense of community that we need to make our nation a better place, just as we make it a safer place. - Marian Wright Edelman
The failure to invest in civil justice is directly related to the increase in criminal disorder. The more people feel there is injustice, the more it becomes part of their psyche.- Wilhelm Joseph
Quotations on justice in the Bible
God is a righteous God, He hates when the poor, helpless, and minorities are cheated and discriminated against. God does not support the perversion of what is right for any reason or anyone.
Here are justice quotes Bible, through which God made His displeasure at injustice known.
When justice is done, it is a joy to the righteous but terror to evildoers. - Proverbs 21:15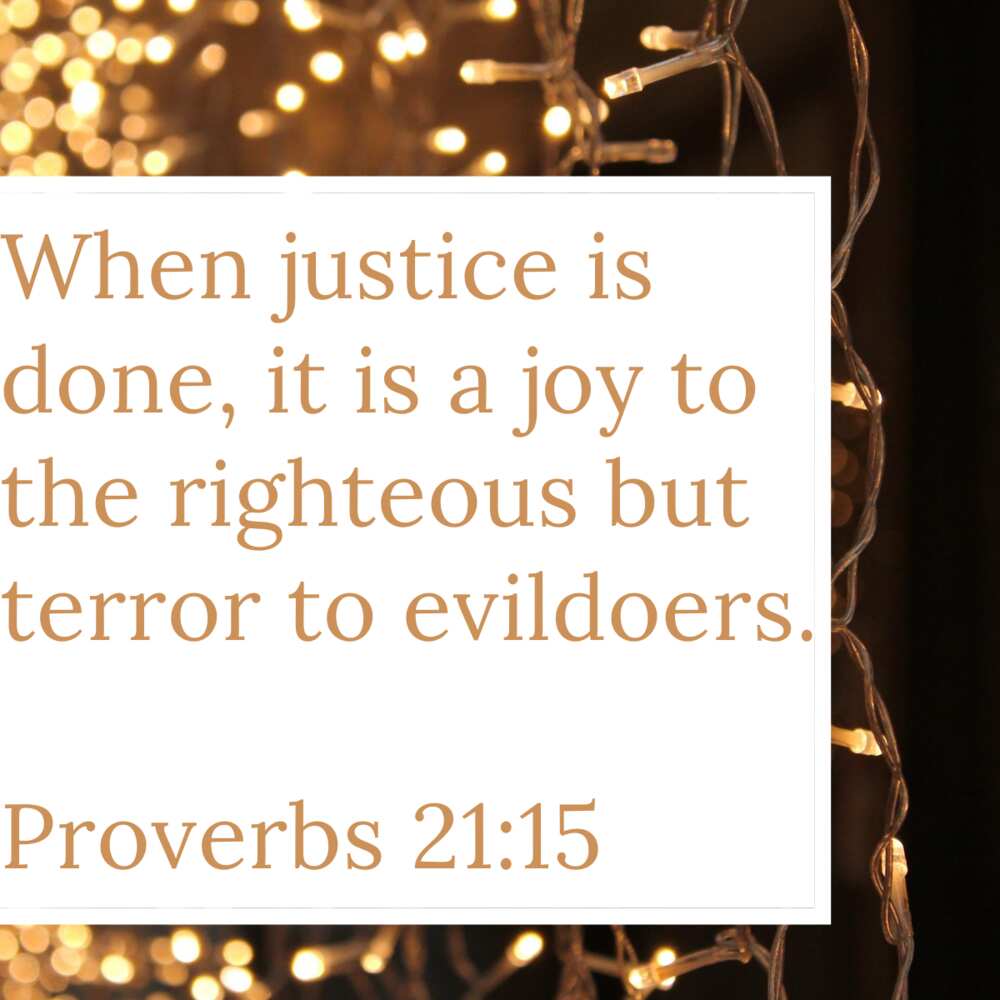 But let justice roll down like waters and righteousness like an ever-flowing stream. - Amos 5:24
Therefore, the Lord waits to be gracious to you, and therefore he exalts himself to show mercy to you. For the Lord is a God of justice; blessed are all those who wait for him. - Isaiah 30:18
Learn to do good; seek justice, rebuke the oppressor; defend the fatherless, plead for the widow. - Isaiah 1:17
Evil men do not understand justice, but those who seek the Lord understand it completely. - Proverbs 28:5
He has told you, O man, what is good; and what does the Lord require of you but to do justice, and to love kindness, and to walk humbly with your God? - Micah 6:8
Turn away from evil and do good; so shall you dwell forever. For the Lord loves justice; he will not forsake his saints. - Psalm 37:27
For I, the Lord love justice; I hate robbery and wrong; I will faithfully give them their recompense, and I will make an everlasting covenant with them. - Isaiah 61:8
Blessed are they who observe justice, who do righteousness at all times! - Psalm 106:3
Thus says the Lord of hosts, Render true judgments, show kindness and mercy to one another. -Zechariah 7:9
I am the Lord who practices steadfast love, justice, and righteousness in the earth. For in these things, I delight, declares the Lord. -Jeremiah 9:23-24
To do righteousness and justice is more acceptable to the Lord than sacrifice. - Proverbs 21:3
Follow justice and justice alone, so that you may live and possess the land the LORD your God is giving you. - Deuteronomy 16:20
Peace and justice quotes
With so many conflicts going on in the world right now, these quotes remind us that we have important roles to play to ensure that our world is free of discrimination of any kind.
True peace is not merely the absence of tension: it is the presence of justice.- Martin Luther King, Jr.
By acting compassionately, by helping to restore justice and to encourage peace, we are acknowledging that we are all part of one another.- Rahm Dass
If we have no peace, it is because we have forgotten that we belong to each other. - Mother Theresa
Justice does not come from the outside. It comes from inner peace.- Barbara Hall
Peace is not the absence of war but the presence of justice.- Harrison Ford
Though force can protect in emergency, only justice, fairness, consideration, and cooperation can finally lead men to the dawn of eternal peace. - Dwight D. Eisenhower
Reconciliation should be accompanied by justice; otherwise, it will not last. While we all hope for peace, it shouldn't be peace at any cost but peace based on principle, on justice. - Corazon Aquino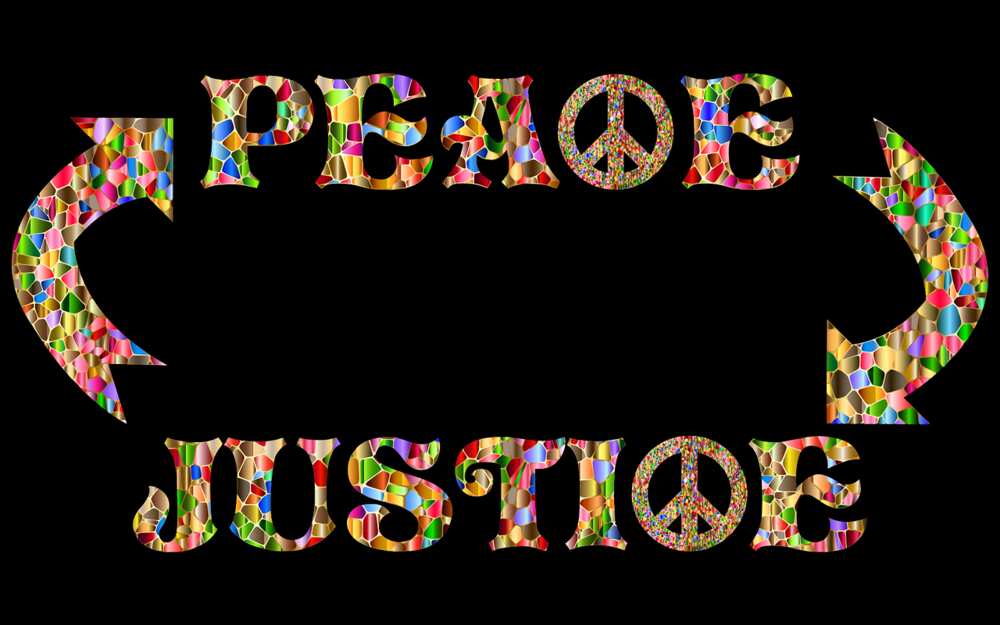 Peace is more important than all justice, and peace was not made for the sake of justice, but peace without justice is tyranny. – William Allen White
There is no true peace without fairness, truth, justice, and solidarity. - St. Pope John Paul II
If we have no peace, it is because we have forgotten that we belong to each other. - Mother Teresa
Peace is the work of justice indirectly, in so far as justice removes the obstacles to peace; but it is the work of charity (love) directly, since charity, according to its very notion, causes peace. - Thomas Aquinas
No free society is truly free if it is still unfair and discriminatory against any group or community.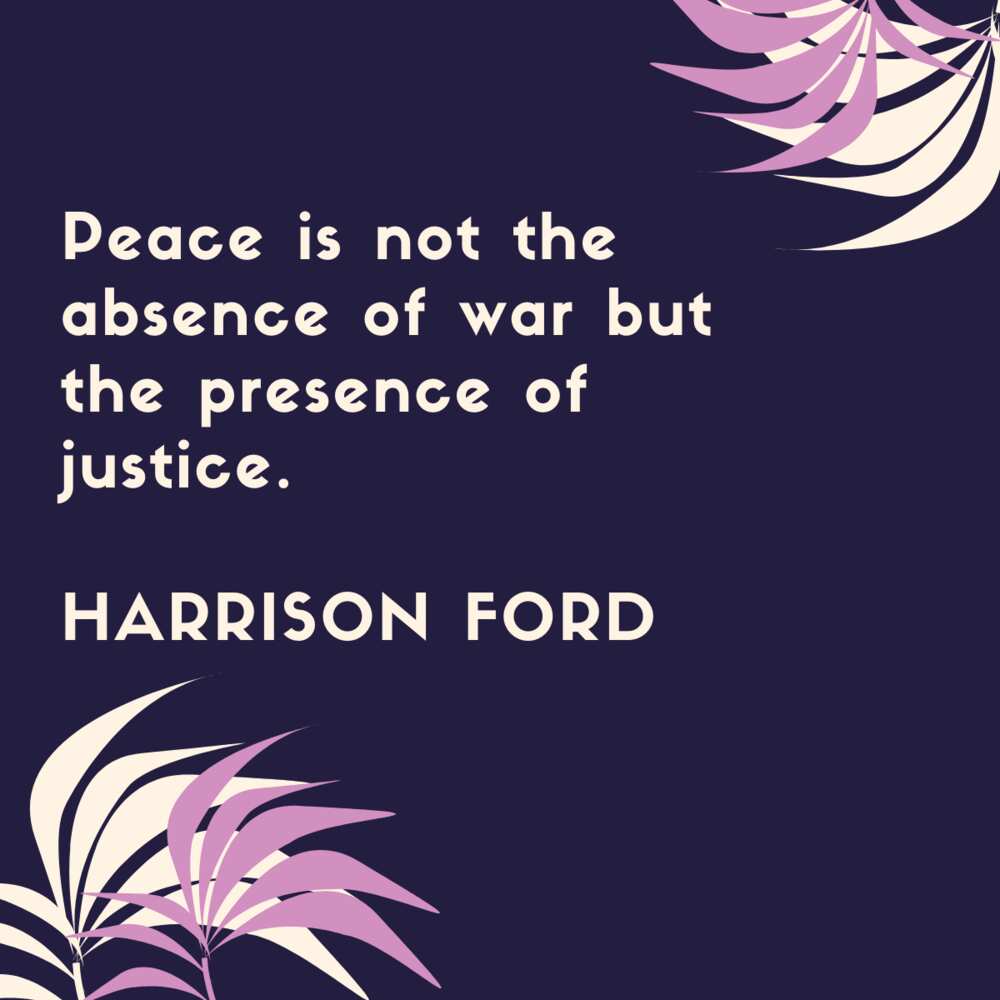 Poetic Justice quotes
Poetic Justice is a 1993 romantic drama film directed by the late John Singleton. The film features superstars Janet Jackson, Tupac Shakur, Regina King, and poet Maya Angelou. Here are some of the most popular quotes from the movie.
In a time of secret wooing, today prepares tomorrow's ruin, left knows not what right is doing, my heart is torn asunder. In a time of furtive sighs, sweet hellos and sad goodbyes, half-truths told and entire lies, my conscience echoes thunder. In a time when kingdoms come, joy is brief as summer's fun, happiness its race has run, then pain stalks in to plunder.
Alone, lying, thinking last night, how to find my soul a home, where water is not thirsty, and bread loaf is not stone. I came up with one thing, and I don't believe I'm wrong, that nobody but nobody can make it out here alone.
I write what's in my heart.
Most of these young girls today don't know their cooch from a hole in the wall. See, that's why I dress... and rest, cause love don't live here anymore.
The reason why I love you is because when I was in the county jail, you sent me all those nice poems.
She needs to work in a liquor store as much as she be drinking.
I'm a black woman. I deserve respect.
I want to talk to you about morals. The morals of the young people today is going to get them in big trouble. I'm telling you, because they act like they don't know the difference between right and wrong. And this is the truth. And see, one of the reasons is the parents. The parents are not taking care of their children. They are not telling them the difference between right and wrong.
Use these justice quotes to remind yourself and others why people must stand up for what is right and speak against the lack of fairness and discrimination in their societies. Which quote about justice do you like the most? Let us know in the comment section below.
READ ALSO: Famous Voltaire quotes on love, religion, government and more
With education and enlightenment on the rise around the world, it is shocking to see that human rights violations still persist and on the rise in many parts of the world.
These words from Voltaire compiled by Legit.ng will help you reflect on what is happening in many societies today.