2 best friends with low chance of survival beat the odd, bagged diploma
- Odin Frost and Jordan Granberry are two friends who nobody thought would ever live into their young adulthood
- The two besties have fostered a friendship that has spanned 15 years as they met when they were just three
- After bagging their diploma at 18, the two recreated their childhood picture at their graduation ceremony
PAY ATTENTION: Click "See First" under the "Following" tab to see Legit.ng News on your Facebook News Feed!
Two best friends, Odin Frost and Jordan Granberry, who were given low chances of survival when they were little have proved medical examinations wrong as they lived well into their adulthood.
Doctors thought they would never live long. This year, the two besties, now 18 years old, received their school diplomas, CBS News reports.
How they first met
Odin and Jordan met when they were three years old at Wayne D Boshears Centre for Exceptional Programs.
"Their very first day of school, they were put in the same classroom. They pretty much had this immediate bond. Neither one of them could speak, but wherever the other one was, they were always together," Tim Frost, Odin's dad said.
The pain Odin's mother faced
Odin's father also recalled how his wife's labour was induced because she had a medical condition called preeclampsia, saying it was a difficult experience.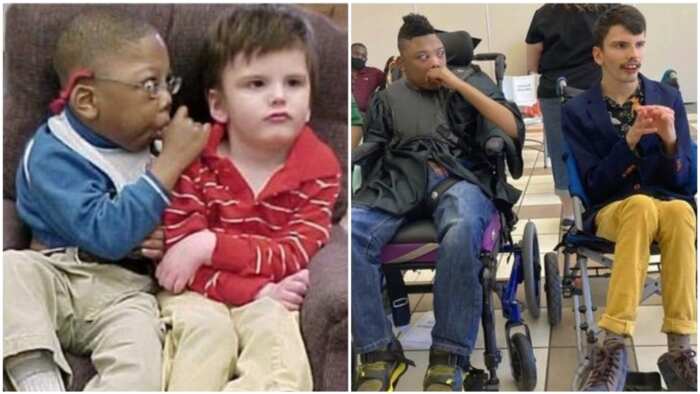 Beating the odds
In the case that Odin survived, the doctors thought, he would be in a vegetative state all through his life.
During their graduation, the two friends took a photo that recreated the childhood picture they once had together. In all, Odin and Jordan have been friends for 15 years.
Meanwhile, Legit.ng earlier reported that the oldest ever conjoined twins, Ronnie and Donnie Gaylon, died at the age of 68 at a hospital in Dayton.
The death of the twins was confirmed by their brother, Jim. It should be noted that the twins lived with their brother and his wife, Mary, in Beavercreek for 10 years.
Another thing worthy of note is that in 2010, 200 volunteers helped build an extension onto Jim's home so the twins can live in relative comfort.
PAY ATTENTION: Download our mobile app to enjoy the latest news
Ronnie and Donnie had to vacate their brother's place when they had arthritis and it became uncomfortable to keep living there.
"I am grateful to the community for what they did to help Ronnie and Donnie move into their house. This allowed them to live with their family for the last 10 years," Jim said.
Conjoined at the abdomen, the twins outlived Chang and Eng Bunker, the reportedly first known conjoined twins in the world.
They also surpassed the oldest living conjoined twins, Giacomo and Giovanni Battista Tocci in 2020.
Nigeria News: Abuja Hospital, Parents Speak on Historic Separation of Co-joined Twins | Legit TV
Source: Legit