Study shows people are more likely to contract Covid-19 in their home
- A study conducted by the US Center for Disease Control and Prevention (CDC) has revealed that people are more likely to contract Covid-19 in their own home
- It is far more likely that you will contract the virus from members of your own household than from outside the home
- South Africans were alarmed at the news and concerned as to where they could go to be safe
PAY ATTENTION: Click "See First" under the "Following" tab to see Legit.ng News on your Facebook News Feed!
A study focused on Covid-19 has revealed that people are more likely to contract the disease at home.
South Korean epidemiologists have discovered that people are more likely to contract the disease from members of their own families than from outside the home.
Legit.ng learned that the US Center for Disease Control and Prevention (CDC) had published the report on July 16 and examined 5706 cases of people contracting the virus and the 59000 people they came into contact with.
The results were surprising, just two out of 100 infected people had contracted the virus from someone outside of their home.
Jeong Eun-kyeong, director of the Korea Center for Disease Control and Prevention (KCDC) and one of the authors of the study, told a briefing:
"This is probably because these age groups are more likely to be in close contact with family members as the group is in more need of protection or support."
The study found it harder to include them in the study group, according to eNCA.
"The difference in age group has no huge significance when it comes to contracting Covid-19. Children could be less likely to transmit the virus but our data is not enough to confirm this hypothesis," said Choe.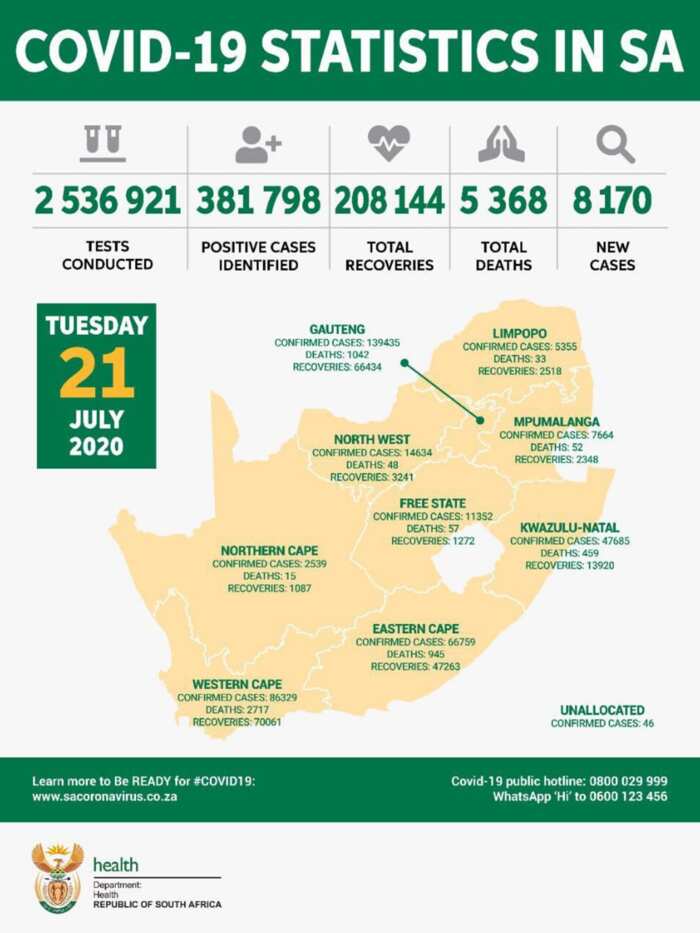 South Africans have not taken the news well and have reacted to the study on social media:
@LesediMolotsi1:
"Trying everything they can to keep schools opened. We were told to stay home and stay safe, now we're told it's not safe to stay home. When you meet them please tell them bayanya."
@TheDylanGraham:
"Stay home and get sick. Go out and get sick. Rather ignore paid-for advertising articles like these and do what makes you feel better."
PAY ATTENTION: Download our mobile app to enjoy the latest news
@mfundo_mpanza:
"Now we must not stay at home, where are we supposed to go?"
@vukosialvinbalo:
"What do you suggest we do now?"
A Chinese-made vaccine against Covid-19 went into its final phase of test on Tuesday, July 21 in Brazil as volunteers believe it would go a long way in ending the pandemic.
The vaccine was developed by a private Chinese firm called Sinovac, making it the third vaccine in the world to enter Phase 3 clinical trial on humans.
Coronavirus: 5 ways Nigeria is handling COVID-19 | Legit TV
Source: Legit