Lost dog walks 57 miles to locate owner's old home
- A dog identified as Cleo had to walk 57 miles when it got lost to find its owner's former home in Missouri
- When Micheal, the new owner of the home saw Cleo, he was amazed as he scanned the dog's chip to locate its family
- The miles the dog covered to the home was estimated to be over an hour drive and between 15-20 hours if one were to walk it
PAY ATTENTION: Click "See First" under the "Following" tab to see Legit.ng News on your Facebook News Feed!
A dog that had gone missing travelled a whole 57 miles to the place its owner used to live. When the new owner of the home, Colton Micheal, saw the dog on Wednesday, July 15, on the porch, he was surprised.
Little did he know that the dog actually felt at home because that was where its owner used to live before they had to move, CBS News reports.
It should be noted that Micheal moved into the house in 2018 and had before that day never seen the dog (later identified as Cleo) before.
"We assumed she was a neighbour's dog that we hadn't seen around, or some simple explanation like that. No way we would ever guess she came from so far away," he said.
Another thing worthy of note is that Cleo had to walk a distance which is calculated at over an hour drive and between 15-20 hour walk from Kansas to the old home in Missouri.
To find the owner, Micheal guessed the dog must be wearing a microchip as most do. After scanning the chip, he got the owner's contact and reached out to them on Facebook.
"She did seem very confused in a way that I can't say I've seen in another dog. You could see in her eyes that she didn't recognize or trust us, but as soon as the owners' car pulled up her ears perked up, and when she saw the young men, even though they were wearing masks, she changed her demeanor like flipping a switch," Michael said.
See the video of the dog below: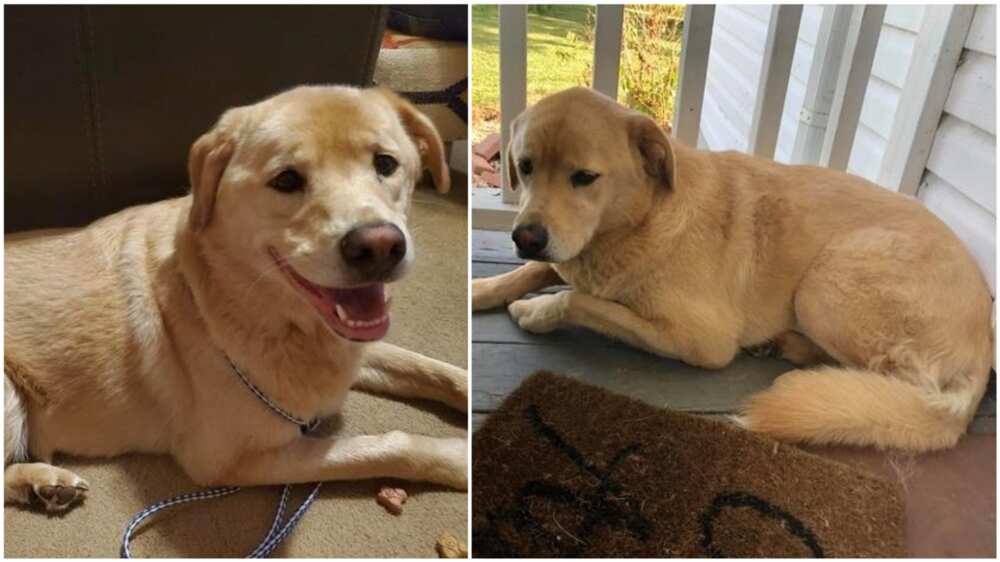 Michael then advised that all dogs should be chipped, saying he may not have found the people who own Cleo if not for the device.
Meanwhile, Legit.ng earlier reported that a kindhearted dog was dubbed a hero after helping a blind man walk without tripping over an obstacle that lay in his path.
A police commissioner from Pune City drove Twitter users to tears when he posted a video of the black, fluffy dog doing its act of kindness without caring who was watching.
The canine beauty was walking with someone who appeared to be its owner and at first, it minded its business until it spotted a blind man coming its way.
I can train dogs to detect Coronavirus carriers - dog trainer | Legit TV
Source: Legit.ng