Woman says she gave birth and towel was left in her for 9 months
- Ridge Hospital has surfaced in the news again as a woman has narrated how a towel was left inside her for 9 months after delivery
- According to her, it took the services of another hospital for the foreign object to be detected and removed
- She indicated that there was an unusual pain around a part of her belly which made her sure that an object lay inside her
PAY ATTENTION: Click "See First" under the "Following" tab to see Legit.ng News on your Facebook News Feed!
A woman whose identity has been blurred for security reasons has revealed that doctors at the Ridge Hospital left a huge towel inside her tummy after she had a C-Section at the regional hospital.
According to the Ghanaian mother who recounted the incident to Captain Smart on Accra-based Angel FM, the towel was left inside her for nine months until it was discovered and removed at a different hospital.
She indicated that her stitched wound kept so long before healing and she constantly visited the other hospital from where she was usually referred back to Ridge.
Watch video from 2hrs 15 min to see the woman's narration below:
Ridge Hospital, the lady narrates, had all her folders and medical records, which were supposed to make treatment at the hospital more informed and effective.
However, she mentions that after all forms of subsequent remedies were given to her, she kept experiencing unusual pains at a particular area of her belly which made her convinced that there was a foreign object there.
She constantly complained to the new hospital and it agreed to carry out a surgical procedure on her, during which it was discovered that a dark-looking object lay inside her.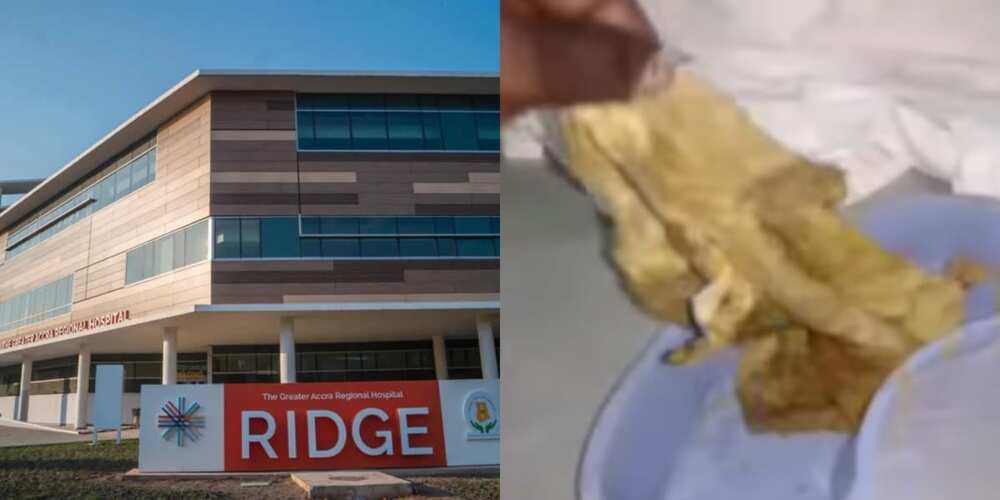 The object was carefully pulled out and it turned out to be a huge towel that is thought to have been used to soak her blood during her C-section nine months back.
In other news, an awe-inspiring photo has emerged of male twins who reportedly got married to two female twins and have also delivered sets of twins respectively.
The pair, identified as Sa'ad and Sa'id, were pictured in a recent frame with their new babies.
While Legit.ng cannot independently verify the story nor its accompanying photo, the men and their adorable twins have gained traction on social media.
Man bedridden for 17 years begs Nigerians for help | Legit TV
Source: Legit.ng