Moment black man shops for white mother and daughter as hunger bites harder
- A good Samaritan was recorded doing something amazing for a woman and her daughter who were begging for food outside a store
- He got a trolley and told them to load it with everything they needed, he had to coax them on as they were amazed at the amazing gesture
- At the end of the shopping trip, he gave them R1,500 (N35,279.55 ) to pay for their groceries and double-checked to make sure that they were okay
PAY ATTENTION: Click "See First" under the "Following" tab to see Legit.ng News on your Facebook News Feed!
A Facebook user identified as BI Phakathi posted a video online about a woman who was asking for donations with her daughter to buy food when something amazing happened.
A good Samaritan stepped in to help the woman, got a trolley and told the woman to put what she needed in.
Legit.ng saw that she was hesitant at first but after some gentle persuasion, she began to place essentials such as bread and sugar into the trolley.
Samantha, the daughter of Colleen, pushed the trolley through the aisles as her mum placed the much-needed food in it.
"Are you sure that's everything?" he asked her after the trolley had milk, eggs, bread and a few other items. He urged her to take what she needed.
Colleen revealed that she is unemployed and due to the lockdown she is struggling to get work.
"Take enough," he urged as and suggested they take honey as well. The mom and daughter were hesitant at the gesture.
He told them to take advantage of the situation and take what they needed, they eventually added more to their trolley.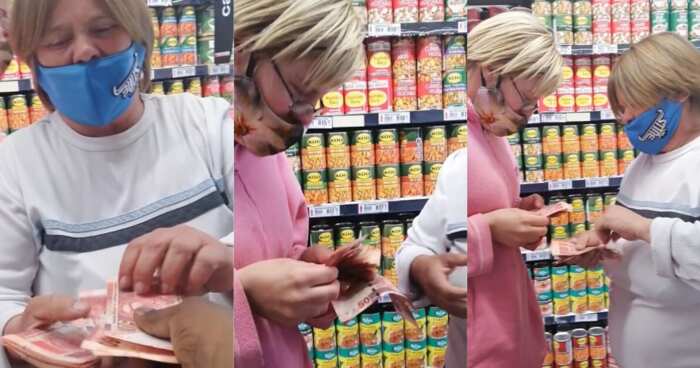 He then gave them R1,500 (N35,279.55 ) to pay for their groceries. He checked with them afterwards to see if they would be fine. It was clear to see that the two women did not want to take advantage of the good Samaritan and that they were extremely grateful for the help.
This is what Facebook users had to say:
Julie Daniel:
"Thank you, sir. God bless you. This video speaks much volume with what's going on in this world now. I respect the fact that you gave them the money to go and buy their own groceries.
"For their freedom and no show of awkwardness. I'll be doing just that. God will refund from your wallet what you gave them."
Michelle Wardell:
"This is lovely, they are so grateful you are amazing BI, you will never know how much good you are doing for people in need. To me you are an earth angel, that's what I think every time I see you wake up and see what you are doing.
"It makes my day good to know there are still people out there that care. I wish I could do that. I honestly would. I wish I could come and do that with you just once. it would be an amazing feeling. God bless you and your family."
Kelly Fernald:
"I love watching your videos, you are an angel sent from Heaven. These poor people and you just made their day, month, year. You make me want to be a better person now. I've been starting to do this when I see homeless people in my area, it makes me feel good."
Vanessa Moura Labuschagne:
"I have been in this lady's shoes, having someone take me shopping for food and I know how it feels to wonder if the person is thinking it's too much and feeling guilty that someone else has to buy food for our family. Carl Van Der Westhuizen you blessed us this way and I will never forget that. People like you and BI Phakathi make this world bearable. ❤️"
Meanwhile, Legit.ng previously reported that a Nigerian man identified as Dr Dein Braide narrated how he helped an Uber driver who bashed his car on Thursday, June 25.
The man with the Twitter handle @alabo_braide took to the social media platform to narrate the experience which he said humbled him.
28-yr-old widow gets help after Legit.ng's report | Legit TV
Source: Legit.ng