Doctors share their experience working in Lagos isolation centre
- Nigerian health workers in the frontline of the deadly COVID-19 at the isolation centre in Lagos say they have had a great experience
- A doctor identified as Adeola Aderele says volunteering as a frontline worker was not an easy decision for her
- According to Nurse Bello Jennifer, there were times she had critically-ill patients and other times her patients recovered
PAY ATTENTION: Click "See First" under the "Following" tab to see Legit.ng News on your Facebook News Feed!
Nigerian health workers in the frontline of the coronavirus pandemic have shared their experience at the Lagos isolation centre and how they are battling with the deadly disease.
Doctor Adeola Aderele said it was not an easy decision for her but she could not sit back and do nothing.
According to her, volunteering at the Lagos isolation centre has been a great experience for her and her colleagues.
Doctor Aderele: "Volunteering to be a frontline doctor in this pandemic was not an easy decision for me but I could not just stay put or stay at home and not do anything. And coming here has been a great experience for me and my colleagues.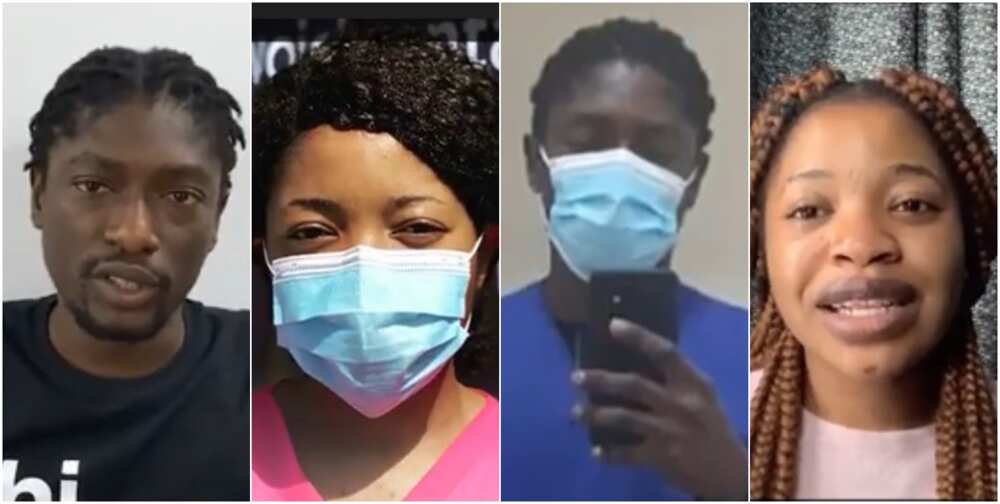 "I felt almost all the emotion that I can feel. I've been happy, I've been really sad, I've been frustrated, I've been really stressed. But all the negative emotions just disappear when you have a patient you are discharging after being ill for a while. It just makes everything worthwhile.
"Our working conditions here are not bad at all. We have all the protective equipment - the PPEs that we need."
Nurse Bello Jennifer said her experience at the isolation centre is a mixture of good and bad because there were times she had critically-ill patients and times her patients recovered.
She said: "My experience at the isolation centre, I will describe it as a mixture of good and bad because we've had our good times, we've had our bad times.
"We've had cases where we had critically-ill patients and we lost them. And they were cases where our patients were able to recover. And as a healthcare worker, there is this joy and satisfaction you get from seeing your patients recover, knowing how far they've come.
"So basically, my experience has been interesting. Because COVID-19 is so novel that I feel privileged to be able to impact and serve my country in a pandemic like this."
Another doctor identified as Olaoluwa Bolujoko said working at the COVID-19 isolation centre has been an adventure for him.
He said: "My experience working at this isolation centre has been incredible, it's been quite an adventure. I can say it's been the most wholesome time of my career. There hasn't been many years of it but it's been great, it's been amazing."
An intensive care medical officer, Adedapo Adesanya, said: "Working in this pandemic has been quite eventful. There are many procedures I'll usually do on a normal basis when I'm in emergency setting which I can't do here because of the coronavirus pandemic."
Watch the video below:
PAY ATTENTION: Install our latest app for Android, read the best news on Nigeria's #1 news app
In other news, two COVID-19 vaccine candidates have shown positive results in separate trials across the world.
In Britain, a trial saw 1,000 adults participating and had found that the vaccine had induced 'strong antibody and immune responses'.
Another trial took place in China and saw over 500 people taking part. This trial had also shown that most participants had developed a positive response against the virus.
Coronavirus: Govt is lying to us about the virus | Legit TV
Source: Legit