Black men guard woman's house after harassment from her white neighbours
- Men stood up for Jennifer McLeggan after the black woman complained that her white neighbours have been harassing her
- On her front door, Jennifer has a long list detailing all the types of intimidation she has received from her neighbours
- The single mother and a nurse said that she has always had to live in a nightmare since she moved into the neighbourhood three years ago
PAY ATTENTION: Click "See First" under the "Following" tab to see Legit.ng News on your Facebook News Feed!
After Jennifer McLeggan claimed she was being harassed by her white neighbours, a group of black men stepped in and gave her overnight security.
According to Lucy Yang, the black woman is a nurse and single mother who moved into her Valley Stream home three years ago and has been receiving threats.
"I feel like I'm terrorized. It's a nightmare living next to him," she told the media.
Black Enterprise reports that Micheal McEneaney, 82, his 57-year-old son John and his girlfriend have been harassing the black woman.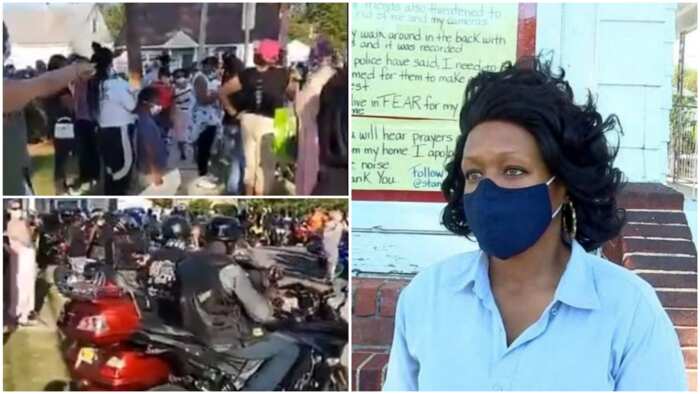 Some of the intimidations are throwing faeces, dead animals into her compound, spitting into her yard, and shining a blowtorch on her home.
It should be noted that Jennifer was fined for having faeces in her yard until she installed a camera system to capture the culprit which lead to a $5,000 judgment in her favour. That never stopped them.
PAY ATTENTION: Download our mobile app to enjoy the latest news update
After a long history of harassment, the single mother had to put out a long message on her front door showing the incidents she has had in the past.
The woman has said that she was very much touched by the help, adding that the men who came to help her had jobs and going through the pandemic just like everyone is.
Herron was the first person who offered to sit in front of her house until some of his friends became a part of the security team.
PAY ATTENTION: Download our mobile app to enjoy the latest news update
Meanwhile, Legit.ng earlier reported that a mother in Russellville, Ark, Deval Brockman, has said that her six-year-old daughter, Journei Brockman, was banned from daycare because she put on a shirt with the imprint "Black Lives Matter".
Journei has been a student of His Kids Preschool for six months before the incident happened. However, on Friday, June 26, she was told not to come back to school.
Deval said that a school official called her on Thursday, June 29, that she did agree with the shirt, saying she should not wear such to school again.
After reporting the issue to state officials, Denval was told that there is nothing wrong with the shirt except it contains profane words.
George Floyd: I was also arrested, handcuffed wrongly - Nigerian in Minneapolis | Legit TV
Source: Legit