Ex-Kano emir Sanusi names nepotism as the worst form of corruption in Nigeria
- Former governor of the Central Bank of Nigeria, Sanusi, believes Nigeria's biggest problem is corruption
- But he says knowing the type of corruption is even more important if the country wants to adequately tackle the rot in the society
- Sanusi identified nepotism as the worst form of corruption in Nigeria
PAY ATTENTION: Click "See First" under the "Following" tab to see Legit.ng News on your Facebook News Feed!
Former Emir of Kano, Muhammad Sanusi, has described nepotism as the worst form of corruption.
The Cable reports that Sanusi made this assertion while speaking at a webinar themed: "The sustainability of society" on Friday, July 17.
According to Sanusi, corruption has impacted negatively on society.
Sanusi argued that while corruption itself is a problem, the type of corruption is also critical. Nepotism, he noted, is the worst kind because it dethrones merit.
He blamed nepotism for the collapse of the Federal Character system in Nigeria.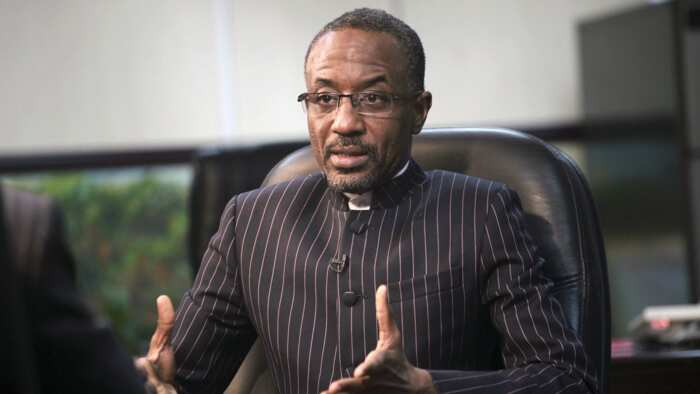 "Part of the problem we have is incompetence and that is why I keep saying we must pay attention to merit. We have a system called Federal Character and I believe we should have Nigerians from all over the country in public office, but all those Nigerians must be people that are competent. There must be a merit test; a competence test," Sanusi said.
According to Google, Nepotism is "the practice among those with power or influence of favouring relatives or friends, especially by giving them jobs."
On his part, Sanusi explained: "For me, I think the root of corruption is when we begin to de-emphasise merit, competence and performance and so long as we don't bring the best in this country to do the job and hold them to account, we won't go anywhere.
"The worst form of corruption we have in this country is nepotism; when people get into positions by virtue of personal loyalty, friendship and who they know, rather than what they can actually deliver by virtue of their competence for that office. We need people who can deliver for this country, I mean the majority."
Legit.ng notes that corruption is so endemic in Nigeria that even the leadership of the fight against corruption are found wanting.
Sanusi's words came just days after Alexander Micah Paman, an assistant director in the federal civil service, was sentenced to 12 years imprisonment on Wednesday, July 8.
Paman was the former chairman of the Anti-Corruption and Transparency Unit (ACTU) of the Federal Ministry of Works.
PAY ATTENTION: Install our latest app for Android, read the best news on Nigeria's #1 news app
He was sentenced by Justice O. A. Adeniyi of an FCT high court, in Abuja for defrauding the federal government of N5 million.
Paman was brought before the presiding judge by the Independent Corrupt Practices and Other Related Offences Commission (ICPC) for misappropriating N5 million.
Death penalty is the best way to end corruption in Nigeria | Legit TV
Source: Legit