Ondo election: I won 2016 election for you – Agboola tells Akeredolu
- Ondo deputy governor Ajayi says he helped Akeredolu win election in 2016
- Agboola said this after Akeredolu said he regretted choosing him as deputy
- Both executives are currently on the warpath
PAY ATTENTION: Click "See First" under the "Following" tab to see Legit.ng News on your Facebook News Feed!
Agboola Ajayi has revealed that without him, Governor Rotimi Akeredolu of Ondo state would have lost his election in 2016.
According to the embattled deputy governor who defected to the ruling Peoples Democratic Party (PDP) from the ruling All Progressives Congress (APC) recently, the governor is frustrated over his inability to remove him illegally.
Agboola said this after the governor told delegates at Igbekebo, Ese-Odo local government area of the state that he regretted picking Ajayi as his running mate in 2016.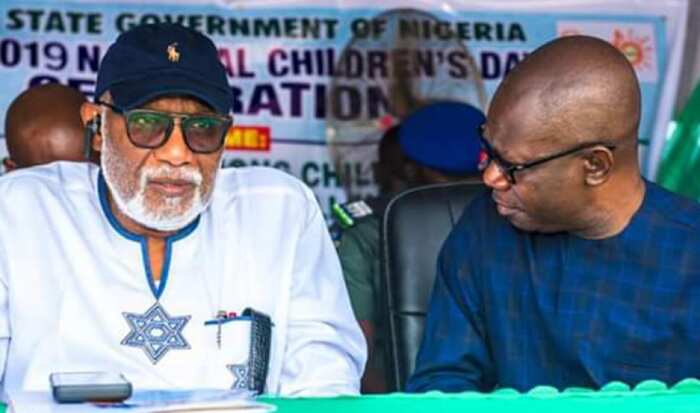 Meanwhile, Legit.ng had reported that Ondo state is one of the 6 southwestern states of Nigeria. It is situated in between Ogun and Edo states on land and cuts across many states on the sea. The state comprises the Ikales, Ilajes, Apoi, Akokos, Ondos, Akures, Ijaws, Idanres, Owos.
Though the state is yet to attain a quarter of her potentials due to bad leadership over the years but without doubt, it is one of the most favoured and blessed states in the country.
Here are reasons why the sunshine state is blessed by God more than any other states in this modern-day Nigeria.
Land
To say Ondo state is massively blessed by God in this regard is an understatement. The sunshine state has unarguably the most fertile land suitable for agriculture production in the whole country. The land in the state is suitable for commercial farming of cassava, Timber, cocoa, rubber, palm tree, cola nut, plantain, rice and even cannabis. These are apart from vegetables and other abundant fruits like cashew, mango etc. In fact, you can throw a seed on any land in the state and you can be sure it will germinate and survive if preys did not come near it.
The state is one of the leading farmers of the above-mentioned agricultural products in Nigeria. In fact, it is the largest producer of cocoa in the country, responsible for about 40 percent of production.
NWC dissolution: I remain loyal to President Buhari - Oshiomhole | Legit TV
Source: Legit