50+ cute baby quotes and sayings that will brighten up your day
Raising children might be challenging, especially for first-time parents. Luckily, there are many adorable baby quotes to motivate you when bringing up these little bundles of joy.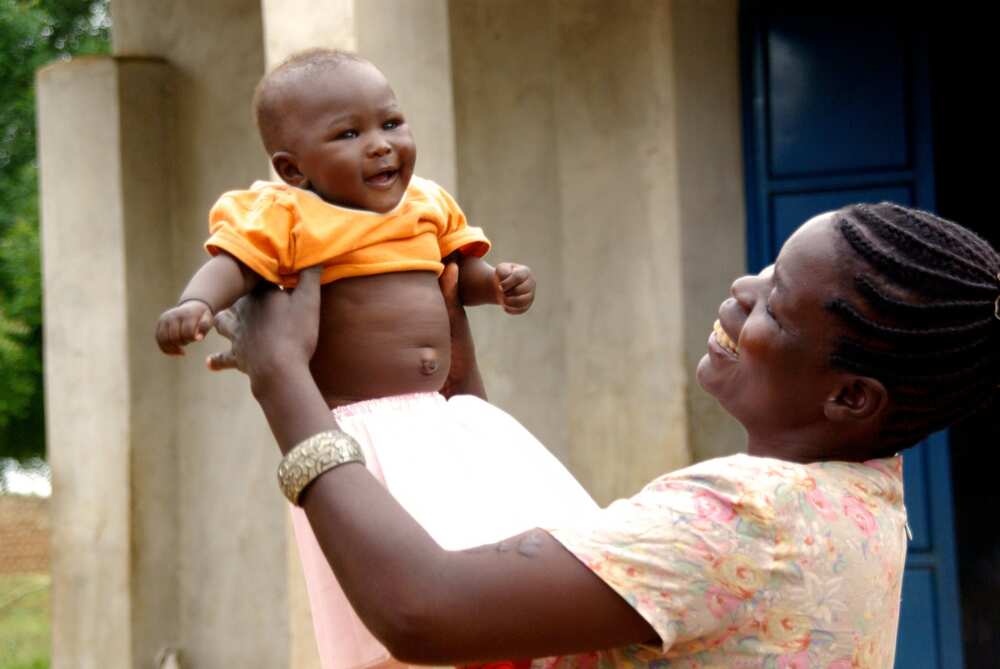 New baby quotes may make your day and remind you why these tiny people are a blessing. Here are some of the best baby quotes.
Beautiful baby quotes
Here are some of the most amazing my children quotes which can make your day:
A baby is as pure as an angel and as fresh as a blooming flower.
I love these little people, and it is not a slight thing when they, who are so fresh from God, love us.
It is a smile of a baby that makes life worth living.
Babies cry at birth because it is the first time they experience separation from love.
It is a good thing babies do not give you a lot of time to think. You fall in love with them, and when you realize how much they love you back, life is very simple.
The children we bring into the world are small replicas of our husbands and ourselves, the pride and joy of grandfathers and grandmothers.
A baby is a dancing joy of life.
I now know why God gave us babies. They require constant attention, of course. They make messes and disturb the peace, but their cuteness and smiles are the only reminder of God we have in the house.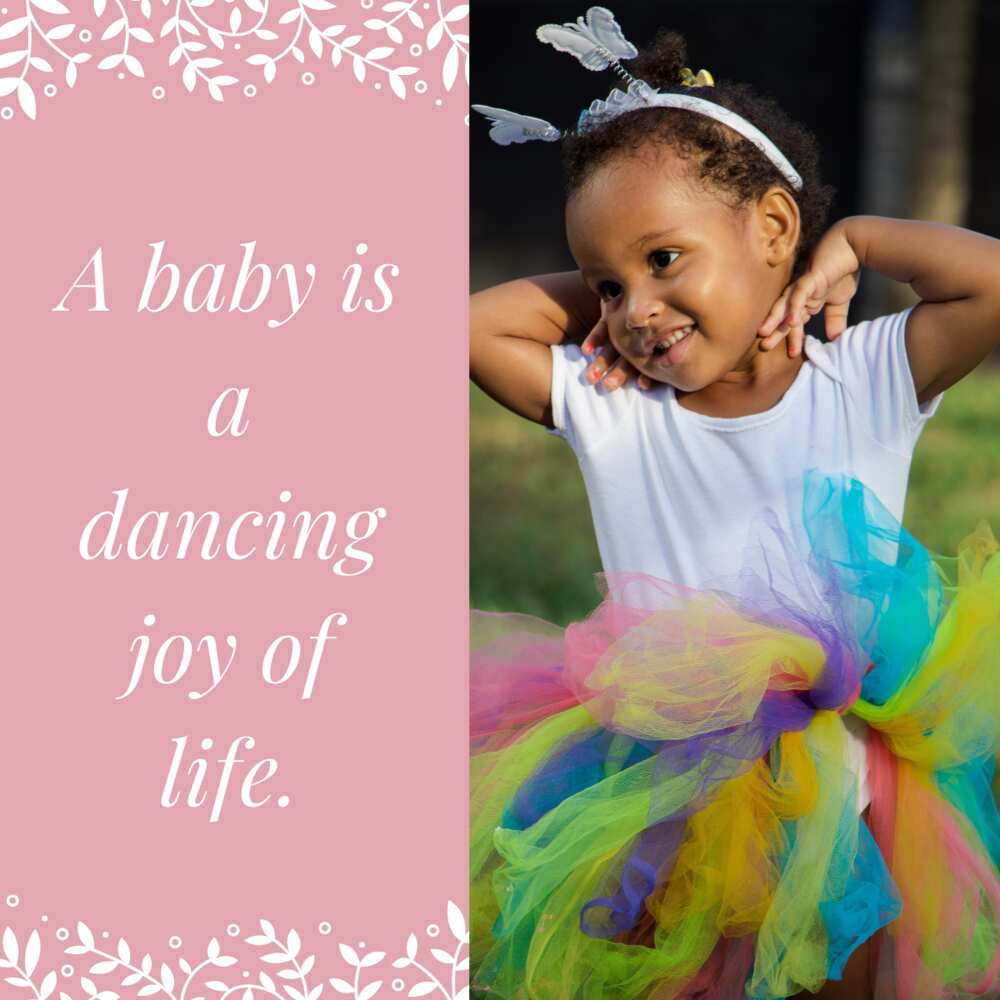 This baby is the most precious thing I have ever had. He is my treasure, my joy, my world, my everything.
Like stars are to the sky, so are the children to our world. They deserve to shine!
Do you know what the great thing about babies is? They are like little bundles of hope. Like the future in a basket.
Cute baby girl quotes
Reading a single baby girl quote daily will always brighten your day. Here are some sweet baby girl sayings that will always leave a smile on your face:
A daughter is one of the most beautiful gifts this world has to give.
A toddling little girl is a center of common feeling that makes the most dissimilar people understand each other.
No matter what moment it is, a baby girl will always render sunshine in your life with her adorable smile.
There is no better feeling than watching your baby girl break into laughter.
It is extraordinary to look into your baby girl's face and see a piece of your flesh and spirit.
A baby girl can dance her way into your heart, whirling on the tips of angel wings, scattering gold dust and kisses in your path.
Baby girls are precious gifts wrapped in love serene. Their dresses tied with sashes and futures tied with dreams.
Here sleeps a girl with a head full of magical dreams, a heart full of wonder and hands that will shape the world.
She leaves a little sparkle wherever she goes.
When you have a baby girl, you realize that there is something far more precious than the most precious jewels.
A baby daughter is always daddy's girl and mommy's world!
A daughter is a treasure – and a cause of sleeplessness.
A daughter is a miracle that never ceases to be miraculous…full of beauty and forever beautiful…loving, caring, and genuinely fantastic.
A daughter is one of the most beautiful gifts this world has to give.
Like stardust glistening on fairies' wings, little girls are made of magical things.
A tiny daughter gives parents a life in a climate of perpetual wonder.
Daughters are love coming from a mother's vine.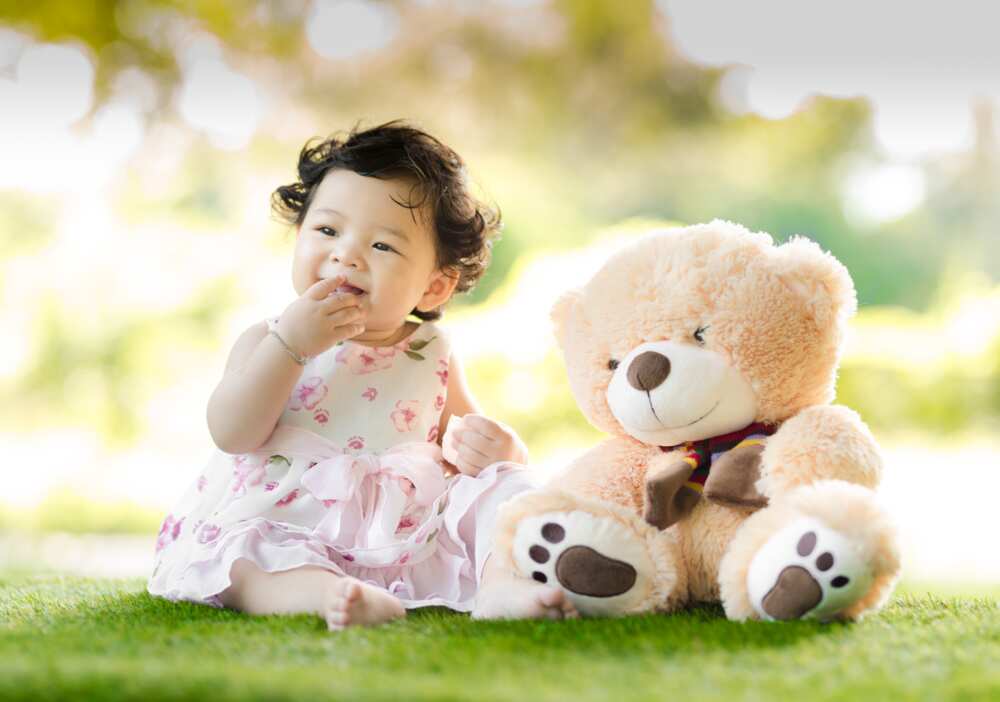 Little boy quotes
Baby boy quotes are just as cute as those about girls. Here are some quotes about little boys:
One of the best things in the world is a boy; it requires no experience but needs some practice to be a good one.
A boy becomes an adult three years before his parents think he does, and about two years after he thinks he does.
A man can never quite understand a boy, even when he has been a boy.
A small son can charm himself into and out of most things.
Boys do not grow up gradually. They move forward in spurts like the hands of clocks in railway stations.
There is a little boy inside the man who is my brother... Oh, how I hated that little boy. Moreover, how I love him too.
What are little boys made of? Snips and snails and puppy-dog tails, and such are little boys made of.
A boy's story is the best that is ever told.
A boy carries out suggestions more wholeheartedly when he understands their aim.
A boy is a magical creature - you can lock him out of your workshop, but you cannot lock him out of your heart.
A boy is the only thing that God can use to make a man.
Young boys should never be sent to bed. They always wake up a day older, and then before you know it, they're grown.
The moment a little boy is concerned with a jay and a sparrow, he can no longer see the birds or hear them sing.
Old boys have their playthings as well as young ones; the difference is only in the price.
With boys, you always know where you stand, right in the path of a hurricane.
When I grow up, I want to be a little boy.
Little boys are like snowflakes, and there are no two alike.
The spirit is there in every boy; it has to be discovered and brought to light.
Rainbow baby quotes
What is a rainbow baby? It is a baby who is born after a stillbirth, miscarriage, or infant death. Here are the best rainbow baby quotes anyone would ever find:
Everyone wants happiness, no one wants pain, but you can't have a rainbow without a little rain.
Those we have held in our arms for a little while, we hold in our hearts forever.
An angel in the book of life wrote down my baby's birth, then whispered as she closed the book, "too beautiful for earth."
Rainbows remind us that even after the darkest clouds and the fiercest winds, there is still beauty.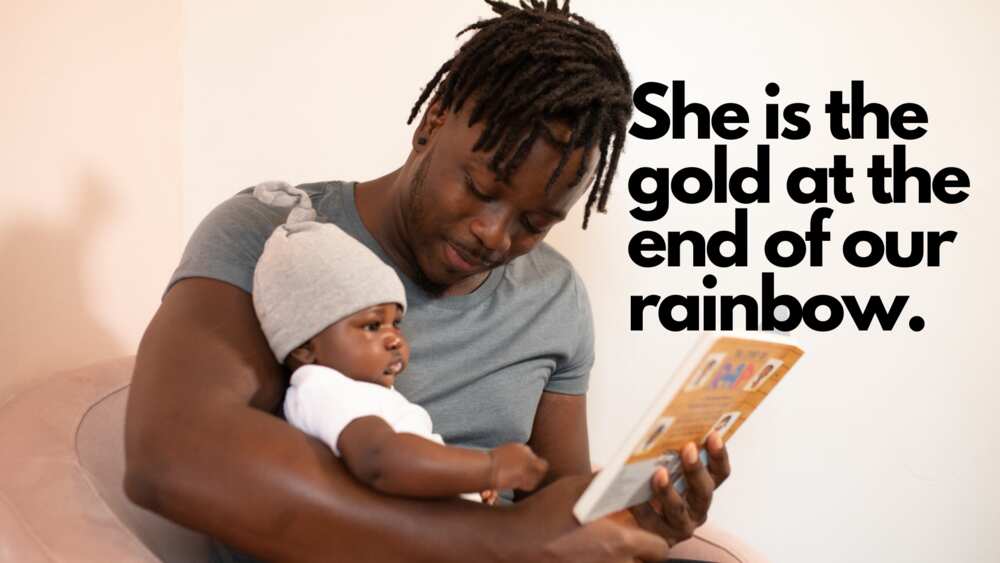 You are the rainbow that adds colors to my gray skies.
When we lose one blessing, another is most often unexpectedly given in its place.
Somewhere over the rainbow, skies are blue. And the dreams that you dare to dream really do come true. – Yip Harburg
For this child, we have prayed.
Patience is bitter, but its fruit is sweet.
Nobody ever had a rainbow baby until they had the rain.
Your fingerprints are on my heart. – Tom Krause
The pain you have been feeling can't compare to the joy that is coming. – Romans 8: 18
Awesome child quotes
Below are some of the best sayings about children:
Every child you encounter is a divine appointment.
Children are like wet cement: whatever falls on them makes an impression.
Children are the hands by which we take hold of heaven.
No matter how hard loving your children may seem, you have to do it unselfishly, because it is the only way.
Children make your life meaningful.
Hugs can do great amounts of good, especially for children.
The best inheritance a parent can give his children is a few minutes of his time each day.
Children are not things to be molded but are people to be unfolded.
A child is a beam of sunlight from the infinite and eternal, with possibilities of virtue and vice, but as yet unstained.
Children are our most valuable resource.
There is nothing like a newborn baby to renew your spirit and to buttress your resolve to make the world a better place.
Children refresh the life and rejoice the heart
For having a baby's sweet face so close to your own, for so long a time as it takes to nurse 'em, is a great tonic for a sad soul.
Every child born into the world is a new thought of God, an ever-fresh and radiant possibility.
A baby's cry is precisely as serious as it sounds.
Children need models rather than critics.
Every baby needs a lap.
Children reinvent your world for you.
Children are the living messages we send to a time we will not see.
The greatest legacy one can pass on to one's children and grandchildren is not money or other material things accumulated in one's life, but rather a legacy of character and faith.
Children see magic because they look for it.
Older men can make war, but it is children who will make history.
The soul is healed by being with children.
These cute baby quotes and sayings will completely brighten your day. Which of these beautiful quotes about babies do you love the most? Let us know in the comment section below.
Source: Legit