Lionel Messi is a really crazy player - Napoli star Diego Demme admits
- Lionel Messi is a really crazy player and it is amazing what he does with the ball, Napoli defensive midfielder Diego Demme claims
- Demme had thought it wasn't difficult to take the ball from Messi not until he came up against the Argentine during Napoli vs Barcelona in February
- Napoli played a 1-1 draw with Barcelona in the first leg of their Champions League last-16 encounter and both teams will face each other again on August 8
Napoli's defensive midfielder Diego Demme has explained how hard it is to man-mark Barcelona captain Lionel Messi.
The two of them came face-to-face in the Champions League in February when Napoli played a 1-1 draw with Barcelona in the first leg of their Champions League last-16 encounter.
And ahead of the second leg tie scheduled to hold on Saturday, August 8, Demme has recounted his ordeal while trying to mark Messi in the first leg.
The German star however pointed out that Napoli has what it takes to get to quarterfinal of the Champions League.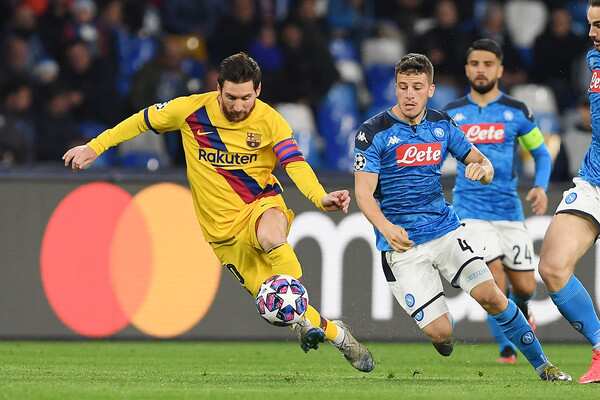 Demme told Bild: "Messi is a really crazy player.
"It's amazing what he does with the ball. Before I had only seen him on TV and I thought: 'It can't be that difficult to take the ball from him.
"In the game itself, I was sure in two or three situations that I had the ball. And then whack, he made such fast movements that I ran into nothing.
"The 1-1 draw in the first leg showed that we can keep up with them.
"We've not been that bad in the last few weeks and in the second leg the odds are 50-50, even without spectators."
Earlier, Legit.ng reported that Barcelona superstar Lionel Messi did not hold back in his fierce criticism against his side after a lowly defeat to Osasuna confirmed an end to their La Liga title reign.
The Catalan giants succumbed to their sixth defeat of the season on Thursday night, July 16, with Messi typically leaving mouths agape with a stunning free kick but it was not enough to salvage their season.
Speaking after the match, an agitated Messi criticized his side's overall 2019/2020 campaign insisting his side were simply "not good enough".
He warned that if Barcelona do not improve, they will also lose against Napoli in their Champions League round of 16 second leg tie against Napoli.
Lionel Messi is a game changer and can destroy - Moses Simon | Legit TV
Source: Legit