Over 370 Nigerians asked to leave the US 'for breaking laws'
- 370 Nigerians have been ordered to leave the United States this year
- The Nigerians mainly resided in Texas, New Jersey, California, New York and others
- They were said to have been served court orders to leave the US between January and June 2020
PAY ATTENTION: Click "See First" under the "Following" tab to see Legit.ng News on your Facebook News Feed!
A new report from the US Immigration and Customs Enforcement (ICE) indicates that 370 Nigerians were ordered to leave the United States this year, after being found guilty of breaking immigration laws and other crimes.
Premium Times report that the data was obtained from the ICE and compiled in a June report by a global tracking website on government policy (TRAC).
TRAC is a US-based tracking website that keeps databases of immigration, FBI cases and firearms data for public access.
According to the report, the Nigerians mainly resided in Texas, New Jersey, California, New York and others.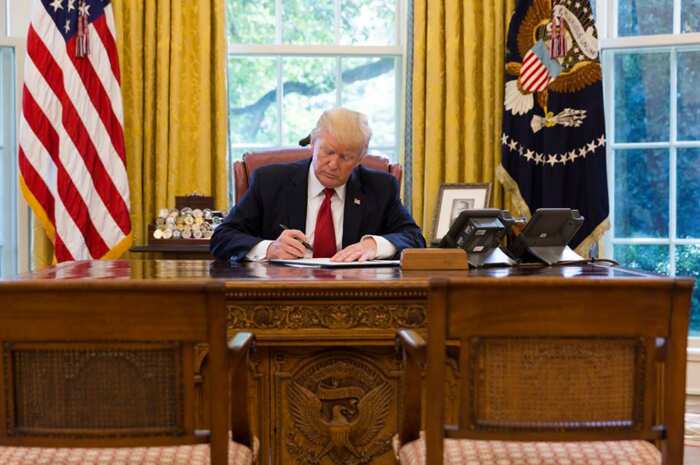 PAY ATTENTION: Install our latest app for Android, read the best news on Nigeria's #1 news app
They were said to have been served court orders to leave the US between January and June 2020, having been convicted of immigration and criminal charges.
While 376 people are heading home, 2,700 deportation cases involving Nigerians were filed with immigration and criminal charges in the US.
The 376 people are also among the 901 Nigerians being held in detention facilities across the US.
The Nigerians violated immigration laws including unlawful entry into the country, overstayed visas, fake documents and many others.
About 41 other Nigerians have criminal records of aggravated felonies such as fraud, drug crimes, s*ex and firearms offences.
US President Donald Trump, had vowed to "chase people with criminal records away from our country."
"This 376 deportation proceedings outcome you claimed for this year alone, has not taken place. Until then, I can't say more," Abdul-Rahman Balogun, spokesman of Nigerians in Diaspora Commission said in reaction to the report.
Meanwhile, Legit.ng reported that over 200 prospective immigrants from about 70 countries across the world have sued Trump after the US president issued an executive order suspending immigration until 2021.
The immigrants, it was gathered, had won the United States government's Diversity Visa lottery programme prior to Trump's executive order.
But with the US president suspending all migration into the country amid the emergence of the Covid-19 crisis, the American hopefuls' dream seems to have been dampened, prompting them to institute a lawsuit against America's number one citizen.
Trump had enacted the order in June 2020, saying it was geared towards protecting the American markets and jobs from thousands of immigrants.
The move prevented over 50,000 winners of the "Diversity Visa Giveaway" from completing the process of their immigrant visa application.
Coronavirus: The US govt gave me over 400k to stay at home - Nigerian in US
Source: Legit Nigeria