Triple joy as 3 sisters give birth on the same day
- Three sisters from Ohio defied the odds by giving birth on the same day in the same hospital
- To add to this, the same obstetrician oversaw their deliveries
- The babies were born within a span of four and a half hours
- The three sisters gave birth naturally, though all three of them had their labour induced
- Only the fathers of the babies were allowed to be at the hospital due to the COVID-19 restrictions
PAY ATTENTION: Click "See First" under the "Following" tab to see Legit.ng News on your Facebook News Feed!
The odds of three sisters giving birth to their babies on the same day are astronomical. According to an Associated Press story published in 1998, the odds are 1 in 50 million.
Well, three sisters from Ohio state in the United States (US) defied the odds by giving birth on the same day in the same health facility with the same obstetrician overseeing their deliveries.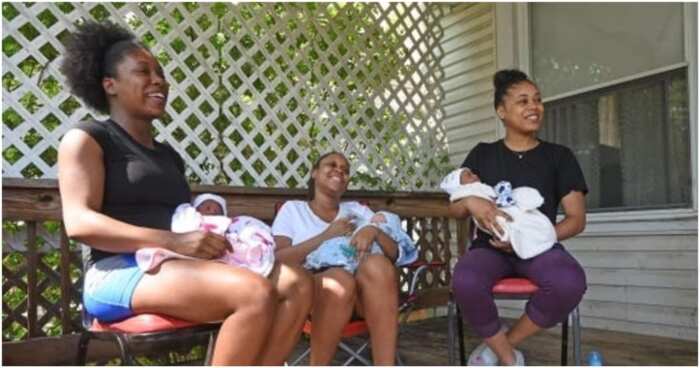 Mansfield News Journal reported Daneesha Haynes, Ariel Williams and Ashley Haynes all gave birth on July 3, 2020, at OhioHealth Mansfield Hospital within a four-and-a-half-hour span.
"It was a blessing, It is amazing. This kind of blew everybody away," Daneesha Haynes said.
According to the report, all three sisters had their deliveries induced by Edroy McMillan who delivered all three babies. Daneesha was not due until July 23, 2020.
Ariel was the first to give birth that day, naming her over 3kg daughter Sincere.
Ashley followed with her over 2kg son Adrion. Daneesha completed the trifecta with daughter Emrie, who weighed in at over 1kg.
"I was due July 23, 2020, but I was high risk. She (daughter) had to be taken three weeks ahead. They said smaller babies can not handle the birth process as well," Daneesha said.
In choosing the name Emrie for her daughter, Daneesha said she liked different names and wanted her daughter to stand out.
Little Emrie had to undergo a few tests before she was allowed to go home.
She joked about hospital staff getting the sisters mixed up when they came for their frequent appointments.
Among the sisters, they now have nine children. Ashley, 27, has five.
The sisters' mother, Deborah Ware, joked that there would be no extra children at the newborns' future birthday parties.
"I do not know what kind of party we will have. We will party for two days straight," Daneesha said.
In other news, John Gitobu has stuck by his wife Florence through thick and thin even when she could not bear him any children.
The father of three whose lightning suddenly struck thrice said his father advised him to marry another woman and dump Florence due to her inability to conceive.
Uchenna Okeigbo: God gave me quadruplets after 18 years of marriage | Legit TV
Source: Legit.ng