NDDC funds hijacked by a few people, says Senator Akpabio
- Senator Godswill Akpabio says he will ensure those who stole NDDC resources return them
- The minister of Niger Delta affairs alleged that NDDC funds were in the past hijacked by powerful people
- Akpabio, a former Akwa Ibom state governor, is currently in the middle of a public relations war with Ms Joy Nunieh
PAY ATTENTION: Click "See First" under the "Following" tab to see Legit.ng News on your Facebook News Feed!
Minister of Niger Delta affairs, Senator Godswill Akpabio, has warned that those who looted funds meant for the Niger Delta Development Commission (NDDC) will be forced to surrender their loots.
Akpabio who is currently in the middle of a public relations war with Ms Joy Nunieh made the comment while speaking to Vanguard newspapers on Monday, July 13.
He said the era in which powerful and influential elements teamed up with staff at the NDDC to loot the intervention agency's allocation is over.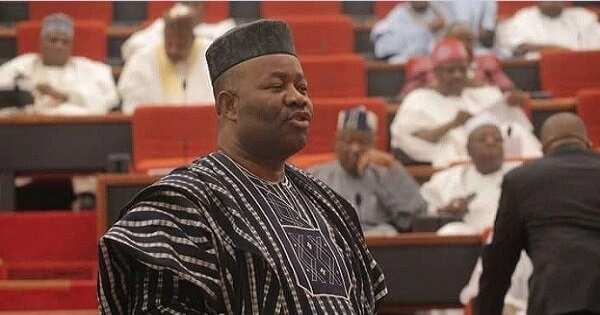 His words: "I am not satisfied with what is happening in the Niger Delta because the money that is coming to the NDDC is being hijacked by some people who do not want the money to provide any form of succour to the larger society."
The minister said he wants to see a new NDDC with a good balance sheet "because for 19 years we lost everything to powerful forces who used the NDDC money to buy limousines for themselves and families leaving the poor people to continue in their squalor."
He said the forensic audit initiated by his ministry will show who got what and who did what with the money they received.
"I can assure you that all those who swallowed NDDC money will cough it out no matter how powerful and connected they are," he threatened.
He said the audit is meant to reposition the NDDC and not to witch-hunt anyone.
He further said the only contracts he has given out are the appointment of the forensic experts and COVID-19 tests and equipment for Niger states.
"We have blocked all loopholes and all money of NDDC is now in CBN and not scattered in banks at home and abroad as before," Akpabio boasted.
Despite his recent comments on the alleged heist in the NDDC, Akpabio has been subjected to public scrutiny after Nunieh damning allegations against him.
On social media, many Nigerians shared their thoughts on the face-off between both individuals.
Dr Dípò Awójídé wrote on Twitter: I hope as a matter of urgency that President Buhari picks interest in the very serious allegations against the NDDC and Akpabio. I hope they will be investigated thoroughly.
Dr Aloy Chife wrote: Confronted by the weighty allegations of financial misappropriation and sexual harassment by the NDDC MD, I believe the president should suspend Akpabio temporarily to allow a proper independent investigation. Akpabio should also take the honourable path and resign.
Sodiq Tade wrote: To people like Akpabio, looting must have been a career because I don't understand while an individual who served 8 years as Akwa Ibom governor and years in Senate still looking for ways to loot NDDC. Looting must have been his career and I guess he is hellbent on reaching the peak.
PAY ATTENTION: Install our latest app for Android, read best news on Nigeria's #1 news app
Meanwhile, Donu Kogbara, former media adviser to Nunieh has advised her former principal to take the decision to relieve her of her duties in good fate.
Kogbara, a veteran journalist, gave the advice in a statement sent to journalists on Monday, July 13 while reacting to the recent controversy involving Nunieh and Akpabio.
She said that Nunieh's claim that Akpabio attempted to force a corruption allegation against the chairman, Senate committee on NDDC, Peter Nwaoboshi, was baseless and untrue.
According to her, her former boss was a bad loser whose attitude left much to be desired.
Bribery allegation: Shehu Sani was set up - lawyer | Legit TV
Source: Legit.ng