Holding online church is very unscriptural - Pastor Chris Okotie
- Online gathering for religious purpose is not supported by the scripture
- This is the opinion of Pastor Chris Okotie of the Household of God Church International Ministries
- Okotie said that the coronavirus is a tool of Satan aimed at challenging the power of God
PAY ATTENTION: Click "See First" under the "Following" tab to see Legit.ng News on your Facebook News Feed!
Pastor Chris Okotie of the Household of God Church International Ministries has defended a claim that holding online church (an innovation adopted because of COVID-19) is not supported by the Bible.
In his opinion, Okotie said that God demands the physical gathering of believers for their worship to be accepted by him, Vanguard reports.
The cleric said that the global pandemic is a strategy fabricated by Satan to challenge God by way of keeping Christians apart from each other.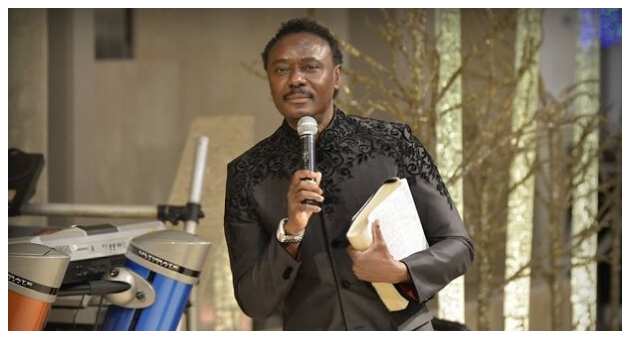 In his recent sermon titled The COVID-19 Mystery, Okotie said: "We are dealing with one of the most sinister conspiracies in human history. What we call the online church is absolutely untrue, because for you to be in church, you have to be ecclesia, which is translated from the Greek word, ec, which is out, and the word caleo, called out.
"You cannot gather unto God until you are called out. That's why Israel was called out of the world. So, this thing, this phenomenon that we are talking about, the Internet and cyber churches, is totally unscriptural."
Earlier, Legit.ng reported that Okotie had rejected the guidelines issued by the Lagos state governor, Babajide Sanwo-Olu, on the reopening of worship centres.
Okotie called the guidelines an 'abomination of desolation' in a statement he released on Friday, June 5.
He vowed: "Our doors will remain closed until these profanation and secularization have been pulverized by the Emperor of heaven."
Okotie, who had earlier in a widely published statement lashed out at CAN for proposing similar guidelines, said the government cannot reorder worship in the house of God.
His words: "Beloved, yesterday, the abomination of desolation took a giant step towards standing in the holy place.
"To reorder temple worship is to deny God the divine prerogative of congregational adoration and the holy genuflects of the saints in light.
"Let no man's heart be troubled by the vengeance of satanic antagonism. Dagon the god of the Philistines fell in obeisance before the Ark of God."
Coronavirus: Is it time to reopen churches, mosques? | Legit TV
Source: Legit.ng