UK-born lady moves with her boyfriend to Ghana after he was deported
- Lovers who recently moved to Ghana from the UK after the man was deported to Italy have detailed their experience
- The duo revealed that the man was arrested for possession of drugs, jailed for over two years in the UK, and later deported to his native country, Italy
- They moved to Ghana six months ago and already own a house
PAY ATTENTION: Click "See First" under the "Following" tab to see Legit.ng News on your Facebook News Feed!
Two lovebirds who recently moved to Ghana after the man was deported to Italy have recounted their experience prior to and during their stay in the country.
The lady, identified as Manka Ndah, a UK native with Ghanaian roots who moved into the country with her deportee boyfriend, revealed that life has been good for them after they moved to Ghana six months ago.
Speaking about their ordeal before they moved to the country, Ndah's boyfriend revealed that he had spent over two years in jail before he was deported to his native country, Italy.
The duo were in a relationship before he was arrested and jailed for possession of drugs.
He revealed that he was in the company of a friend when he was caught for possession of drugs that were in the glove department of a vehicle. He claims the drugs were not his.
Ndah's boyfriend further explained that his ordeal was made worse when the police found a phone in the vehicle that had messages from a drug-dealing conversation he had no hand in.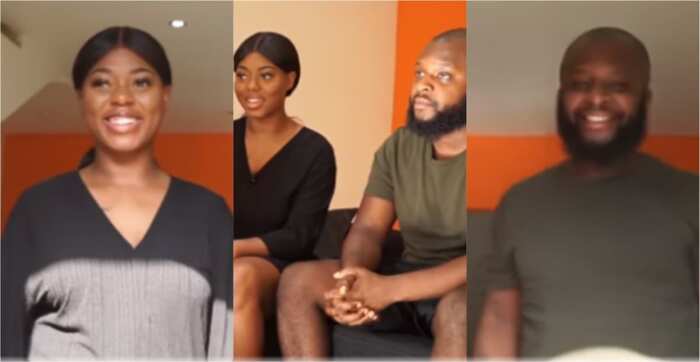 After being granted bail following his initial arrest, he was apprehended again at a hotel with the same friend he was with when he was first arrested.
Ndah's boyfriend was arraigned before court and sentenced to jail.
He recounted this on their YouTube vlog.
In a recent interview, he disclosed that he spent over two years in jail in the UK and was later deported to Italy. The pair moved to Ghana after he was released.
After six months of being in Ghana, the couple say they are living their best lives.
The pair own their own house in Ghana and Ndah is preparing to open a beauty salon when the prevailing circumstances normalise.
Watch the video below:
In other news, just like the Biblical story of Hannah, Githurai couple Florence Makena and her husband John Gitobu feel like they have been touched by an angel after 21 years of crying.
The two who have stuck by each other through thick and thin had all the love in the world but no children to share it with.
Must a woman adopt her husband's name after marriage? | Legit TV
Source: Legit.ng News