Legit.ng weekly price check: Bra, pant traders in Lagos market decry low patronage
- The constant change in the cost price of goods in the market is one that affects not only the sellers but the nation as a whole
- The pants and bra business in Nigeria is one that you can go wrong to begin with as a business minded fellow
- But this COVID-19 crisis has not only affected the sales operation in the market but the supply as well as the purchasing power of buyers as informed by the sellers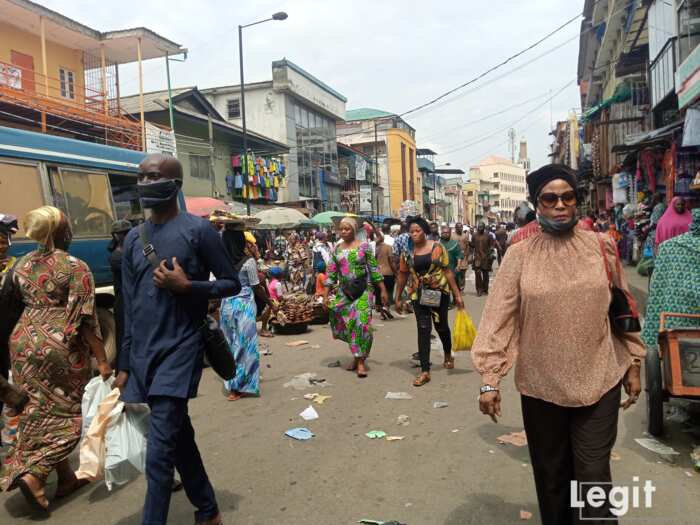 Pants and bras are very lucrative just like any other clothing business in Nigeria. This is one trade that has few sellers unlike other fashion materials that flood everywhere and are hot commodities in Nigeria. There are of different designs and shape as well as of different brands. As the trend in fashion continues to evolve, clothes and shoes will continually be in high demand same with underwear.
Just recently, Legit.ng visited the market to find out about the pants and bra business in COVID-19 crisis. Our correspondent had a chat with sellers to inquire from them the cost price of the goods, their patronage level, and their customer's willingness to get the goods this trying time and would they rather purchase fairly used ones or new ones?.
The underwear business is sometimes linked with the clothing business due to the importance the feminine gender attach to it. Interestingly, the men also have theirs but it is certainly not as pronounced as the women's own.
For women, an investment in the undergarments or underwear is not a waste as it is quite important and of utmost priority. Some get to change theirs every two weeks and others monthly depending on their cash flow or income.
While some traders lament over the impact of the pandemic on their business daily, a waist trainer and belt dealer at the market express satisfaction over the current level of sales.
She stated that: "I sell what is quite important for ladies who want to look good irrespective of their body shape or sizes and I'm grateful to my loyal customers who patronize me and give me reason to come here. Sales is quite encouraging and the only challenge i have so far is the increment in the cost of purchase of the goods. Wait-trainers and belt depending on the quality of material used, is sold from N2,500 upwards and some sell theirs higher and others lower depending on the amount you purchased them as a trader.
"Due to the pandemic, the cost of purchase of most goods have risen if not by tow percent but from five percent and more, so this in turn affects the cost price that we offer to buyers. But, if you know how to manage your customers well and you have been able to form a good relationship with them, then you won't lament in this hard time we are all faced with in the country."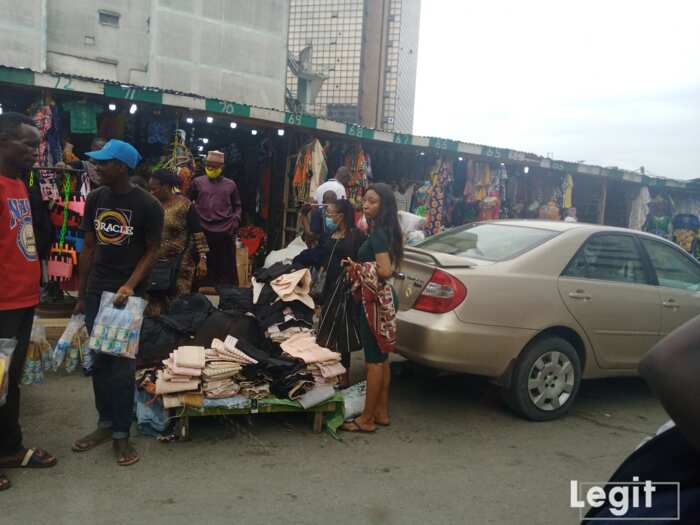 Overtime, the high demand placed on the underwear makes it a profitable business and a market on its own that even reputable brands make theirs with the bra inclusive. Surprisingly, at the market, buyers are seen patronizing the fairly used ones than the new ones only few who have preference for branded wears are seen purchasing the new ones, as observed by our correspondent.
From findings, some traders have their potential clients/buyers as they have clearly defined their target audience while some have the regular customers who come when they feel the need to. Some target the female folks as others target the male folks.
The underwear market comes with variety of products, prints (cotton and silk) and designs of different sort that appeal to both the young and old. We have the regular pants, G-strings, lingerie, brassiere (wired and non-wired), kinky and edible underwear; they all come with preference of different buyers relating their social status and financial status.
A seller at the market who sells pants at wholesale price explained to Legit.ng the purchasing power of buyers, sales and its impact on business.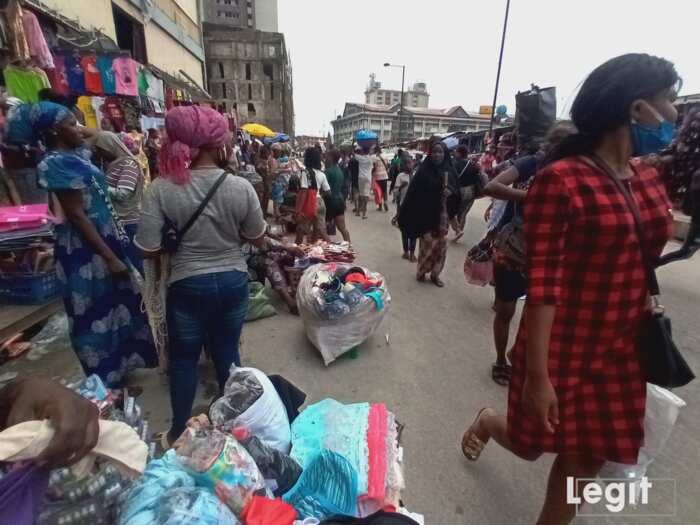 According to her, the cost price of the goods increased by two percent and the buyers are keen on getting a good bargain lately.
"Due to the coronavirus pandemic, some goods in the market have become way too expensive as others maintain reasonable prices. I sell only pants and they come with different sizes and manufactured with different materials as well as design; this determines its cost price.
"For some months now, the cost price of pants increased from two percent upwards and others five percent but the buyers are not interested in such as they are only willing to spend according to the cash at hand. The market condition is not really okay now as we have the on and off days due to the measures put in place by the government which also affect sales.
"Recently, sales have been very low as some buyers who cannot afford the expensive item opt for the less quality ones made from less quality materials and we cannot really let go of them so we give them a good discount depending on their manner of response and the quantity of purchase," A pant seller told Legit.ng.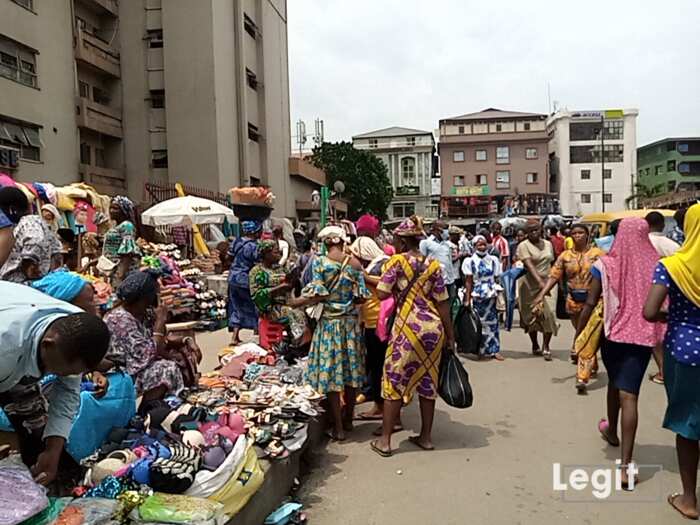 Another trader at the market, disclosed to our correspondent, the current price of pants in the market as well as the cost of purchase.
She said: "The cost of purchase for pants is not really much and the impact not really felt by buyers but the traders as they are not really getting it at an amount that would result to good profit at the end of the day.
"Some suppliers who manage to get the goods from distributors, are not willing to give out the goods at reasonable prices; what they do is to hike the cost of purchase leaving us with no option than to get the goods at any cost and then resell at reasonable prices in other to keep our business running and keep our loyal customers intact.
"This new phase that we are in the market now has been a difficult one as the survival level is very low and business environment dull. We are not making profit in any way because we need to sell below the cost price so we can restock our shop and continue with our daily activities. Sales have been very poor; I'm afraid if things continue this way, most traders would close up their business."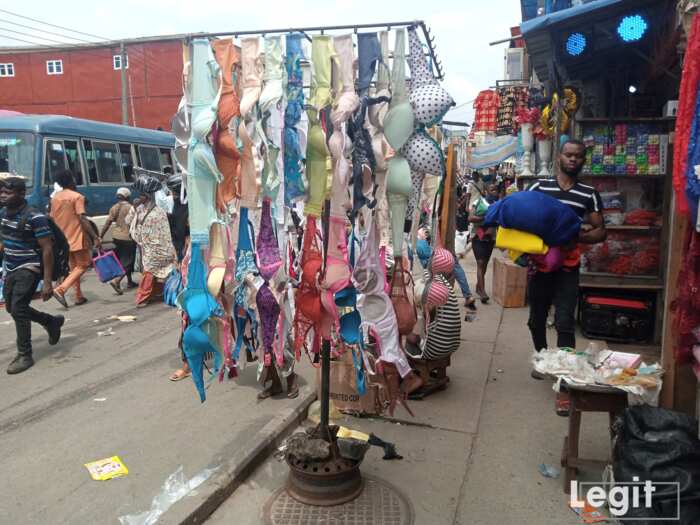 At the market, a fairly used bra dealer revealed to Legit.ng the pricing, customers' preference and supply level of the goods.
The bra dealer stated that: "The demand for underwear is low now compare to previous months and before the pandemic. Also, the supply is not really encouraging because now we get to wait for a while before the goods can be supplied to us; while some suppliers sell at an expensive rate others are not willing to give out the goods and this affects our sales and by the time they do, we have lost buyers who might have ordered to sell online and they are willing to pay at any rate.
"The market condition is getting worse by the day and we need to be here so as to keep our family alive too. We need to make sales, so we would be able to take good care of our family. In fact, this pandemic is not helping us at all as it keep hindering the growth of businesses both big and small scale. Business is just there and sales very bad. Some of our neighbours who sell pant for as low as N200 and even N100 (the non-branded ones) but of good material lament daily. Almost all the goods here are imported but with the economy of our country, we are seriously struggling to make sales despite the fact that we sell at a wholesale price.
"I sell fairly used bras and to get it is not easy as some of us have not finish selling our old stock and when new designs comes out, we are caught off-guard because no cash to shop and restock. We make sales but at a low level and sometimes we don't even make any sales. Depending on the design and the type of bra, it ranges from N300 and N500 upwards in this market especially if it is new goods (open bale) we just purchase but the way some buyers price them, really makes one tired of the business. Some don't come to patronize us because of the high cost of transportation now; most who come to shop for the goods are the retailers."
For Mr. Fidelis, a dealer the at the market who sells only men's wears, the cost price of the goods did not increase rather low patronage becomes the order of the day.
"Most people in the country now are after their survival and in doing so; they tend to manage what they have. The new way of life brought about by the coronavirus pandemic has affected our business negatively, there's no market. It is just too dull for business owners to comprehend with. You see the large crowd in the market but only few are able to purchase goods. Presently, patronage has drop further and sales not encouraging in anyway.
"Interestingly, the cost price of goods like men's underwear did not rise but the cost of purchase increased a bit as some branded ones is not available for purchase in large quantity as we sell only what was supplied to us. The cost price of boxers well packaged in packs are sold from N1,500 upwards before the pandemic and now, while the men's underwear, the 3-in-1 plain white is sold from N1,500 upwards too, only the ones of high quality and reputable brands are sold from N2,700 and N3,500 upwards," The seller opined.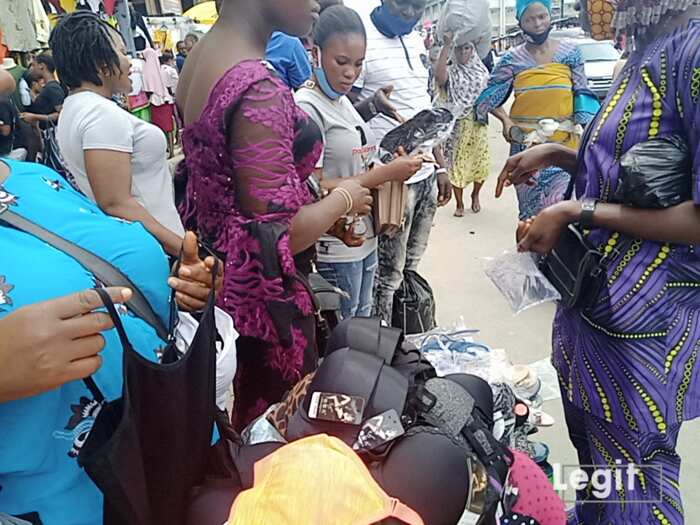 Similarly, a trader who sells brassiere in the market informed that there has been no increment of any sort relating to customers and this does not speak well for business growth in this tough time.
The trader said: "Due to the pandemic, most suppliers are hoarding the goods and this is affecting the cost of purchase as well as the purchasing power of buyers. For some traders, they prefer the new ones and for others, they prefer the fairly used ones. So the purchase level is based on individual preference.
"Some of our buyers who come to purchase from us like three to four items, now come to pick just one or two items. Traders, who sell quality bra, underwear and lingerie for women and all the rest, find it difficult to cope with the new reality of business; it is not easy for most of us because there is no enough cash to get goods at an expensive rate and try to resell to make profit. Choose a supplier that has a good quality product.
"Customers are not increasing in any way due to the economy and different happenings around the world. Most of them go for the fairly used ones because they are quite affordable as they would be able to pick more items than few. We sell new bras before from N500 and N600 upwards but now, they are sold from N900 upwards and N1000; this is so because we sell in wholesale prices but for retailers, they sell from N1,200 upwards for new ones. When the buyers get the price, some don't bother to price well; rather they just walk away and others opt for the fairly used ones and get the items, only buyers who knows the difference between quality wears from quantity wears come to patronize us."
Legit tv visits booming corn market in Ogun state via Legit TV
Source: Legit