Boko Haram: Nigerians in diaspora pass vote of confidence on Buhari, service chiefs
- Some Nigerians in the diaspora have commended the effort of the service chiefs in the fight against Boko Haram and insecurity in Nigeria
- A group based abroad said that the military leaders have performed well since the inception of the present administration
- The group stated that the Nigerian military leaders have been able to largely contain an internationally-backed terrorists' insurgency
PAY ATTENTION: Click "See First" under the "Following" tab to see Legit.ng News on your Facebook News Feed!
The United States of America chapter of Nigerians in Diaspora Monitoring Group (NDMG) on Thursday, July 9, passed a vote of confidence on President Muhammadu Buhari and his service chiefs for effectively handling of the insecurity situation in Nigeria.
The group said the Nigerian military has effectively managed the security breaches confronting the nation and thwarting the intent of detractors within the country.
A statement released by the president of NDMG, Cosmos Collins, the group said it drew this conclusion after extensively reviewing all the prevailing security situation within Nigerian states.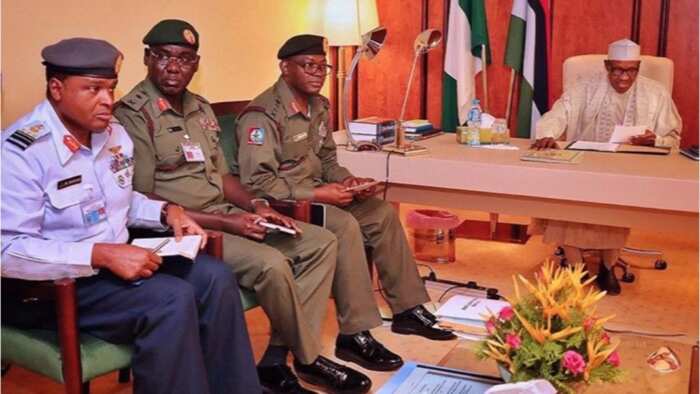 They also warned against the move to seek strange foreign solutions while recommending that Nigerians channel their energy into leadership, stability and proper financing for the military.
Collins added that a leader can only pressure his lieutenants with such intensity when he is confident in their ability to deliver and as such the military leaders remain the best in the sub-region.
He said Nigerian military leaders have been able to largely contain an internationally-backed terrorists' insurgency.
Meanwhile, Legit.ng previously reported that President Muhammadu Buhari had condemned the recent attack on a United Nations helicopter by members of Boko Haram sect in Borno state.
PAY ATTENTION: Install our latest app for Android, read best news on Nigeria's #1 news app
The president said the attack by terrorists against the international agency will be met with great consequences.
He also described the terrorists' attack on the UN helicopter as a cowardly and inhumane act.
Also, a security expert based in Kaduna state, Terrence Kaunum had said that ungodly utterances against the operation of the military are capable of distracting the attention of President Muhammadu Buhari and Nigeria's security chiefs from focusing on winning the ongoing war against banditry and terrorism in Nigeria.
Kuanum said there are attempts by some self-serving individuals to divert the attention of the president from the ongoing war against banditry and terrorism in Nigeria.
In another news, the Nigerian air force said it never declared that Boko Haram would be wiped out by the year 2020.
The air force denied statements linking the chief of air staff, Air Marshal Sadique Abubakar, to claims of completely wiping Boko Haram insurgency from Nigeria by 2020.
The institution said at no time did it announce a designated time or year the terrorists would be wiped out.
Also, the National Democratic Front (NDF) has called on the National Assembly leadership to initiate the process of recognizing the service chiefs and other well-deserving members of the armed forces in the fight against insurgency.
The group said arrived at this conclusion after extensive consultation with stakeholders in the critical security sector.
Nigerian Air Force Operations Against Boko Haram | Legit TV
Source: Legit