Opinion: Hushpuppi, Bobrisky and the Nigerian society - Time to act by Bernard Balogun
Disclaimer: The views expressed in this interview/article are the author's own and do not necessarily represent the editorial policy of Legit.ng.
Your own opinion articles are welcome at info@corp.legit.ng — drop an email telling us what you want to write about and why.
Contact us if you have any feedback, suggestions, complaints or compliments. We are also available on Facebook and Twitter.
Editor's note: In this article, an Abuja-based social commentator, Bernard Balogun (BenPino), writes about Hushpuppi, Bobrisky and the Nigerian society.
PAY ATTENTION: Click "See First" under the "Following" tab to see Legit.ng News on your Facebook News Feed!
I have read a thought-provoking narrative on Ramon Abbas (aka Hushpuppi). I consider the piece quite brilliant that has succeeded in bringing to mind how our decadence began as a society, nay nation.
Though Ramon Abbas has further, unfortunately, succeeded in tarnishing the image and reputation of Nigeria and Nigerians abroad, some of us must share in the blame, especially those around him, who clapped and cheered him on.
Since Hushpuppi's arrival on the social scene, l have never been thrilled by his display of so-called wealth, or permit me to say - fake lifestyle.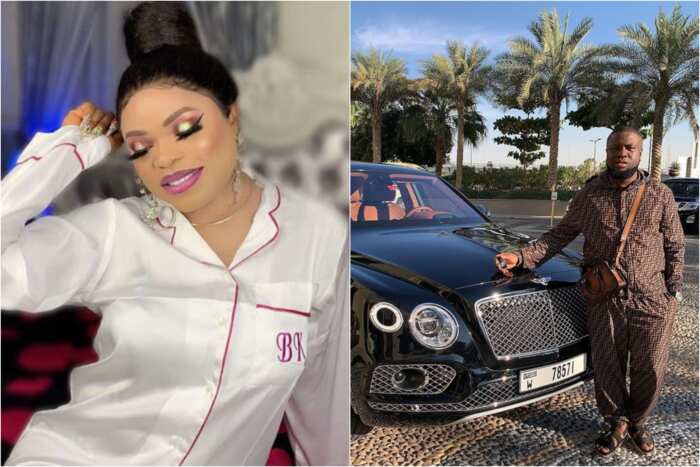 Ditto this other character called Bobrisky. Incidentally, that is the sort of lifestyle that appeals, thrills or entices young boys and girls of this generation.
If you ask me, the new day media has further helped to bastardise our collective social value. These characters do not deserve the amount of orchestrated publicity they get. They simply do not deserve it.
"Society based magazines" that promote and splash pictures of their ostentatious living on their pages without corresponding hard-work generated by these characters call to question our collective sense of value. Our great grandparents never celebrated wealth without visibly noticeable corresponding hard-work in spite of their penurious status.
Permit me to recall. I never heard, as a child, growing up in the late 60s and 70s, such negative words as "419, kidnapping, rape, yahoo-yahoo, banditry." Corruption, per se, was a rare word but now promoted to grandiose level.
These are vices that were rarely mentioned in those glorious years of our forebearers. Of course, because of the negative vices, these words portend, it was never part of their lexicon.
I am in fact first to admit that the unfortunate civil war and growing level of civilisation without the necessary mechanism to check it, have helped to destroy our collective sense of culture and value. Today, nobody questions or interrogates your source of wealth.
Rather, society celebrates your sudden wealth. And of course, in that way, peace continues to elude us as a nation. Crime and criminality continue to be on the increase (l am an unrepentant optimist but on this occasion, l am sorry).
The various security agencies seem helpless. In those glorious days, the night journey was a pleasant adventure. It was a delight to travel between Lokoja and Okene, or Lokoja to Ikire or perhaps to Akure or to Ibadan or to Eko-Ile.
It was so in Ibadan too. You just embark on an evening journey from Ibadan to Ijebu-Ode, or to Ijebu-Igbo, to Ikenne, to Abeokuta or Ilorin. You are pretty sure of getting to your destination if no accident occurred. There was no need to entertain fear of any kind, be it robbery, or kidnap or act of banditry.
Today, no responsible man dares travel between Lokoja and Abuja by 5 pm. It is a nightmare and this is not a figurative speech. Not too long ago, l got a video clip. My heart bled as a father. Two adolescents were raping a lady of about 15 or so.
One other character stood by primitively laughing and filming the despicable act. Sex used to be sacrosanct in my days. It was never discussed in the open.
The story has changed. It is freely and gleefully discussed in motor parks, spots where men and women are gathered, and sometimes the conversation is held in front of such Holy places like Churches and Mosques. It is ridiculing and debasing.
Why has the story suddenly changed? Where is our collective sense of moral and value? The answer to these lay in the desire of this young generation to belong to the happening group. To be in the class of Hushpuppi, Bobrisky and those other despicable classes.
They are certainly a bad influence on our society. I respectfully call on the Inspector General of Police to please invite this man flagrantly parading himself as a woman. His flagrant display, with impunity, of gay activity, is certainly against the spirit of the constitution.
Painfully, our leaders are not in any way promoting the culture of decency, responsibility and accountability.
The need for the society to purge itself of these vices has become urgently imperative - genuine and complete attitudinal change of our current societal values and morals. For me, that is the starting point and a return to a sane and flourishing society.
PAY ATTENTION: Install our latest app for Android, read best news on Nigeria's #1 news app
The Nigerian society was never built on such vain culture, where you can't explain the source of your wealth. The government must generate employment. Banks must bring down interest rates and give loans to entrepreneurs for them to also create job opportunities.
The current attitude where top civil servants undertake contract jobs, instead of awarding it to deserving and competent contractors must be discouraged. With these and more favourable conditions, Hushpuppi, Bobrisky and other characters' lifestyles would become unattractive to our youths
God help us to redefine and rediscover our societal values and norms of old.
Hushpuppi reportedly arrested by Interpol, will he be jailed?| - on Legit TV
Source: Legit