University of California names Michael Drake as its first black president
- The University of California (UC) has announced Michael V Drake as the establishment's first black president
- The UC Board of Regents unanimously voted for Drake
- Drake inked his name in the history books as the first black president of UC since the university's inception
PAY ATTENTION: Click "See First" under the "Following" tab to see Legit.ng News on your Facebook News Feed!
The University of California (UC) has named Michael V Drake as the first black president since the university was established some 52 years ago.
Legit.ng gathers that the UC Board of Regents unanimously voted Drake in as the university's first black president.
Until his appointment, Drake served as the chancellor at the University of California, Irvine. He will succeed Janet Napolitano who also wrote her name in the history books when she became the first female president in 2013.
Speaking about his recent appointment, Drake told CNN that he looks forward to working with the leadership and students at the University of California.
He said:
''I look forward to working with the regents, chancellors, students, faculty, staff, alumni, and the broader community together.''
Drake emphasised that he will work with them to guide the university through the changing times ahead.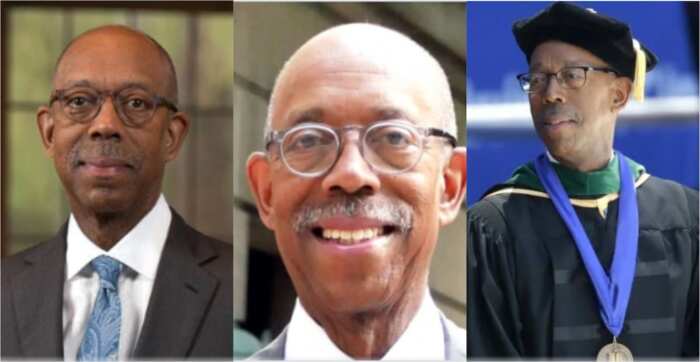 A news release from the University of California Office of the External Vice President noted that Drake has served at the university for over 30 years and brings to the job his years of experience as a faculty member, health administrator, and former chancellor.
Drake also served as the president of Ohio State University and chair of the Board of Directors.
With the current prevailing pandemic, the pressing issue of affordability, and racial injustice, Drake is expected to provide the kind of leadership that addresses these issues.
In other news, the founding CEO of the Caroline Group, Caroline Esinam Adzogble, has been appointed ambassador for Millersville University in the United States.
As ambassador, she will assist in boosting marketing and recruitment efforts to increase and diversify the multicultural numbers at the university.
Caroline, 28, is a Ghanaian-born inspirational and award-winning educationist, entrepreneur and philanthropist.
The woman is the founding CEO of the Caroline Group, a conglomerate with six subsidiaries including Potters International College and Caroline University.
Esinam Adzogble's education conglomerate has affiliates in Ghana, Nigeria, Kenya, the UK, and the USA.
Which country would you leave Nigeria for? | Legit TV
Source: Legit