Floyd Mayweather: Birthday message from 'Money Man' more expensive than Mike Tyson's
- Floyd Mayweather will now earn more than Mike Tyson by sending greetings to individuals
- Money man charges $999 per message while the 'Baddest Man on the Planet' charges $300
- Mayweather is currently having tens of thousands of requests
PAY ATTENTION: Click "See First" under the "Following" tab to see Legit.ng News on your Facebook News Feed!
Floyd Mayweather has reached a status of making breathtaking amount by doing very little, or sometimes nothing as he rakes home thousands or even millions of dollars.
Fans who want a message from the 'Money Man' can now get one, though it won't come on the cheap side.
He now becomes the latest high-profile celebrity on a popular website where people can request for personalised birthday messages, boxing tips or motivational messages.
While Mayweather's claim that he is the most expensive celebrity on Cameo is inaccurate given Caitlyn Jenner charges $2,500, he does cost an eye-watering $999 (about N385,000) while Tyson charges $300 (about N115,000)
However there are tens of thousands of requests for Mayweather who is set to become the first celebrity to make $1million from it.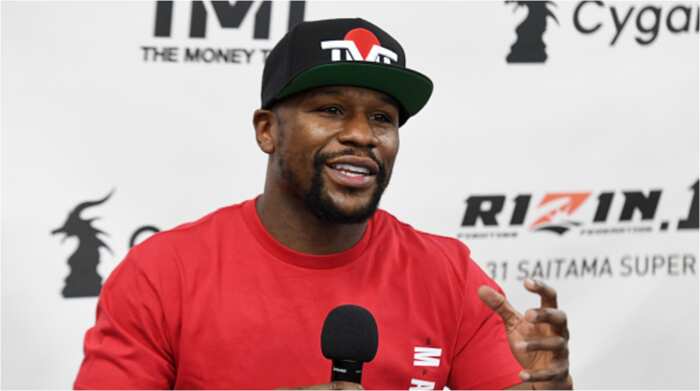 If you want a shoutout from another boxing icon but at a much cheaper rate, the one and only Mike Tyson is also on the website.
Mayweather recently donated the sum of $88,500 to the family of late George Floyd who died in police custody in the US.
Close representatives of the legend also disclosed that the former heavyweight champion has promised to finance George Floyd's funeral in four different locations including Houston, Minnesota, Charlotte and one further city.
According to TMZ, Mayweather told close associates that "he is just doing what he feels is right in his heart."
It was gathered that George Floyd's family has accepted the offer and then a picture of a cheque sent from Mayweather to Robert Swearington Fort Bend Memorial funeral home for $88,500, to cover the costs was posted by TMZ.
Legit.ng earlier reported that Mike Tyson is preparing for a sensational boxing return, even at 54 and he has admitted losing over 37kg and now weighs less than current heavyweight champion Anthony Joshua.
He recently released more footage of his training showing his punching power during a pad session with his coach.
The former undisputed heavyweight champion is expected to make a sensational return after 15 years outside the ring for an exhibition fight.
Tyson, who turned 54 on June 30 and was beaten by Kevin McBride in his final fight before retirement, has been sharing video clips of his training sessions on social media and fans love it.
4-yr-old boxer: I want to become a world champion | Legit TV
Source: Legit