From Ribadu to Magu: How EFCC's ex-chiefs were booted out of office as corruption fights back
The ongoing investigation into the allegation of corruption levelled against the embattled acting chairman of the Economic and Financial Commission (EFCC), Ibrahim Magu, has generated reactions from Nigerians.
PAY ATTENTION: Click "See First" under the "Following" tab to see Legit.ng News on your Facebook News Feed!
Before his reported arrest on Monday, July 6, Magu was the face of President Muhammadu Buhari's anti-corruption crusade but his ongoing probe has sent a big message to Nigerians on the activities of the anti-corruption agency.
The anti-graft agency was established in 2003 by the former president Olusegun Obasanjo to investigate financial crimes in Nigeria. The former president appointed Nuhu Ribadu as EFCC's pioneer chairman but the fight against corruption was described as being selective.
Nuhu Ribadu
Nuhu Ribadu said while presenting the lead paper at the 2016 annual lecture organised by the law chambers of Joe Kyari Gadzama in Abuja that some prominent lawyers in the country deliberately prevented him from waging a war against corrupt former governors and politicians because of the interests.
Ribadu fell out of favour with the powers that be in December 2007 and was forced out of office two weeks after he tried to prosecute a powerful former Delta state governor, James Ibori, a close associate of Obasanjo's successor in office, Umaru Yar'Adua.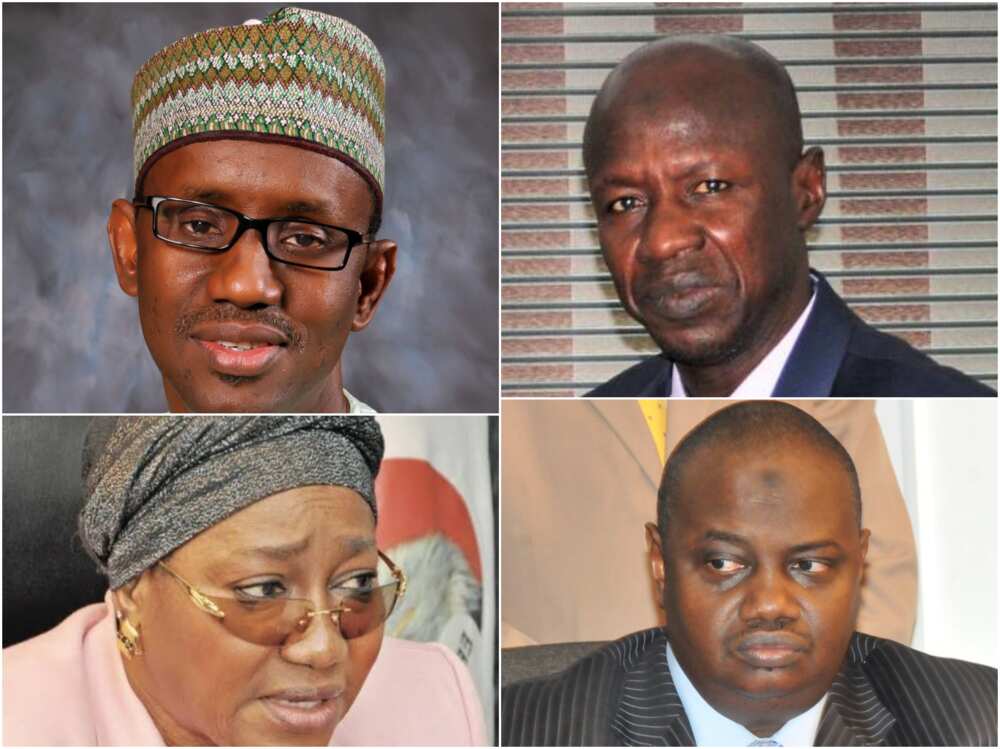 In a widely publicised ousting, he was forced out of a graduation ceremony by security operatives at the National Institute for Policy and Strategic Studies, Kuru, Plateau state. He was demoted by the police and then retired.
Farida Waziri
Farida Waziri's appointment in May 2008, shortly after Nuhu Ribadu was booted out, was clouded by allegations that she was sponsored by ex-governors to cover up their money laundering and fraud charges before the commission.
Waziri failed to secure convictions for high profile cases involving former governors already instituted by her predecessor.
A report by Sahara Reporters indicates that Waziri's tumultuous reign as Tzar of Nigeria's anti-graft agency caused international donors and partners to hesitate in dealing with the country, adding that a former American Ambassador to Nigeria, Robin Sanders, walked out of a meeting with the then foreign affairs minister, Ojo Madueke, because of Waziri's presence.
Waziri was sacked by former president Goodluck Jonathan on November 23, 2011. He cited "national interest" as the reason for her dismissal.
Ibrahim Lamorde
Ibrahim Lamorde replaced Waziri on November 23, 2011, as acting chairperson of the EFCC.
He became embroiled in controversy in 2015 after the Nigerian Senate alleged that $5bn (£3.2bn) had gone missing at the EFCC.
A Senate committee led by Senator Peter Nwaboshi at the time accused Lamorde of diverting assets and cash recovered by the EFCC.
The investigative panel was set up at the instance of George Uboh, a prominent whistleblower.
He was sacked by President Muhammadu Buhari on November 9, 2015, and replaced with Ibrahim Magu.
The online news platform also noted that shortly after his sack, the Nigerian Senate in February 2016, authorised its committee on ethics, privileges and public petitions, headed by Senator Sam Anyanwu, to issue a warrant of arrest on Lamorde for allegedly misappropriating N1trn during his time as head of the anti-corruption agency.
Ibrahim Magu
Ibrahim Magu, the embattled chairman of the EFCC was first appointed as acting chairman of the commission in November 2015, by President Buhari.
Recall that the Nigerian Senate led by former Senate president, Bukola Saraki, refused to confirm Magu as chairman of the agency due to "security reports" by law enforcement agencies in the country.
He is also known to have a public spat with Abubakar Malami, the attorney-general of the federation.
The DSS in a 2016 report revealed that Magu was living in a N40m mansion.
PAY ATTENTION: Install our latest app for Android, read best news on Nigeria's #1 news app
Magu was arrested by operatives of the Department of State Services and the Nigeria Police Force on July 6, 2020, and driven to the Presidential Villa where he was made to answer questions on alleged corruption against him.
He was detained overnight and on July 7 was suspended from his position as chairman of the agency pending the completion of the investigation.
Meanwhile, Legit.ng had previously reported that following Magu's reported suspension, top police officers began lobbying to replace the embattled EFCC boss.
It was reported that though no name has been tipped to replace Magu, officials close to the president are reportedly proposing for the appointment of the next EFCC chairman to be made outside the police force.
Bribery allegation: Shehu Sani was set up - lawyer | - on Legit TV
Source: Legit