Exclusive: Benue woman who became a mom after 31 years shares inspiring story
A few days ago, the story of a Nigerian woman who became a first-time mom after 31 years of waiting, inspired many people across the country, giving them even more reasons to keep hope alive no matter the situation they find themselves in.
The new mom identified as Elizabeth Atsenda, recently had a chat with Legit.ng about her journey to motherhood, the challenges faced in her marriage and her views about societal pressures on women, amongst other things.
PAY ATTENTION: Click "See First" under the "Following" tab to see Legit.ng News on your Facebook News Feed!
They say it takes a really strong and selfless person to put a smile on the faces of others even when they have every reason to be angry at the world. Selfless is what best describes Atsenda who despite not having any biological children of her own, did well to take care of other people's children as though they were her flesh and blood.
Speaking about her new status as a first-time mom, Atsenda revealed that apart from the physical pains experienced post-partum, she doesn't feel any different as she has always been responsible for raising her stepchildren following their mother's death in 2004.
Recounting her relationship with her late co-wife, Atsenda explained that they were very close, stating that she even accompanied her husband to marry her as a second wife - something almost unheard of when it comes to relationships and marriages.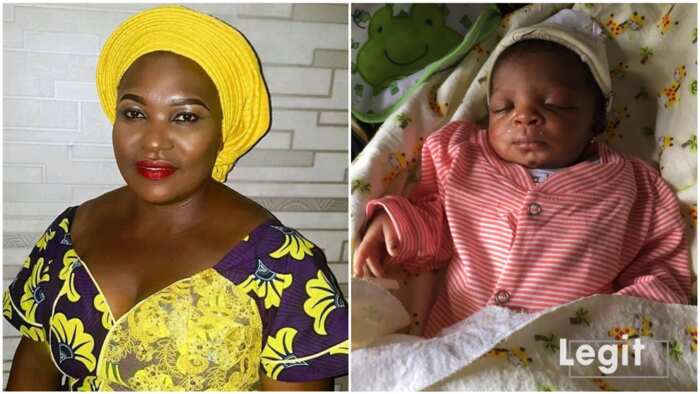 "I feel the same way I have always felt because it is something I have done for a while now, my co-wife and I were very close while alive and I went with my husband to marry her, so her kids are my own children. These children, I love them like my own kids.
Nothing has changed. I have been doing this for years and aside from the physical pain I am going through as a result of childbirth, everything is the same. I have breastfed before, I have had sleepless nights before, I have worried because of my children's health before so it's just the same circle I have had from the other four."
PAY ATTENTION: Do you have news to share? Contact Legit.ng instantly
However, despite her kindness towards others, her years of childlessness were not without its challenges, as revealed to Legit.ng.
"There was pressure from my husband's people and friends advised him to send me away," she said.
Atsenda who described herself as a God-fearing woman stated that despite her husband's occasional mood swings, she loves her husband whom she said is very understanding.
The new mom stated that she stuck it out when they had issues because she believed there was a reason she had become a part of his family. She attributed the success of her marriage to God, who she says is her pillar of support.
"My husband is very understanding. He's not a perfect man but I love him and this has made things easier for us. God has been my pillar in this journey, nothing of my life is possible without Him, so being with my husband till date is as a result of His love and blessings. There are certain times we argue and he says mean things but God always intervenes in my marriage. I thank God for the man I married."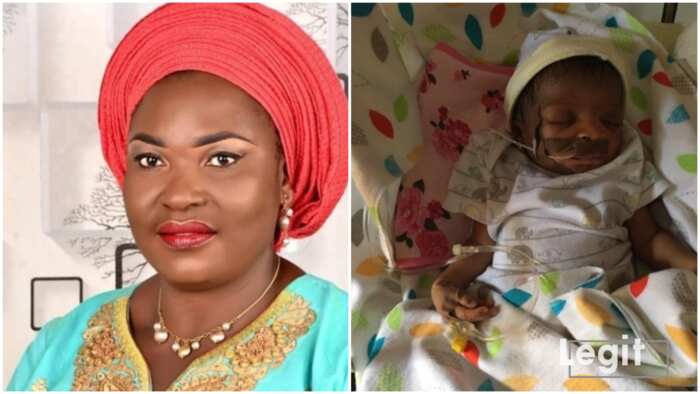 The news of her baby's arrival was first shared online by her stepdaughter, Seember. In the post, the excited lady had nothing but kind words for her stepmom.
This unarguably shows that they have a beautiful mother-daughter relationship. When asked what inspired her to be selfless and kind, Atsenda mentioned her love for God.
She revealed that she has always been a mother to her stepchildren. She stated that there were times her co-wife used to leave them with her so she could go to work and she'd have to force her breastmilk out just to feed them.
"You see, when God bestows you with a task, you don't ask questions. You just take it up and move," she said.
The glowing new mom whose story went viral on the internet had a few words of encouragement for other women waiting to become mothers.
"God can never be mocked. If you are a woman, you are automatically a mother, treat human life with a conscience and always trust in God when you are waiting for a need. No one should conclude on your story or destiny if you haven't spoken with God. People concluded on my situation but God kept telling me to wait and here we are!" she said.
Sharing her thoughts on how society treats women battling with fertility issues, Atsenda opined that such women deserve all the love in the world rather than pressuring them into what they have no solution to.
According to her, "Love should be the language, not hate or neglect! Children are gifts from God, we have no powers over that as we can't create a human being."
Moving on to other stories, a Nigerian woman identified as Bunmi Lawal-Olugbodi recently became a mother for the first time, at age 54.
A video of the lady showing off her pregnancy has since left many social media users in awe. The video which was uploaded by a Facebook page, @nigerianweddingsinamerica, was reposted by popular gospel singer, Tope Alabi.
Uchenna Okeigbo: God gave me quadruplets after 18 years of marriage | Legit TV
Source: Legit.ng