Melanesians: Interesting things about the world's only black blondes
- Melanesians are the world's only black blondes and they are mostly found in Papua New Guinea in Oceania
- Melanesians have beautiful dark skin with natural blond hair
- Investigations revealed that the weird colour combination of the Melanesians was due to a random mutation
PAY ATTENTION: Click "See First" under the "Following" tab to see Legit.ng News on your Facebook News Feed!
The world's only black blondes are mostly found in Papua New Guinea in Oceania and they have beautiful dark skin with natural blond hair.
Until now, genetic experts attributed the odd trait of the over half a million Melanesian people to inheritance - from the Europeans, particularly, the British, German and Australians, who have been associated with the island for several years, How Africa reports.
Legit.ng notes that in 2012, the theory turned out to be false as investigations revealed that the weird colour combination of the Melanesians was due to a random mutation.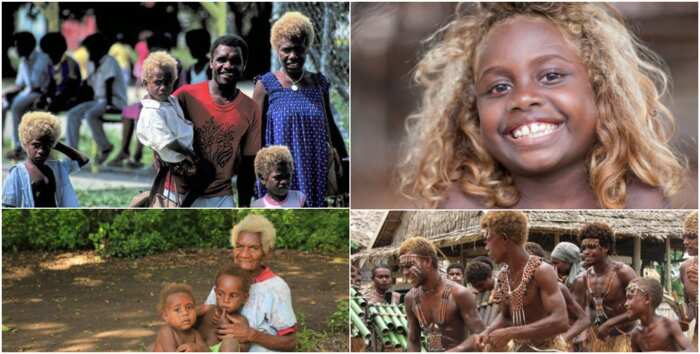 A postdoctoral scholar at the Stanford University, Eimear Kenny, said: "The human characteristic of blond hair arose independently in equatorial Oceania.
"That's quite unexpected and fascinating."
In other news, Governor Hope Uzodinma of Imo state has finally met Oluomachi Joseph Opara for the first time after adopting him.
The governor adopted Oluomachi after social media went agog with his melodious voice.
Governor Uzodinma who met his adopted son in church on Sunday, July 5, said the boy reminds him of his life trajectory.
After the meeting, the governor wrote: "Today, I was joined in church by my adopted son, Oluomachi Opara.
"It is our first physical meeting as Father and Son and I am glad to welcome this newest member of my family."
Meanwhile, Legit.ng previously reported that a former member of the National Youth Service Corps (NYSC), Glory Oguegbu, was honoured by the United States for lifting women out of poverty.
The United States embassy took to its official Facebook page to celebrate Glory, saying the young lady has continued to be a shining example since she embarked on the Mandela Washington Fellowship in 2016.
The embassy applauded Glory's contribution to reducing unemployment and creating a sustainable society.
Glory volunteered with the NYSC to empower women in Kwara state so as to lift them out of poverty.
She said: "It occurred to me that, if only we could process cassava, we could make money for these women. It could lead to real economic growth."
The young lady built a cassava factory with the help of community leaders and created jobs for women.
Glory said: "I wanted more women to be employed. I wanted them to be able to take care of their children."
Which country would you leave Nigeria for? | Legit TV
Source: Legit