- Razak Omotoyossi has lamented how he was abandoned by his former club Sunshine Stars
- The 34-year-old claims he was badly treated by the Nigerian club in 2003
- Omotoyossi received a 5-year-ban during a game between the club and Enyimba that year
Beninoise international Razak Omotoyossi has alleged that he was abandoned by his former club Sushine Stars of Nigeria when it he needed the club most.
Born in Agege Lagos, Razak was forced into a new phase of life in neighbouring Benin Republic after he was banned for five years for allegedly attacking the referee during a Nigerian league match involving Enyimba and Sunshine Stars in 2003.
He described the period as the darkest days of his career, saying that not only did Sunshine Stars neglect him following the decision, the club also stopped his salaries and refuse him training with his colleagues.
PAY ATTENTION: Click "See First" under the "Following" tab to see Legit.ng News on your Facebook News Feed!
"It was a very terrible memory for me to be remembering. It was Sunshine that abandoned the player that sweated for them," he told Legit.ng
"They didn't even take a step from Akure to mere Kogi. Stopped my salary; stopping you (him) training with the team on their own.
"Well, I just feel that's my own destiny and at the same time, I hope no one gets into that situation. You cannot ban a 17-year-old boy for a whole five years not to play football.
"I was supposed to be with the Under 17 that year with Mikel and others. It was just wickedness. Even if NFF had taken such a decision, what about my team? I always wished to don the green-white-green jersey.
"But I never regreted my decision to play for another country."
Asked what steps he took in a bid to get the ban rescinded, the 34-year-old disclosed that he was regular at the NFF glasshouse in Abuja as former Super Eagles goalkeeper Dosu Joseph did his best for him.
"I was supported by Dosu Joseph and Abbey, a former chairman of Gateway football club. Dosu Joseph did a lot because I was able to train with them (Dosu's team). He also helped me with the contact of the then secretary-general," he concluded.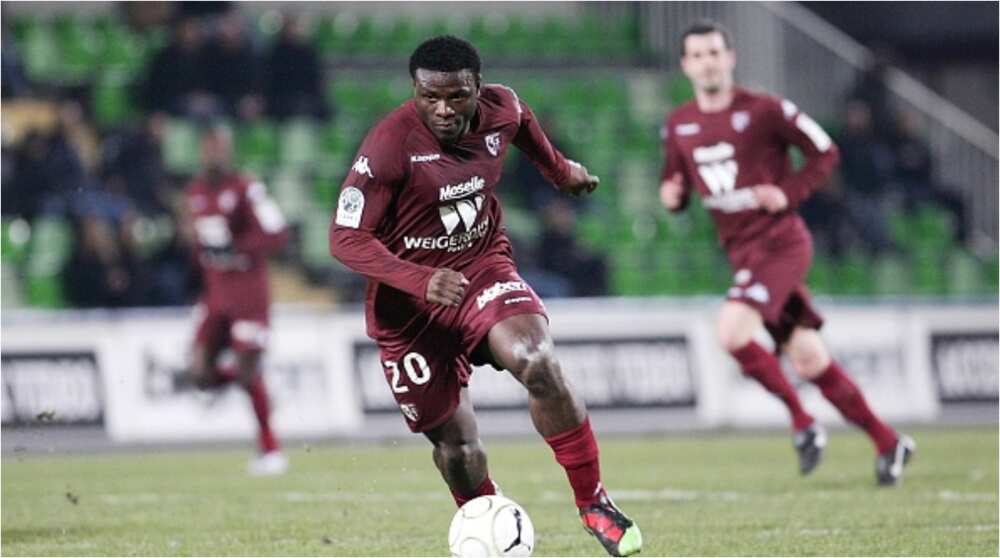 Legit.ng earlier reported that Omotoyossi disclosed that one of the best moments of his career was playing against the Super Eagles, adding that he never regretted opting to play for Benin Repiblic.
At 34, Omotoyossi has played in Egypt, Turkey, France, Saudi Arabia, Sweden and Morocco and he has featured for the Benin national football team in 58 matches scoring 21 goals.
He led the Squirrels' attack against the Super Eagles at the 2010 Africa Cup of Nations in Angola where Yakubu Aiyegbeni's spot-kick late in the first half earned Nigeria the vital win.
Rashidi Yekini is irreplaceable in Super Eagles – Abdul Sule | Legit TV