AKA responds to Kanye West's presidential bid: "It's Dr West"
- Kanye West has announced that he will be running for president in the upcoming US election
- People from across the world have shared different views on social media ever since Kanye made the announcement over the weekend
- South African rapper AKA has also shared his views on the matter and it's clear to see that he supports Kanye's move
PAY ATTENTION: Click "See First" under the "Following" tab to see Legit.ng News on your Facebook News Feed!
Kanye West has announced that he is running for president in the upcoming US election slated for November 3, 2020. The rapper announced his bid to succeed Donald Trump on Twitter on Saturday, July 4.
Ever since he made the announcement, people from across the world have shared their views on Kanye's move. South African rapper, AKA, has also joined the list of people who support the All Of The Lights hitmaker.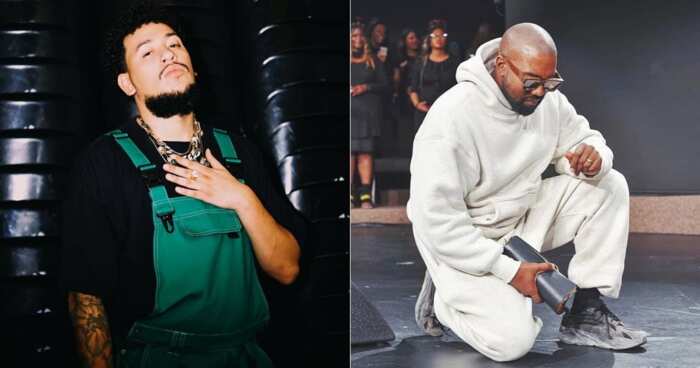 AKA told a social media user who was criticising Kanye for treating the election as a "joke" to address Kanye as Dr West. The star was given an honorary doctorate at the School of the Art Institute of Chicago in 2015.
Twitter user, Ahmed Baba, said Kanye and Elon Musk are treating the "most consequential election of our lifetime as a joke - consequences their money will shield them from".
"We're sick of being trolled by oversized egos. Step up in a meaningful way to help us defeat Trump or sit down quietly."
This did not go down well with AKA. He quickly jumped into the defence of Kanye.
"It's Dr West. Get it right," AKA said.
Briefly.co.za had reported that AKA is also considering running for the presidency following the recent Constitutional Court's ruling. The court ruled that individual candidates can now contest for the highest office in the land. The Constitutional Court on June 11 ruled that the Electoral Act was unconstitutional.
AKA is one of many South Africans who welcomed the ruling with open arms. The Cross My Heart hitmaker put his hand up as one of the people who will be campaigning to be the next president when it's time for the national elections.
"Today I will be engaging with all your questions about what I would do should I assume the highest office in the land... under the #AKA4President hashtag. Let's go, also please address me as Senator Mega. Please and thank you."
In other news, Legit.ng reported that Kanye West revealed he contracted COVID-19.
Legit.ng learnt that Kanye revealed that he had been affected after he made his big 2020 presidential announcement. Speaking to Forbes, Kanye revealed that he had caught the virus and that it was not child's play. Apparently he heard Drake had had it too.
Even though Kanye went through the most, he made it clear that if and when a vaccine is developed, he ain't getting it!
Kanye believes that this is all part and parcel of the devil's work and he is not prepared to be a part of it.
PAY ATTENTION: Do you have news to share? Contact Legit.ng instantly
Cardi B in Lagos: Which foreign artiste would you love to see in Nigeria? | Legit TV
Source: Legit