Tragedy as oldest-ever conjoined twins Ronnie and Donnie die at 68
- Ronnie and Donnie Gaylon, two oldest ever conjoined twins have died at the age of 68 after years of surviving all odds
- When they were living with their brother, Jim, volunteers came to their aid and built them a comfortable extension
- The twins, however, had to leave their brother's home in Dayton when they came down with arthritis
PAY ATTENTION: Click "See First" under the "Following" tab to see Legit.ng News on your Facebook News Feed!
According to Daily Star UK, the oldest ever conjoined twins, Ronnie and Donnie Gaylon, have died at the age of 68 at a hospital in Dayton.
The death of the twins was confirmed by their brother, Jim. It should be noted that the twins lived with their brother and his wife, Mary, in Beavercreek for 10 years.
Another thing worthy of note is that in 2010, 200 volunteers helped build an extension onto Jim's home so the twins can live in relative comfort.
Ronnie and Donnie had to vacate their brother's place when they had arthritis and it became uncomfortable to keep living there.
"I am grateful to the community for what they did to help Ronnie and Donnie move into their house. This allowed them to live with their family for the last 10 years," Jim said.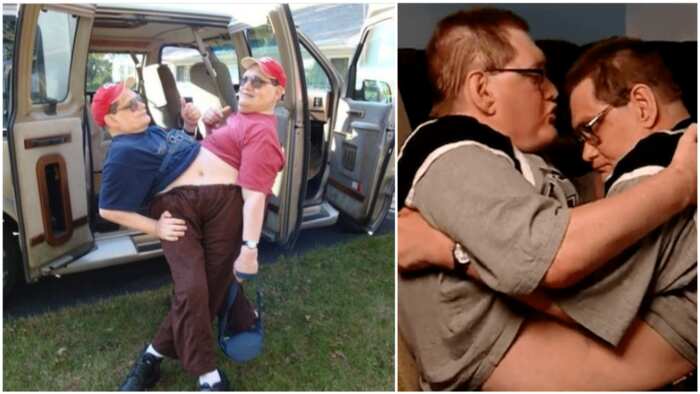 Conjoined at the abdomen, the twins outlived Chang and Eng Bunker, the reportedly first known conjoined twins in the world. They also surpassed the oldest living conjoined twins, Giacomo and Giovanni Battista Tocci in 2020.
Meanwhile, Legit.ng earlier reported that a man named Anayochukwu Njoku abandoned his wife after he realised that she gave birth to conjoined twins.
Njoku eloped after his wife Chidinma delivered the babies on March 11, 2020. Chidinma died three hours after giving birth to the twins named Goodluck and Rejoice Njoku.
After the burial of their late mother, the conjoined twins were taken to Imo Foundation, the organ of the government responsible for humanitarian activities in the state.
The director-general of the foundation, Beulah Chukwu, said: "Presently, we have a family with conjoined twins."
She also said arrangements are being made to separate the conjoined twins, adding that there is a need to reach out to the public for assistance despite the government's help.
PAY ATTENTION: Download our mobile app to enjoy the latest news
In other news, a woman with the Facebook name Oby Evelyn has given birth to a set of triplets after 14 years of marriage and trying to conceive.
In her Facebook post on Friday, June 19, she said her "mouth is full of praise of joy", adding that nothing is as great as the moment she is in.
Evelyn said that God has used the births to compensate her for her years of mockery and shame. She added that the genders of the babies are two g*rls and a boy.
The proud mother said that it is really a dream come true for her, thanking God for the bundles of joy He has blessed her with.
Nigeria News: Abuja Hospital, Parents Speak on Historic Separation of Co-joined Twins | Legit TV
Source: Legit