- Mike Tyson is regarded as the 'Baddest man on the plannet'
- He made so much money in the art of boxing, a sport he is a legend
- His 30th birthday was attended by top personalities including the now US president Donald Trump
Legendary boxer Mike Tyson celebrated his 30th birthday in grand style in 1986 with notable personalities as guests, including celebrities Oprah Winfrey, Jay Z and the now US President Donald Trump.
The boxing legend reserved 19 bedrooms in the exotic and expansive apartment where girls are kept with to entertain the guests.
The bash was celebrated at his 52-room mansion equipped with a nightclub; as his £55,000 tiger was also kept there.
PAY ATTENTION: Click "See First" under the "Following" tab to see Legit.ng News on your Facebook News Feed!
Writing in his book "Undisputed Truth", Tyson said: "We had 13 different chefs, each one cooking in their own kitchen.
"Everyone from Oprah to Donald Trump to Jay-Z to street pimps. There was a guy hand-rolling other items.
"I told Crocodile (friend Steve Fitch), 'see all these girls? They're mine'."
Tyson went on to reveal that he moved out then-girlfriend Hope to make room for his 19 women.
"She had been staying at the house, but I moved her out and put her up at the hotel so the room would be available for one of my lady suitors.
"I was so egomaniacal that I reserved the 19 bedrooms in my house for girls."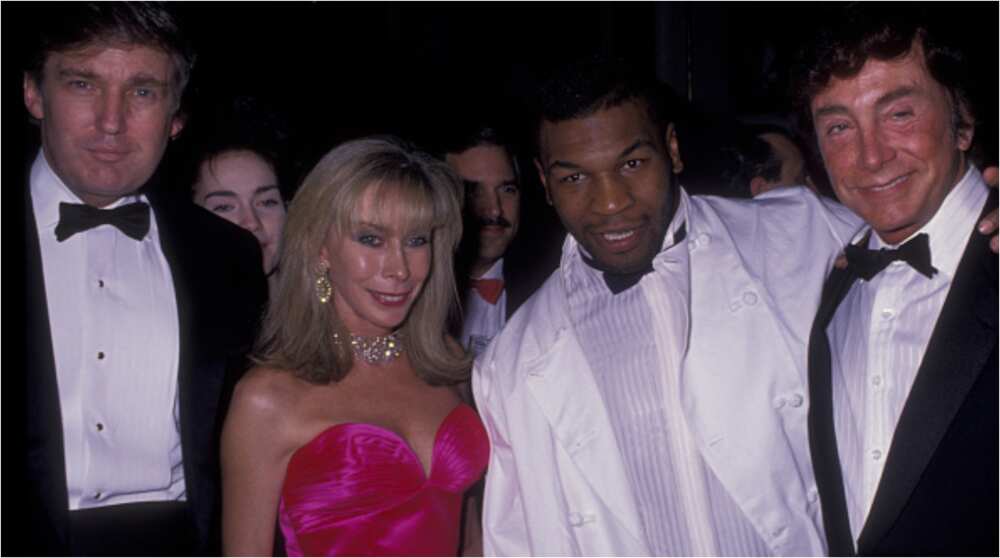 A couple of days ago, Tyson released another stunning video of his training session where he again showed incredible speed and punching power.
The former undisputed heavyweight champion is getting closer to making a come back after 15 years of hanging his gloves.
Iron Mike has posted some of his work out videos in recent times and putting a hole inside a punching is the scariest out of the previous two.
The 53-year-old's latest video has drawn the attention of fans on social media after the former heavyweight world champion showing off his devastating punching power
Legit.ng earlier reported that Mike Tyson had a fair share of earnings in his glittering career and made well over $400million before filing for bankruptcy.
The Baddest Man on the Planet became a heavyweight champion at the age of 20 after defeating Trevor Berbick in 1985 and made $1.5m.
Tyson's earnings doubled two months later when he stopped Tony Tubbs in Japan and made $20m when he beat Micheal Spinks in just 90 seconds.
His earnings then dropped significantly as he picked up around $7m for beating Brit hero Frank Bruno for the first time and then dropped again to $6m when he suffered his first defeat to Buster Douglas and denied him a huge payday when he fought Evander Holyfield months after coming out of prison.
I've proof to show I was asked for bribe to make World Cup team – Obasi | Legit TV