- Cardiologist Kamar Adeleke led a team of specialists to perform very complex heart surgery during the Covid-19 lockdown in the country
- Due to the fact that nobody could travel out for treatment, they had to carry out this almost impossible task
- Kamar had to put the patient's heart on hold, attached him to a lung machine and returned it, with the patient recovering in 24 hours
PAY ATTENTION: Click "See First" under the "Following" tab to see Legit.ng News on your Facebook News Feed!
There are many Nigerian health professionals with gifted hands in the country. Kamar Adeleke is one of these people.
He led a team of specialists to perform a very complex surgery at Reddington Hospital on a patient named Adebiyi. To make the operation successful, he had to put the patient's heart on hold.
It should be noted that Adebiyi recovered 24 hours after the operation was done. During the time his heart was on hold, the mitral valve of the heart was repaired.
In commenting on the process, Adeleke said that the Covid-19 outbreak has shown that countries need to look inward to get solutions for themselves.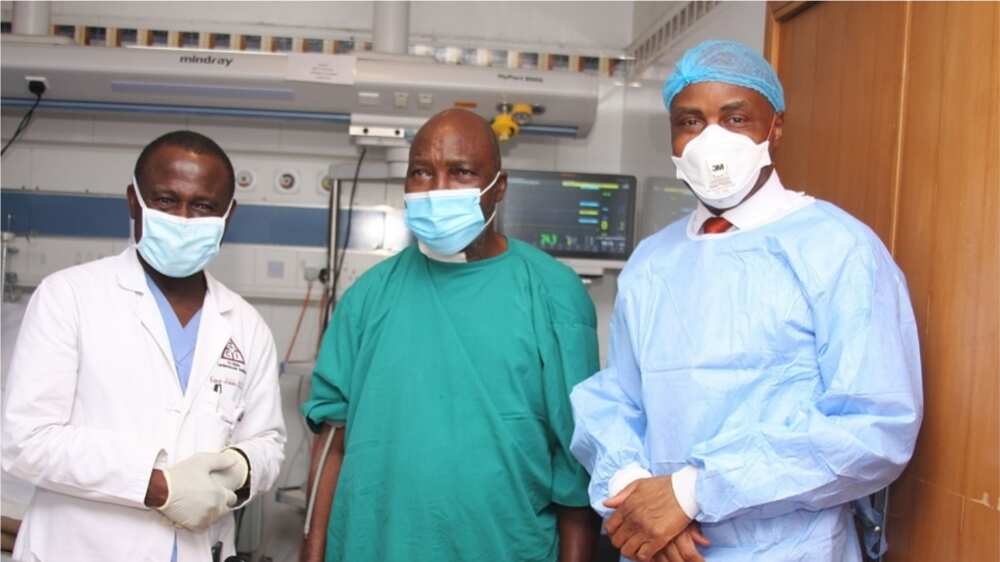 He said flying the patient out, which was not possible due to the pandemic, would have cost a lot of money for the flight and treatment.
Meanwhile, Legit.ng earlier reported that Gbolahan Ayo Sasona is a Nigerian doctor, who makes artificial limbs (also known as prosthetic limbs) for his patients in the country and in the US.
In a video, the doctor showed the processes involved in producing artificial limbs befitting his patients. He makes the mold for the prosthetic device before he melts it in an infrared oven.
PAY ATTENTION: Download our mobile app to enjoy the latest news update
The melted plastic is wrapped around the mold and left to dry for about eight hours. When it cools, it is removed from the mold and polished with a grinder. When this is done, the patient needing the limb is invited to come in and try it on.
Commenting on his patients, the affordability of the device and his dream for the future when it comes to making prosthetics, the doctor said: "On average, I see between 25 and 40 patients in the two weeks I am in Nigeria. Majority of them, we do the initial evaluation, give them the estimate."
"And then, once they are ready to pay, they will make another appointment to come back to get their prosthetic device."
Lagos govt paid us 5k hazard allowance once - resident doctor | Legit TV