- A Nigerian pastor, Dotun Ajayi, has taken to social media to share his encounter with a soldier that changed his impression about them
- Ajayi recounted how his car developed a fault and he was stranded in the rain in Ibadan
- The man then narrated how a Nigerian soldier, Corporal Etuk Emmanuel, noticed his distress and helped him out of the fix
PAY ATTENTION: Click "See First" under the "Following" tab to see Legit.ng News on your Facebook News Feed!
Soldiers in many parts of the world are highly respected and given their due honour as people have the belief that they make the world a better place by protecting them from enemies.
However, in Nigeria, there is a belief in the minds of people that soldiers should be feared and that they are not nice or friendly people. These beliefs were informed by the negative news about them that spread on social media.
Well, one Nigerian pastor, Dotun Ajayi, has taken to his Facebook page to share his experience with a good Nigerian soldier that changed his perspective about them.
Ajayi recounted how he was saved by a soldier after he was stranded on the road during a heavy downpour in Ibadan.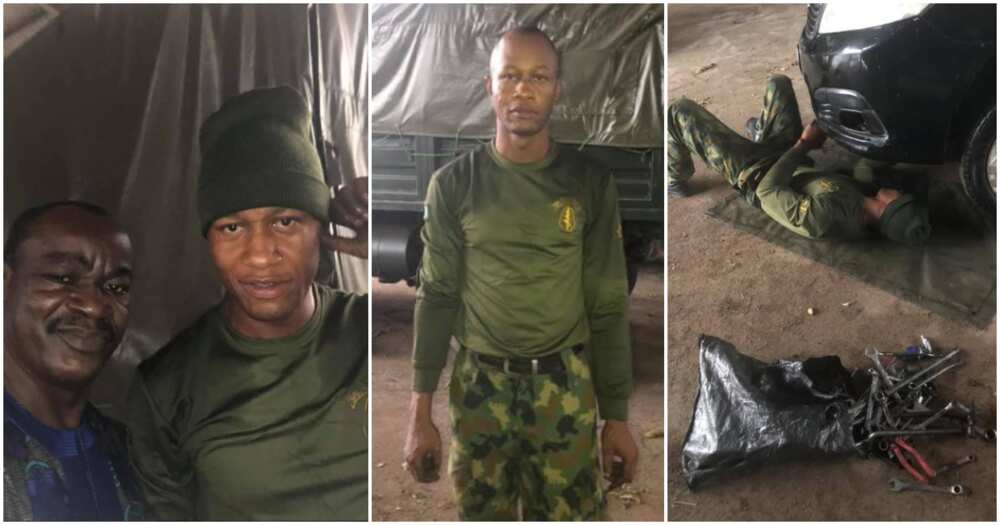 The pastor said that his car developed a fault because of the bad road and that there was nobody there to help until the soldier, Lance Corporal Etuk Emmanuel, came along and noticed his distress.
Ajayi said that the soldier tried to fix the car in the rain and when he was unable to, he suggested that they manage to get the car to his workshop at the barracks where he would fix it in no time.
The car was eventually fixed and Ajayi expressed his gratitude and how surprised and impressed he was about his encounter with the military man.
He wrote: "A worthy soldier and gentleman.
This evening on my way back from my brother's house, my car developed a fault simply because the road is bad (Ojuirin - Olorunda road after Akobo in Ibadan) I was practically helpless because there were no mechanics in sight and it was raining heavily too. Then this angel in the form of a Nigerian soldier showed up, he asked what the problem was and offered to help. He knelt in the rain and when he couldn't fix it, he asked me to carefully drive the car to the barracks and there he was going to fix it. I accepted his offer gladly and we ended up at the military workshop where he fixed my car within minutes.
I have heard many stories about our military men, but this is totally different and I was impressed. Men like lance Corporal Etuk Emmanuel are rewriting stories about the Nigerian Army one act of service at a time.
This is the Nigeria Army of our dreams. Please help me to appreciate this gallant soldier who chose to help a civilian like me in Nigeria in the year 2020."
See his post below:
Wonderful.
Just recently, Legit.ng reported that a fake colonel, major and 11 others who were posing as senior officers were arrested in Lagos.
The thirteen fake military personnel were arrested by decoy operatives of 81 Division of the Nigerian Army.
Among those arrested are a Lieutenant-Colonel, Afolabi Hassan, and a Major, Afolabi Allen Adegboyega, who had been parading themselves as senior officers of the army for 12 years.
PAY ATTENTION: Do you have news to share? Contact Legit.ng instantly
Nigeria Latest News: I Was Arrested As a Soldier, the Uniform Belongs to My Roommate | Legit TV