Some specific rules and guidelines need to be followed when using email as a form of communication. One of the essential elements of email etiquette involves knowing how to use the CC and BCC fields correctly. But what does CC mean? And how does BCC work? Is there a difference between CC and BCC?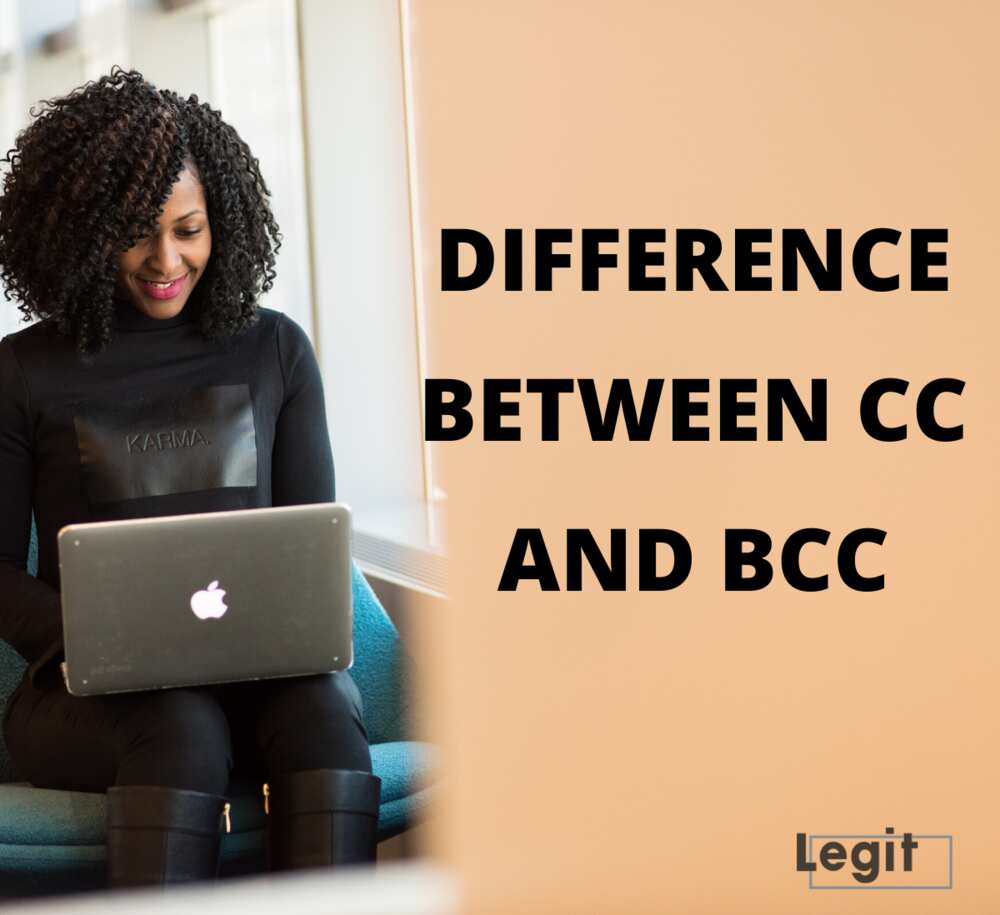 Indeed, there is a difference between CC and BCC. Here is a CC vs BCC comparison that will let you know when and how to use these two.
What is CC and BCC?
Here is an informative description of the two:
1. What does CC mean in email?
What is CC in email? The most accurate CC meaning is 'Carbon Copy'. This name was coined from the old days when letter writing was among the few means of communication available.
During these times, if one wanted to make a copy of a letter or document, they would have to place a carbon paper between the paper they are writing on and the paper intended to be a copy.
What does CC mean on email? The CC field is used when sending copies of an email to other people. All CC'ed recipients will be able to see who else received the electronic mail.
When to use CC
You use CC email to make it clear that the email has been seen by everyone. A good example would be when members of a project are communicating about the progress of the project.
2. What is BCC in an email?
BCC meaning is 'Blind Carbon Copy'. How does BCC work? For BCC, other recipients won't be able to see that someone else has been sent a copy of the email.
When to use BCC
The BCC field is used when:
You don't want the primary or main recipient to know that the message has been sent to other people
You are sending the message to a large list. BCC ensures that you maintain a clean email as the recipient won't see the long list of recipients.
BCC is also preferred because it is safer as you won't expose people's email addresses.
What is the difference between CC and BCC? A BCC vs CC comparison
While for CC, other recipients can see who else received the email, for BCC, other recipients won't be able to see that someone else has been sent a copy of the e-message.
What is CC and BCC in email with example?
Here are helpful examples of what the two are and how to use them correctly.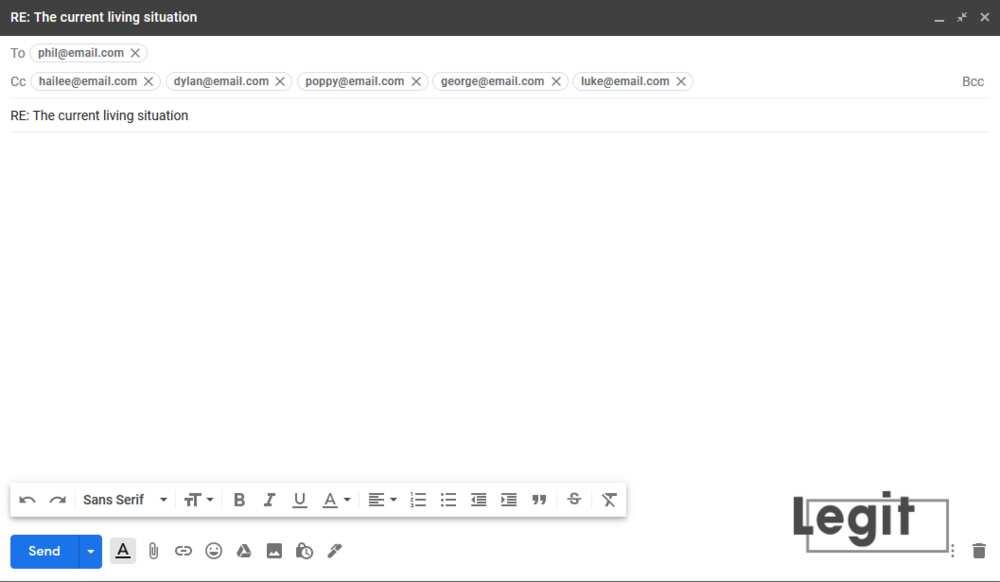 In the above example, the sender, let's call her Claire, sends this e-message to Phil, who is the main recipient. Claire then CCs Hailee, Dylan, Poppy, George, and Luke so that they may receive a copy of the email.
In this example, Phil, Hailee, Dylan, Poppy, George, and Luke will all be able to see who else received the message, i.e, the list of recipients is visible to all who received the email.
Here is a more practical example in order to put things into perspective:
To: phil@email.com
CC: hailee@email.com, dylan@email.com, poppy@email.com, george@email.com, luke@emailcom
RE: THE CURRENT LIVING SITUATION
Hey family. As you may have noticed, the current living situation is becoming unbearable for all of us in the house. I would like to draw your attention to the following incidences that have happened in the past week ALONE:
There hasn't been milk in the house for three consecutive days, making most of us miss breakfast.
The house is constantly noisy.
There's a fishy smell emanating from the kitchen sink
No one has done dishes since Friday (It's Sunday!)
These are just among the few things that have led me to the conclusion that although I enjoy having you all here and living under one roof, some big changes need to be made.
As such, we need to have a sit-down as soon as possible.
Your loving roomie,
Claire
In the example above, all the recipients will be able to access the list of who else received the e-message.
But what happens if you wish to share an email with someone other than the main recipient but don't want the main recipient to know that you sent it to someone else? In this case, you need to use the BCC field.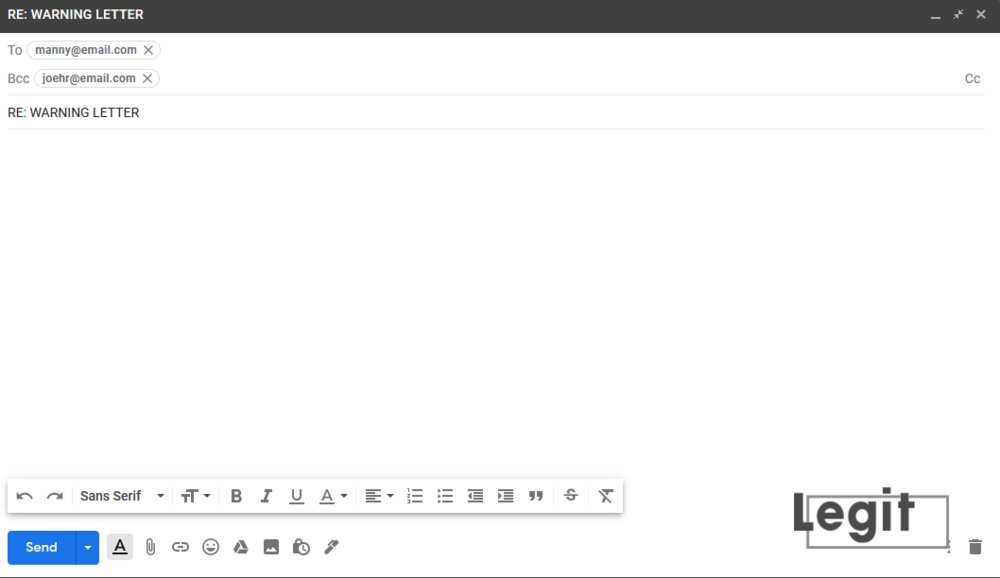 In the above example, the sender of the email, let's say her name is Gloria, is sending Manny (an employee) a warning letter. Gloria then BCCs HR (Joe) in the same letter.
Here is another practical example of the same:
To: manny@email.com
BCC: joehr@email.com
RE: FINAL WARNING LETTER
Dear Mr Manny,
Greetings.
I am writing to you about your conduct during your employment with Cargho House Ltd.
As your supervisor, I have noted a certain level of disrespect while dealing with your workmates which cannot be tolerated at all costs. I would like to refer to the recent incident between you and a co-worker, Jay, which led to a physical altercation that brought the entire office to a standstill.
Another incident that prompted me to write this letter was your refusal to work on a project assigned to you by a superior because it was 'below your pay grade'.
A review of your record indicates that you have failed to report to work without notice or justifiable excuse on several occasions in the past. In the past two months alone, you were absent in this manner on two other occasions. These absences were on 15th May 2020 and 23rd June 2020. On both of those occasions, you were given verbal warnings and directed to notify your manager in advance of every absence.
Take note that the company does not take such incidences very lightly. In light of the foregoing, we have no choice but to issue this written warning. We trust that this discipline will ensure that you correct your behaviour in the future. Please take this warning as a call to improve your workplace behaviour.
However, please note that if you engage in further misconduct of any kind, you may be subject to severe discipline, up to and including suspensions and even dismissal.
I propose that we meet again on 10th July 2020 to review your progress. Please let me know if this time is convenient for you. If you wish to respond to this formal warning letter, please do so by contacting me on 012345678 or by replying in writing.
Sincerely,
Gloria James
Supervisor-in-charge
Cargo House Limited
In this example, the supervisor (Gloria) is correcting Manny's behaviour through a warning letter. The supervisor then BCCs the company's Human Resource department so that they can have a copy of the message. Manny will not tell who else received the letter apart from him.
In this case, if Manny does not acknowledge receipt of the letter, Gloria can involve the Human Resource department as they also have a copy of the letter sent to the employee.
From the examples above, you can tell that there is a difference between CC and BCC. Now that you know how to use them correctly, you are one step closer to mastering email etiquette like a pro. What else confuses when it comes to electronic mail? Let us know in the comments section below.