Actress Jameela Jamil slams Kim Kardashian for wearing corset (photo)
- British actress and TV presenter, Jameela Jamil, recently took to social media to criticise Kim Kardashian for her choice of outfit on social media
- Jameela took issue with Kim wearing a corset and sharing a photo of it on her Instagram page
- The actress felt that Kim was portraying a wrong image of what women should look like and that it was fuelled by patriarchy
PAY ATTENTION: Click "See First" under the "Following" tab to see Legit.ng News on your Facebook News Feed!
Popular reality show star, Kim Kardashian, is one who has been known for her famous curves and appeal. She also makes sure to flaunt it on social media from time to time.
However, Kim recently got British actress and TV presenter, Jameela Jamil, sharing a long post on social media about self-image after the reality show star shared a photo of herself wearing a corset.
Jameela slammed Kim for portraying a false image of what women are expected to look like and how many of her impressionable fans would buy into that idea.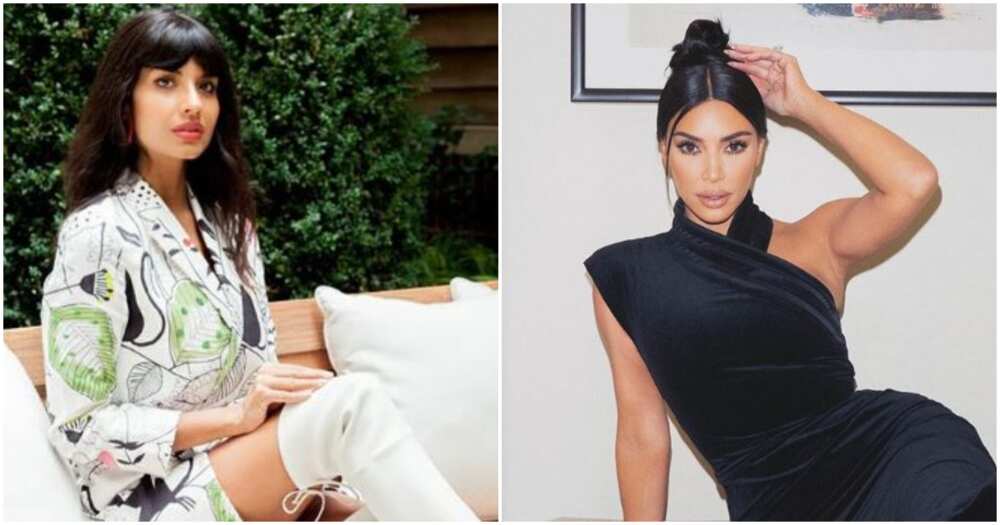 The TV presenter said that such body image was fuelled by patriarchy and that it is toxic.
Jameela wrote:
"I haven't been trying to cancel Kim K. I was always trying to arm YOU with the knowledge to recognize for YOURSELVES that this is a bullshit expectation of women, developed by the patriarchy. If YOU know that it's problematic, reductive and irresponsible for her to perpetuate such a heavily impossible beauty standard to her impressionable fans... then you're empowered and conscious and don't need me.
Kim, like many of us, has had decades of body image issues and obsession. This has been HEAVILY perpetuated by how much the media scrutinized her and her sisters over their appearances. She isn't actively trying to harm you. She's just so harmed and deluded into thinking this is what SHE needs to look like to be special and beautiful and she's spilling it out onto her following. Is this wrong? YES. But I'm not sure she realizes that she's doing to others what her idols did to her, in making her think a tiny waist is the key to femininity and se*x appeal. We grew up in the era of Hero*in Chic, where we were told you HAD to look like an addict starving to death, so to go from that to being bullied about your body by the world? This toxicity from someone who is smart and knows better, is a sign that this is harm she can't stop doing."
Explaining further, the British actress encouraged fans to protect themselves and unfollow pages that would hurt their self-esteem.
She wrote:
"So there's no point in screaming at her. The smart thing to do is to protect YOURSELF. YOU have the power. YOU control every Market. YOU choose what and who is trendy. Unfollow the people who tell you things that hurt your self-esteem. Don't let the debris of their damage spill out onto you. Unfollow people/brands that don't make you feel powerful and happy and grateful for what you have.
You're the boss and none of them are shit without you."
See her post below:
Just recently, Legit.ng reported that Kim took to social media to celebrate her husband, Kanye West as she called him her king.
This is despite various news outlets claiming the couple is on the verge of a nasty and loud breakup that is bound to happen anytime soon.
The mother of four went on Instagram to detail the things she loves about her king during his 43rd birthday.
In other news, Legit.ng reported that Kanye was named by Forbes as the highest paid musician for year 2020.
The music star reportedly raked in most of his earnings from his Yeezy deal with Adidas and it has put him financially ahead of other musicians in the world this year.
PAY ATTENTION: Do you have news to share? Contact Legit.ng instantly
Tiwa Savage is s'xy - Naira Marley | Legit TV
Source: Legit