South Africa gets its first satanic church, baptism, weddings, other activities take place
- South Africa has its very first satanic church based in Century City
- According to co-founder Riaan Swiegelaar, the church sees Satan as an archetype
- The religious institution has rituals which Swiegelaar dubbed legal and self-empowering
In South Africa, part of the constitution allows people to have the right to practice their chosen religions.
For many years, satanists did not have a place of worship until two people, Riaan Swiegelaar and Adri Norton, decided to do something about it.
Working together, Norton and Swiegelaar co-founded The South African Satanic Church - the country's first place of worship for satanists.
Many people have had their doubts about satanism and the alleged rituals that take place during meetings.
However, Swiegelaar wanted to put people's minds at ease by revealing none of their rituals is illegal and they do them for self-empowerment.
Swiegelaar said they did not sacrifice humans or animals, there were no initiation ceremonies, and they are not after people's children.
Although the church is named 'The South African Satanic Church', they do not worship a devil or even acknowledge a devil.
Swiegelaar told E News the church sees Satan as an archetype. In fact, according to Norton, there is a difference between Satanism and devil worship.
She said:
"We see Satanism as an archetype, a force, it is not something that needs worshipping."
According to IOL, Norton said the church is not a get-rich organisation. They are also not part of the Illuminati but rather functions as a religious organisation.
Take a look at Swiegelaar speaking about the satanic church on E News below: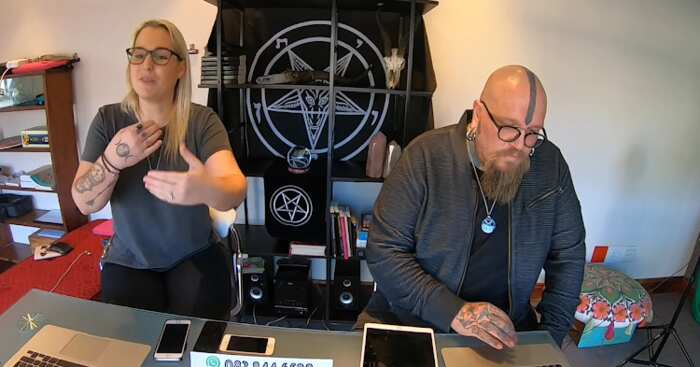 The church does have rules they adhere to - no person under the age of 18 is permitted to attend gatherings, ceremonies or rituals.
As for the future, Swiegelaar said the church is planning on getting the rights to translate the Satanic Bible - which was first published in 1969 - to Afrikaans.
He said:
"We will then be the first organisation to do so."
In other news, the founder and leader of Perez Chapel International, Bishop Charles Agyin-Asare, has said coronavirus is a satanic movement to keep people out of the church.
The respected Ghanaian pastor made the statement during a recent sermon that has been trimmed into a snippet making waves on social media.
Nigerian pastor dashes church members N10million cash | Legit TV
Source: Legit