Niger Delta leaders commend Akpabio on NDDC building
- Former Akwa Ibom governor Godswill Akpabio has been commended for his work in NDDC
- The minister was specifically praised for his role in the completion on NDDC headquarters
- According to leaders in the Niger Delta, the minister has helped in the transformation of the region
PAY ATTENTION: Click "See First" under the "Following" tab to see Legit.ng News on your Facebook News Feed
Leaders of the Niger Delta states including the youths and religious fathers have commended Senator Godswill Akpabio on the completion and relocation to the corporate headquarters of the Niger Delta Development Commission (NDDC).
The leaders extended their appreciation to the Senator for focusing his energy and ensuring the interim management board carried out an unprecedented transformation of the region in with a few months.
The groups in their separate meetings in Uyo, Delta, Owerri and Rivers said in over 20 years of the existence of NDDC from OMPADEC, this is the first time that "we have seen real development devoid of politics."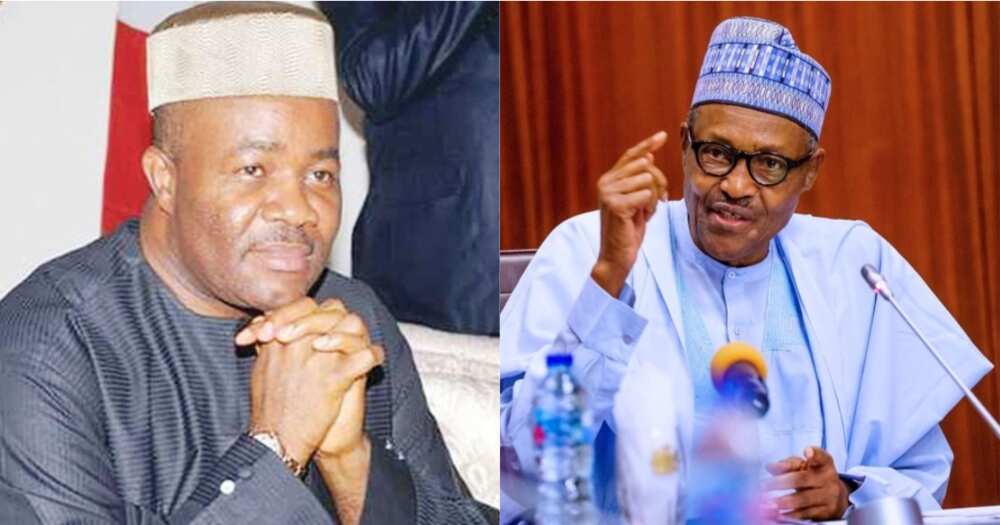 They attributed this to the personality of the man involved in the management and supervision of the commission.
"...today the region is busy, genuine jobs are ongoing, the people are happy because indigenes are engaged in small and medium enterprises projects across the states," the group said in a statement made available to Legit.ng.
Speaking on the impact of Akpabio, Chief Udo Akpanidia said the people of Akwa Ibom state are thankful to President Buhari for appointing the senator who has brought uncommon transformation to the region,
Also, the youth leader of Eket senatorial district, Mkpisin Vincent said the funds released by the president for the completion of the East-West road has further shown that the president has confidence in the minister,
Going further, he said that plans by enemies of the region who tried to frustrate the commission has failed.
Also speaking is a senior member of Christian organization, Apostle Paul Thom who said Akpabio is a divine project for the entire region.
He added that church leaders are praying for the minister to succeed.
However, Mazi Oye Emeka a retired civil servant and a traditional ruler prayed for Mr President and the Hon minister.
He also pleaded for the completion of most of the abandoned projects in Owerri and Abia state.
Recall that Legit.ng had reported that several youth groups in the Niger Delta region culminating into an amalgam of over 57 youths and leadership bodies, including students' unions, have concluded plans to obtain more than one million signatures to support Akpabio.
According to the group, this is due to the unnecessary interference of some powerful people in Nigeria and in the National Assembly.
They alleged that the powerful are trying to scuttle the forensic audit as well as sabotage the Interim management committee set up at the instance of the president to reposition the NDDC to accelerate development in the Niger Delta region.
How Nigerians should fight corruption - civil society group | Legit TV
Source: Legit Newspaper