Soldier who lost his leg after stepping on explosive welcomes triplets
- A 30-year-old soldier who lost his leg after stepping on an explosive in Afghanistan has welcomed three kids at once
- Rogers and his wife Amy welcomed triplets to add to the two children they already have
- The soldier, who stepped on an explosive in 2011, said doctors did not know if it affected his fertility
PAY ATTENTION: Click "See First" under the "Following" tab to see Legit.ng News on your Facebook News Feed!
Tyne Rogers, a 30-year-old soldier who lost his leg after stepping on an explosive in Afghanistan, has welcomed triplets.
After stepping on an explosive in 2011, Rogers feared he would not have a family but he met his wife in 2013 and they had two children, The Sun reports.
Legit.ng gathers that the triplets joined Roger's family in April, making it a family of seven, the parents inclusive.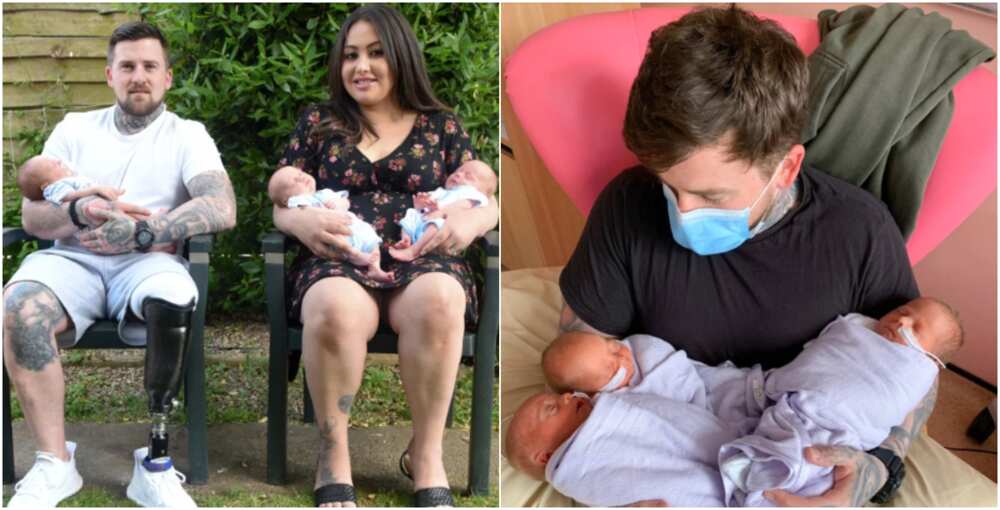 He said: "It is hard to comprehend what I have been through, it is a bit of a blur but I remember the day I stepped on the explosive.
"Doctors didn't know if the explosive had affected my fertility and at the time as the impact of standing on a bomb could have ruined my sperm count completely.
"It was a lot for me to deal with, never mind somebody else, so I didn't want to become a burden to anyone."
In other news, a mother-of-four who did not know she was pregnant said she gave birth to a healthy baby girl in the toilet.
Grace Meachin said the birth of her last born was during the period her husband was on the waiting list for a vasectomy.
She said she had no discernible bump, was taking her pill 'religiously' and still had periods.
The 32-year-old woman from Littlehampton, West Sussex, made a dash to the toilet one morning and as she sat down on the toilet, she felt the sensation of her waters breaking.
Grace let out a terrified scream. According to her, she let out a scream and asked her husband and her 13-year-old son to call an ambulance because there was 'something coming'.
After calling an ambulance and returning to the toilet, Grace's husband James realised that his wife had given birth to a baby.
Must a woman adopt her husband's name after marriage? | Legit TV
Source: Legit