Man places ad for worker, gives them condition for stealing
- A Nigerian man recently left social media users buzzing with reactions following his recent ad for a job opening
- Identified as Samuel Otigba, he revealed in a recent tweet he was looking for a manager for his food factory based in Kaduna
- Otigba then added that anyone interested in the job could steal as long as they kept it within 5-10% of the net profit
PAY ATTENTION: Click "See First" under the "Following" tab to see Legit.ng News on your Facebook News Feed!
Twitter user, Samuel Otigba recently left many people amused and curious after he took to the platform to place an ad for a job opening at his food factory in Kaduna state.
While he made it clear that he was in need of a manager for the factory, Otigba also did little to hide the fact that he wasn't expecting anyone honest to apply for the job which he stated comes with good pay and health insurance.
According to his tweet, if given the job, one could steal as he knew they always do, but that he or she should keep the thieving within 5-10% of the net profit.
PAY ATTENTION: Get the Latest Nigerian News on Legit.ng News App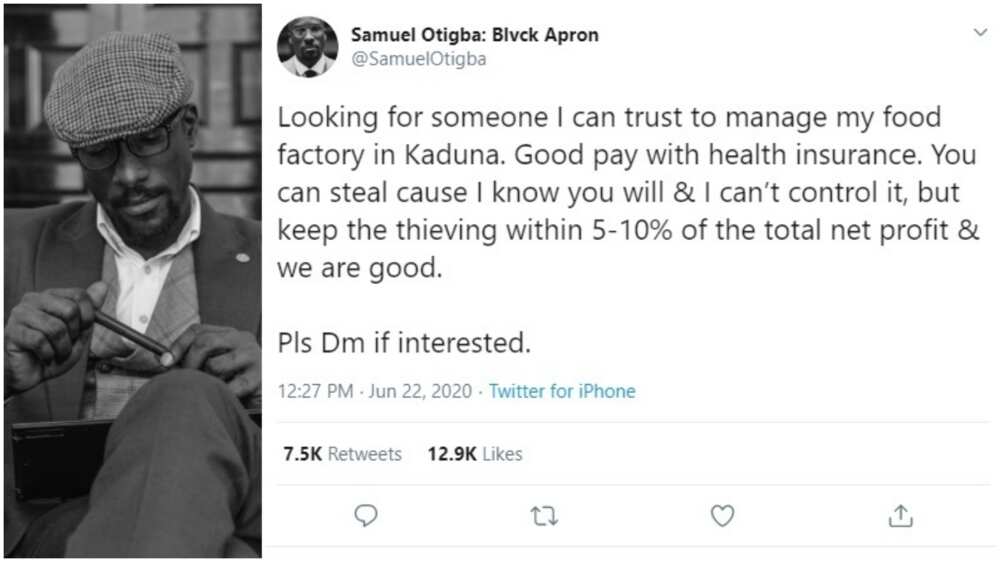 He wrote: "Looking for someone I can trust to manage my food factory in Kaduna. Good pay with health insurance. You can steal cause I know you will & I can't control it, but keep the thieving within 5-10% of the total net profit & we are good. Pls Dm if interested.
If the stealing is below 5% for the next 4 years & you actually put in real work with results, we'll offer stock options & promoted to regional manager position in the company with bigger pay, pension etc. Dm, if interested."
See tweet below:
Responding to people who felt his job ad was improper, Otigba defended himself saying he was just trying to be real and direct.
"Let's don't beat about the bush. If you don't steal, thank God. If you steal, thank God. Just being honest.
Not calling anyone a thief but if you own a business in Nigeria, you'll understand my sentiments. It's hard to find good people you can trust & I have no intention of raising my hopes high to be disappointed. Let's start from scratch," he wrote.
See tweet below:
PAY ATTENTION: Do you have news to share? Contact Legit.ng instantly
Meanwhile, June 21, 2020, marked Father's Day and many fathers used the opportunity as a day to not only celebrate but reflect on their experiences as fathers.
A Nigerian man identified as Latunde Akin recently melted hearts with his story. In a post shared to his Facebook page, the father of 4 recounted how he lost his well-paying job and was forced to hawk chinchin; a fried snack popular in Nigeria.
Akin who learnt the craft from his mom said he used to sell to suppliers and also hawk on the streets.
Is it really difficult to get a job in Nigeria? | Legit TV
Source: Legit