Antibody levels in recovered COVID-19 patients drop fast - New research
- A Chinese study has revealed that the immune system of recovered Covid-19 patients may not be able to fight the disease for long
- The research finding was conducted on 74 symptomatic and asymptomatic patients after their recovery
- The study then recommended that social distancing and other guidelines must always be followed
PAY ATTENTION: Click "See First" under the "Following" tab to see Legit.ng News on your Facebook News Feed!
According to a Chinese study, levels of antibody in recovered patients of coronavirus reduce drastically within the space of two to three months for both symptomatic and asymptomatic patients.
The study, therefore, begged the question of how any immunity could combat the deadly Covid-19, Reuters reports.
Published in Nature Medicine on Thursday, June 18, shows that it is risky to quickly abandon the use of social distancing and the isolation of high-risk groups.
The research findings came from studying 37 each of symptomatic and asymptomatic patients. The results revealed that over 90% of those with the presence of IgG antibody show a sharp decline.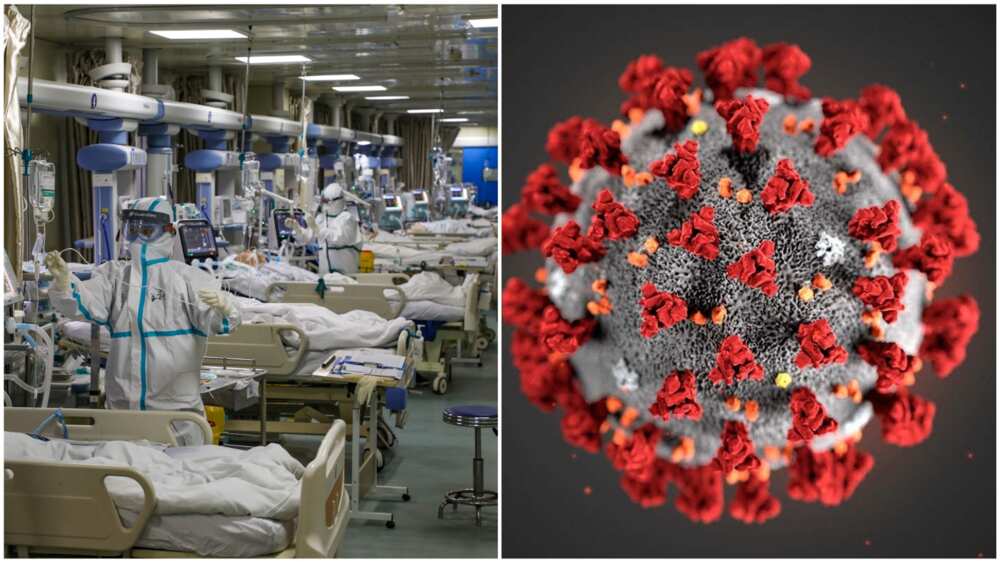 It should be noted that the study was carried out by scientists at Chongqing Medical University, a part of the Chinese Centre for Disease Control and Prevention and other institutes.
Jin Do*ng-Yan, a professor of virology, however, said that the study does not throw away the possibility that some parts of the immune system could give protection.
Meanwhile, Legit.ng earlier reported that as a way to reduce the spread of coronavirus, China is using self-driving vans called Hercules to deliver foods and disinfect streets.
In a Tweet shared by Mashable on Saturday, June 20, it said that the vans have been doing the delivery and sanitization works for the past two months in 16 communities in Zibo, the eastern part of China.
Hercules makes use of lidars, cameras, and complex algorithms to get itself from one place to the other. It has the capacity to carry a cargo of up to 1,000 kilograms in its compartment.
The developer of the vehicle, UDI, has also been engaging a small fleet of the vans in other places like Suzhow and Shenzhen.
PAY ATTENTION: Download our mobile app to enjoy the latest news
They are especially used to deliver meal boxes to workers and disinfect areas near hospitals. It should be noted that all the self-autonomous vehicles have made 2,500 trips.
In other news, China restored lockdown in some parts of Beijing as well as travel restrictions in the wake of a new surge of coronavirus cases as people fear the beginning of a new wave.
On Tuesday, June 16, an unnamed city official said that the present Covid-19 cases in Beijing are "extremely severe".
It should be noted that China heavily brought coronavirus under control as it carried out massive testing earlier in the year.
Coronavirus: No Nigerian has been infected - Chinese Ambassador | Legit TV
Source: Legit