TV star honours foster dad who adopted her at 12 after parents died
- Citi TV and Citi FM producer, Abena Nyamekye Ampadu, has appreciated her foster father with a heartwarming message
- The Ghanaian journalist highlighted the role of her foster father in her life along with his photo
- Abena Ampadu joined many across the world to commemorate fathers on Sunday, June 21, 2020
Ghanaian newscaster and producer at Citi TV and Citi FM, Abena Nyamekye Ampadu, has appreciated her foster father with a message full of bliss.
As many continue to take the opportunity of Father's Day to highlight the role of their fathers in their lives, the Ghanaian journalist joined in the pleasant chorus to celebrate her foster father.
In a recent post on Twitter, Ampadu, who was orphaned after the devastating demise of her parents indicated that she nearly became homeless at the age of 12.
According to her, after the death of her biological parents, a man she identified as Kwaku Arhin Domfeh stepped in to provide shelter for her.
However, amid her pain and the traumatic experience, someone wanted her now-foster father to abandon her.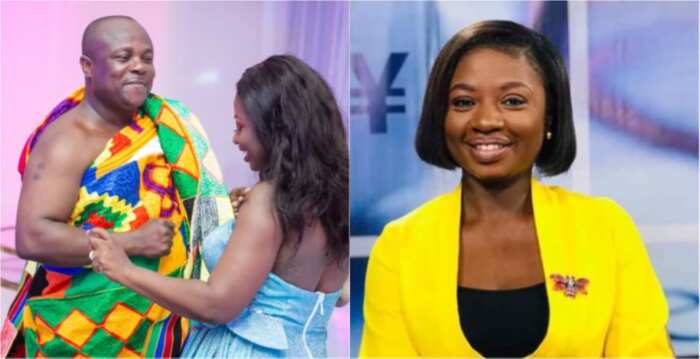 She revealed, the unnamed person actually told her foster dad not to take her in when she needed care the most at the time as a vulnerable young girl.
''I was only 12 when this man took me in. Someone actually told him to send me away, she said I was a bad omen and he'd die just like my parents.''
In spite of the obstacles then, she said Kwaku Arhin Domfeh ''never gave up on [her].''
Ampadu was full of acclamation on Sunday, June 21, 2020, as she took to Twitter to express appreciation towards her foster father.
''Mr. Kwaku Arhin Domfeh, thank you for giving me a home,'' she added.
In other news, as the world continues to celebrated Father's Day, Joe Tole of New York City is one whose story is yet another reason why fathers should be commemorated.
Joe Tole, 60, has spent the past decade of his life raising six sons he adopted.
The kind-hearted man is set to adopt his seventh son, 20-year-old Jhon from the Dominican Republic who has learning difficulties.
Growing up in a foster home himself, the former guidance counsellor is able to relate to the struggles of the needy and underserved.
Woman with 9 Children, 48 Grandchildren, 51 Great Grandchildren Clocks 100 | Legit TV
Source: Legit