Black woman sold into slavery as a teenager became one of US richest people
- A Senegalese princess, Anta Madiguene Ndiaye, was sold into slavery in 1806 and thought to be dead by her family members
- In slavery, luck smiled on her as she married her owner, Zephaniah Kingsley, a rich plantation businessman in Florida
- Five years after her marriage, she also became rich by association and started her own plantations for free blacks
PAY ATTENTION: Click "See First" under the "Following" tab to see Legit.ng News on your Facebook News Feed!
The story of Princess Anta Madjiguene Ndiaye is one that always amazes anybody who reads it. A Senegalese, she was captured and sold into slavery.
Her people had to spend two centuries before they knew where she had been. In 2018, they welcomed her spirit back home with a big celebration.
Princess Anta was taken in 1806 from Wolof kingdom. All hope became dashed as the search effort to find her ended up a futile one.
With all hope lost, a funeral rite was performed to lay her spirit to rest, a ceremony done to fulfil all traditions in case she had been killed.
After her capture, she was taken to Goree Island with other slaves until the time came for them to be displayed at a slave market.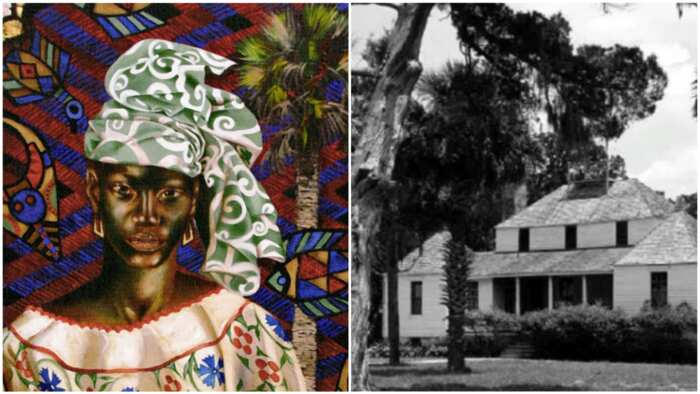 Princess Anta was sold and taken to Cuba. In Cuba, she was re-sold to the United States to Zephaniah Kingsley, a rich plantation owner
Her slave driver fell in love with her and they got married, having four children. After the marriage, her name was changed to Anna Kingsley.
Though the existent law in the US then did not allow a white person to marry a slave, they did their wedding in Cuba before Kingsley gave Anta her freedom.
In the space of five years, she became a very rich former slave as she was given authority over Kingsley's property.
After Florida was sold, the new family moved to Cuba when their marriage was declared illegal. In Cuba, they set up new plantations and created a colony of free blacks.
Meanwhile, Legit.ng earlier reported that the last survivor of the transatlantic slave trade has finally been identified in the person of Matilda McCrear, years after the belief that the last person was Redoshi Smith.
PAY ATTENTION: Download our mobile app to enjoy the latest news
A researcher at the Newcastle University called Hannah Durkin previously indicated that the last of the survivors was Smith who was captured in Africa in the 19th Century and brought to the US. But further works have revealed she was not the last to die.
Smith died in 1937 and Durkin has now found out that a woman named Matilda McCrear who was also enslaved had lived until three years after 1937.
In other news, Between 1974 and 1985, the naira rocked from $0.63 to $0.894. In 1979 and 1980, the naira was at its strongest as it was $0.596 and $0.550 respectively.
The currency was said to be one of the strongest currencies in the world before things started going bad.
Nigerians speak on slavery in Libya | Legit TV
Source: Legit.ng