My 24-year-old cousin died alone, Covid-19 killed him, my family is broken - Lady cries out
- Covid-19 has thrown another family into mourning as a lady with Twitter handle @TraceyManus cried out
- The lady said the disease killed her 24-year-old cousin who is also a healthcare worker
- According to her, the deceased never had an underlying condition before his death
A lady with the Twitter handle @TraceyManus has revealed how the deadly coronavirus ruined her family.
Her 24-year-old cousin died of the disease despite the fact that he had no health issues before he contracted the virus.
She said that he was a health worker. Tracey added that his death has left all of them very heartbroken.
See her tweet below: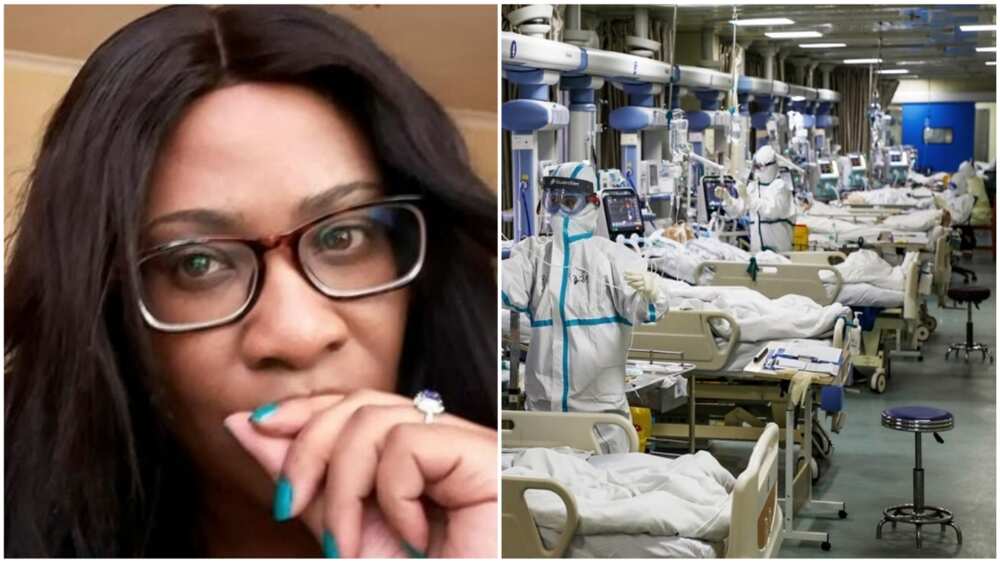 Meanwhile, Legit.ng earlier reported that an American nurse with the Twitter name Cherie Antoinette said that in her eight years in the medical profession, coronavirus "is the worst disease" she has come across.
She said that whenever they tell patients they have recovered, they do not inform them of the health complications they may battle with in the future as a result of the disease.
Cherie hinted that health issues that may happen after could be a lung transplant, massive heart attack, or stroke.
The nurse said that another possible issue they do not tell recovered patients is that they may have to depend on oxygen to live the rest of their life.
She said that the virus is "designed to kill" as it a highly intelligent disease that attacks everything it goes for. Cherie added that there may be no resources to combat the disease "if we don't continue to flatten the curve".
In other news, the World Health Organisation released the Covid-19 situation reports for African countries for Thursday, June 18.
PAY ATTENTION: Download our mobile app to enjoy the latest news update
Africa has a total number of 265,356 cases with recorded death cases of 7,098. On the table, South Africa has the most infection cases at 80,412.
Egypt is the second most hit country with 47,856 cases as Nigeria takes the third position with 17,735 infected people.
Madagascar has a total number of 12 deaths despite its supposed cure for the disease. Namibia, Uganda, Eritrea, Seychelles, and Lesotho are countries without recorded death cases of the virus on the continent.
Recall that Honduran President Juan Orlando was hospitalized after testing positive to coronavirus. He is currently being treated for pneumonia.
His wife, Garcia Carias, also tested positive for the deadly disease. Unfortunately, two other people who work with the couple have also been infected
Coronavirus: Does the Madagascar cure really work? | Legit TV
Source: Legit.ng