Adil Rami: France defender reportedly made love to Pamela Anderson 12 times-a-night
- Adil Rami had 36 caps for the France national team before he retired in 2018
- The former Lille defender reportedly dated popular model Pamela Anderson
- Ex-team-mate Kokorin has disclosed that the defender makes love to the model 12 times a night
Adil Rami's team-mate Aleksandr Kokorin has revealed that the French defender once dated the famous model Pamela Anderson and that the pair used to make love 12 times a night.
It was gathered that the 34-year-old dated the model for about two years before he split with the Baywatch beauty in 2019.
The former AC Milan star moved to joining Russian club PFC Sochi from Fenerbahce of Turkey in February and left in May amid a pay dispute.
PAY ATTENTION: Click "See First" under the "Following" tab to see Legit.ng News on your Facebook News Feed!
His former team-mate Kokorin has however told how Rami boasted of his bedroom romps with the 52-year-old Anderson.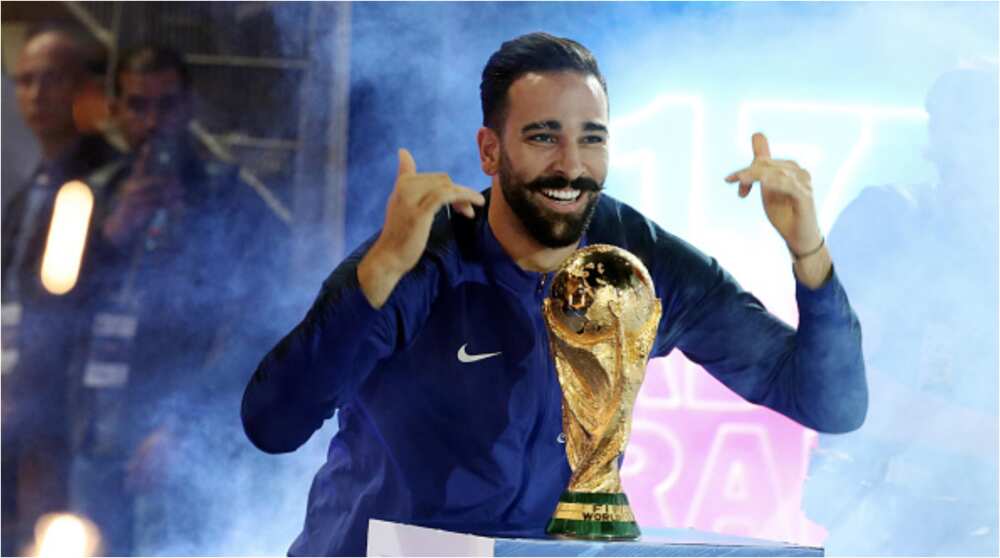 "Rami told us a lot of interesting things about Pamela Anderson," Kokorin told Ukranian star Oleksandr Aliyev in a Youtube chat.
"Of course, everybody was interested in what their relationship was like in bed.
"Rami said that Pamela was the best woman he'd had in his life. He said that he and Pamela used to make love 12 times a night."
One French source remarked: "Maybe this explains his drop in form for Marseille at the time."
The couple parted with Anderson accusing the footballer of cheating on her.
Meanwhile, Neymar's mum Nadine Goncalves appears to have reunited with his 23-year-old boy lover Tiago Ramos according to reports in Brazil.
The 52-year-old mother of the Paris Saint Germain superstar dumped her younger lover following claims that he has been involved in a few men before her.
SunSport reports that Nadine had been a victim of domestic violence from a former flame of Tiago.
Sometime this month, a 44-year-old woman named Rita Cumplido disclosed that the 23-year-old had left her with an "enormous bruise" after striking her.
The assistant shot attendant granted an interview saying that Tiago "beat her out of jealousy and transformed when he was drunk."
Legit.ng earlier reported that WWE superstar John Cena's ex-girlfriend Nikki Bella recently revealed the heartbreaking reason why her relationship with the superstar went south.
The WWE couple looked like a match made in heaven but behind the smiles, things were not necessarily as rosy.
They were on the verge of tying the knot, but eventually broke off their engagement in 2018.
Initially, it was looked at as just another celebrity split up which is quite normal for couples whose relationship is under the watchful eye of fans.
I've proof to show I was asked for bribe to make World Cup team – Obasi | Legit TV
Source: Legit