Obaseki: 5 governors who fell out with their political godfathers (explainer)
History always has a way of repeating itself and that established fact has been a major highlight into the 2020 governorship election of Edo state with All Progressive Congress embroiled in a lingering crisis that is turning it into a shadow of itself.
PAY ATTENTION: Click "See First" under the "Following" tab to see Legit.ng News on your Facebook News Feed!
The ruling party, of course, was in good shape in the south-south state before a train railed into the midst of Adams Oshiomhole and his former anointed son and mentee, Governor Godwin Obaseki, in what was borne out politics of interest.
Before Obaseki vs Oshiomhole fallout, the ruling party and Peoples Democratic Party (PDP) were not far from a crisis that pitched the incumbent governors against political godfathers.
Legit.ng highlights five governors who fell out with their political godfathers in recent times.
1. Obaseki vs Oshiomhole
Governor Gowin Obaseki, a politician and successful businessman, was a former chairman of the Edo State Economic and Strategy Team inaugurated by Adams Oshiomole in 2009.
In 2016, he was favoured by Oshiomhole over Pastor Osagie Ize-Iyamu to become the governor of Edo state with the APC national chairman being the major player in the process that led to his victory.
Less than four years after becoming the governor, Obaseki fell down the pecking order with Oshiomhole and his former "boss and mentor" became a "political thug" accused of chasing the treasury of the state.
The feud got pronounced in June 2019 with Oshiomhole taking the back seat as Obaseki's political godfather. The bond between them became frosty and the rift hit a redline as Governor Obaseki was disqualified from contesting Edo APC guber ticket.
He was disqualified over a "defective certificate" on Friday, June 12, and the fight climaxed when Obaseki and his deputy Philip Shaibu resigned their APC membership.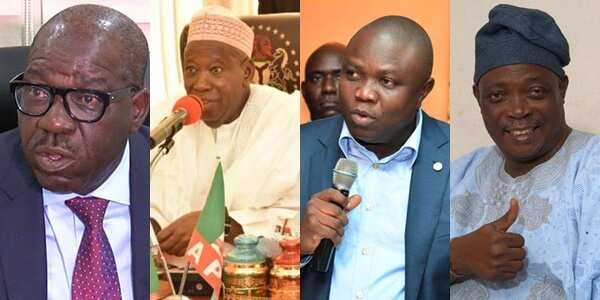 2. Ambode vs Tinubu
Governor Akinwumi Ambode's rise to prominence in Lagos didn't start in 2015. Prior to his emergence as Lagos governor, he had served as a civil servant in diverse roles in accounting consultancy for 27 years.
But due to his loyalty to the political hierarchy of Lagos state, he was considered as the heir fit to take the mantle of Lagos political leadership from the former governor, Babatunde Raji Fashola.
In 2015, Ambode beat other political giants like Jimi Agbaje of the PDP to become the governor of Lagos state.
Fast forward to 2018, with a couple of months to the end of his first-term tenure, Governor Ambode's desire to continue another 4-year term was met with rejection due to differences that took an irreconcilable turn with the political bigwigs in the states, including his estranged godfather Asiwaju Tinubu and 57 council chairmen.
Among top reasons, Ambode was said to be arrogant and lacking political savvy to continue governing the state with the refuge disposal being the last stroke that broke the camel's back.
He was eventually given the red! Sanwo-Olu, a former commissioner in Lagos state and a loyal disciple to Tinubu's political ideology, was given the mantle.
PAY ATTENTION: Get the Latest Nigerian News Anywhere 24/7. Spend less on the Internet!
3. Chris Ngige and Chris Uba
Chris Uba, a former member of PDP board of trustees, was so powerful that he determined who occupied political positions in Anambra state.
After helping Chris Ngige become the governor, Uba and Ngige fell out and a drama ensued that led to the incumbent governor being forced to sign his resignation letter.
The rest is history.
4. Rashidi Ladoja and Lamidi Adedibu
Often regarded as the "father of the PDP", late chief Lamidi Adedibu was considered a powerful politician in Oyo state until his demise in 2008.
He was credited for making Rashidi Ladoja the Oyo state governor who was sworn-in in April 2003 on the platform of PDP.
In 2004, both were locked in a fierce struggle over the allocation of government's appointees. And on January 12, 2006, Ladoja was impeached by Oyo state legislature on the order of Adedibu.
His deputy, Adebayo Alao-Akala was made the governor, though Ladoja was returned back to the office the same year by the Supreme Court. He lost his re-election bid!
5. Umar Ganduje and Rabiu Kwankwaso
When Rabiu Kwankwaso was serving as the governor of Kano state between 1999 and 2003 and 2011 to 2015, Abdullahi Umar Ganduje was his deputy and they both formed the Kwankwasiya political movement.
Kwankwaso threw his weight behind Ganduje in the 2015 governorship election on the platform of APC, but two years later they both fell out with Kwankwaso decamping back to PDP.
The rift almost cost Ganduje the 2019 election. But he won on a controversial note having defeated Abba Kabir Yusuf who is Kwankwaso's protege.
Like Obaseki, Like Ambode: 3 Governors who fell out with their political godfather | Legit TV
Source: Legit.ng News