COVID-19: Buhari speaks at China-Africa summit, seeks collaboration among member-states
- President Muhammadu Buhari wants the international community to share knowledge from research to fight COVID-19
- He made the call at a virtual China-Africa summit on solidarity against COVID-19
- Buhari told the summit that Nigeria would support and join any joint and collective action plan to tackle COVID-19
PAY ATTENTION: Click "See First" under the "Following" tab to see Legit.ng News on your Facebook News Feed
President Muhammadu Buhari on Wednesday, June 17 in Abuja urged the international community to support collaborations and initiatives aimed at sharing knowledge from research and science to fight the coronavirus pandemic.
The president made the suggestion at a virtual China-Africa summit on solidarity against COVID-19 co-hosted by the Forum for China-Africa Cooperation (FOCAC).
President Buhari told the summit that Nigeria would support and join any joint and collective action plan at regional and global levels to tackle the COVID-19 pandemic and its fallout.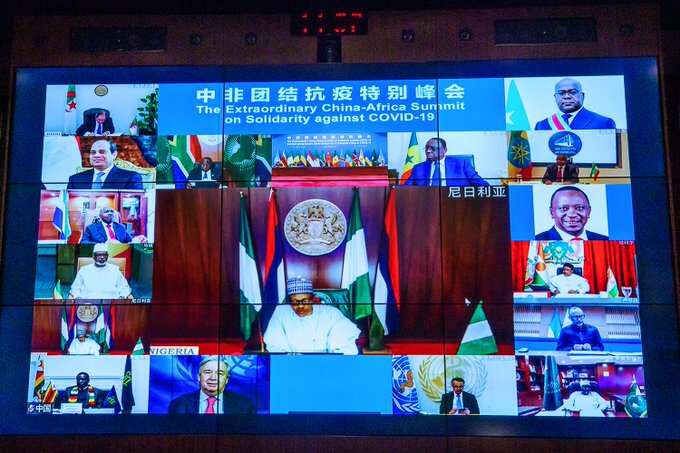 PAY ATTENTION: Download our mobile app to enjoy the latest news update
"We must learn lessons and share knowledge from research, as we develop more creative, responsive and humane health systems, improve crisis management protocols and support each other in the battle against COVID-19,'' he said.
In his remarks, the Chinese president said in the face of COVID-19, China and Africa have enhanced solidarity and strengthened friendship and mutual trust.
Since the turn of the century, China has increasingly had an expansive presence in Africa as a donor and trade partner.
The popularity of China among Africa leaders, analysts say, is due to its approach to aid. Its loans are mostly non-conditional and without interference. They also have a low-interest rate and sometimes, natural resources are used for repayment.
Some experts have voiced their concerns over the relationship between China and African countries over the years.
Ibrahim Anoba, a Senior Fellow at AfricanLiberty.org wrote: "China has made its intentions to dominate the global economy clear enough for any serious mind to realize. It knows the enormous potentials Africa possesses, and it will go the extra length to utilize them for its selfish mission. Just like Europe did with colonialism.
"If African countries should make themselves the stepping stones for China and worse-off afterwards, the consequences would be theirs to bear, alone.''
Meanwhile, Nigeria's former vice president, Alhaji Atiku Abubakar, has again, warned that Nigeria is in dire financial crisis under the Buhari administration.
Atiku who contested but lost the presidency to Buhari in the 2019 presidential election stated this in an article he posted on Linkedin on Tuesday, June 16.
"Debt servicing does not equate to debt repayment. The reality is that Nigeria is paying only the minimum payment to cover our interest charges. The principal remains untouched and is possibly growing," he lamented.
'Nigeria needs a leader, not a president' | Legit TV
Source: Legit.ng