Lagos land grabbers seize land despite C of O, court judgement
- The Olasanmis, Omolade Adesina and their neigbours are about to lose their lands to landgrabbers in Lagos
- This is despite the fact that they have C of O's to the plots of lands and a court judgement to back them up
- According to them, the case has been reported to the Lagos state taskforce on land grabbers but nothing has come out of it
PAY ATTENTION: Click "See First" under the "Following" tab to see Legit.ng News on your Facebook News Feed!
Land grabbers in Lagos state have continued to wield absolute powers despite the constitution of a task force to check their activities. This is evidenced by the case of Afolabi Olasanmi, Irene Olasanmi and Omolade Adesina whose plot of land - Plot 352 Block XVI along Peter Akachukwu street, Victory Estate, Okota - is on the verge of being stolen despite the fact that it was legitimately acquired with all necessary documents from the state government
According to the Olasanmis and documents sighted by our correspondent, Bode Agoro, current permanent secretary, ministry of land, signed the allocation letter when he was director of land while Hakeem Muri - Okunola, current Lagos state head of service signed the demand notice as permanent secretary, ministry of land, all in 2011.
On August 28, 2016, the Olasanmis and Adesina were also issued a Certificate of Occupancy, registered as Number 46 at Page 46 in Volume 2016AB of the Lands Registry, Alausa.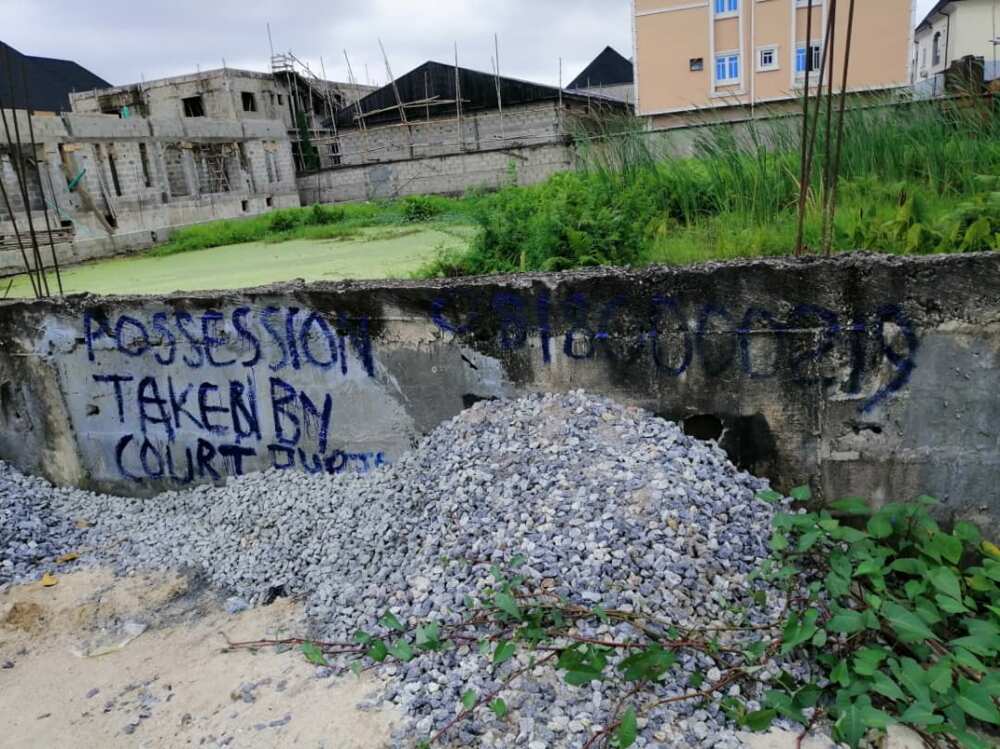 But having a C of O to the land did not stop the daredevil Lagos land grabbers from destroying their fence and illegally trespassing and taking possession of the land.
However, in an effort to seek help from the government who issued them all the necessary ownership documents, the Olasanmis and Adesina petitioned the Lagos State Special Task Force on Land Grabbers on May 27, 2017 with reference number 1349.
Also, the case of Cyril and Ebiarebor Oweifaghawari, neighbours to the Olasanmis, who were on the verge of losing their plot land to the same landgrabbers, also highlighted the inefficiency of the Lagos state task force on land grabbers.
In this particular case, the Oweifaghawaris approached the High Court in Lagos state for the recovery of their land and Justice E.I. Alakija gave the order for them to take possession of the land on Friday, June 28, 2019.
The possession order was subsequently enforced by Lagos State police command but after that, the land grabbers came back and overpowered the real owners and drove them out of the property.
Almost two years after this, the taskforce has been unable to recover the land for them.
Efforts to reach the taskforce office has however been unsuccessful as their phone number has not been connecting.
The landowners are now appealing to Lagos state government, Nigerian police and Lagos state taskforce on land grabbers to come to their aid.
Meanwhile, Legit.ng had reported that Lagos state will no longer fold its arms while residents in search of accommodations are swindled of their hard-earned funds, Toke Benson-Awoyinka, a senior government official has said.
Benson-Awoyinka, a special adviser to Governor Babajide Sanwo-Olu on housing, thus directed real estate practitioners to ensure they conform with rules and regulations set by the government.
I need a good job - mother of seven kids cries out | Legit TV
Source: Legit