Coronavirus: FG reacts to "possible" anti-Covid drug in UK, says it has not approved it
- The federal government through NCDC has reacted to the use of a clinical anti-Covid-19 drug in the UK called dexamethasone
- The centre said that it does not support the use of the drug as it has not been validated by WHO
- According to NCDC, the drug is presently being used to reduce death risk of patients who rely on oxygen or "mechanical ventilation"
PAY ATTENTION: Click "See First" under the "Following" tab to see Legit.ng News on your Facebook News Feed!
The Nigeria Centre for Disease Control (NCDC) has reacted to the UK-backed clinical trial of a drug called dexamethasone for the treatment of Covid-19.
According to the centre, the trial drug is said to reduce the risk of death among coronavirus patients, especially those who depend on oxygen.
NCDC made it clear that the federal government has not approved the use of such drug, saying that it has not even been backed by the World Health Organisation.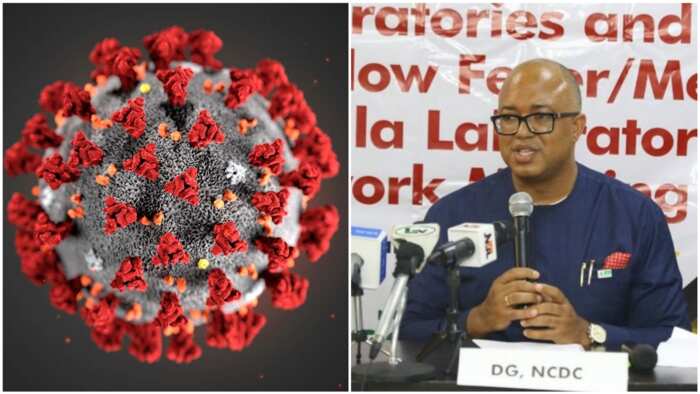 It said that despite the fact that it is aware of the clinical trials of the drugs in the UK, it would work with "sister agencies" to assess available data on the use of dexamethasone.
The centre said it will keep the public informed of further developments on the issue.
See its tweets below:
Meanwhile, Legit.ng earlier reported that an American nurse with the Twitter name Cherie Antoinette has said that in her eight years in the medical profession, coronavirus "is the worst disease" she has come across.
She said that whenever they tell patients they have recovered, they do not inform them of the health complications they may battle with in the future as a result of the disease.
Cherie hinted that health issues that may happen after could be a lung transplant, massive heart attack, or stroke.
The nurse said that another possible issue they do not tell recovered patients is that they may have to depend on oxygen to live the rest of their life. She said that the virus is "designed to kill" as it a highly intelligent disease that attacks everything it goes for.
Cherie added that there may be no resources to combat the disease "if we don't continue to flatten the curve".
In other news, a graduate of the University of Lagos, Abiodun Abraham, has made a great input towards the fight against coronavirus in the country.
The creative man constructed a disinfectant tunnel that cleans any residue of bacteria and viruses off whoever passes through it.
Coronavirus: Nigeria's health minister speaks on chloroquine as cure for COVID-19 | Legit TV
Source: Legit.ng